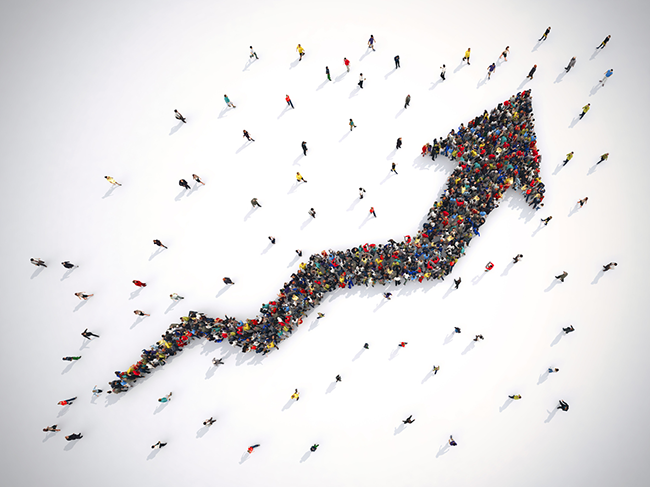 Businesses today spend so much time thinking about the online experience. A huge amount of energy goes into websites, social media, digital marketing and mobile optimization. Of course, this is an essential part of running a successful business in the 21st century. However, it's important that you never forget the real-world experience that your customers have when they interact with your company. Online experience is important, but offline is too—and all too often it's getting overlooked.
You may be completely based online, selling your products to the public. But there will always be a moment where the customer interacts with a human being who works for, or represents, your company. Consider the delivery person who gets the product to the customer, or the tech support person who answers the phone to troubleshoot when the client is having a problem.
Making sure you always have that offline experience in mind will help boost your business to the next level.
Customer service is only part of the customer experience
For many, if they focus on that offline experience, it's customer service that gets the attention. However, this is not the only part of the offline customer experience. Customer service is dealing with the waiter in the restaurant, the checkout person in the grocery store, or the sales assistant who helps you book that holiday.
The customer experience is every single time they interact with your brand or have a secondary interaction.
Customer service is only part of that equation.
For example, getting a customer an unexpected upgrade on their holiday because your travel agency has built up a good relationship with the hotel. That makes for a great customer experience.
Steps for building a great offline customer experience
So, how do you go about making sure that your offline customer experience is as strong as it can be?
1. Define what you want the customer experience to be
Start by knowing what it is that you want to provide your customers. It's very difficult to create an experience if you don't know what you're aiming for. The best way to do this is to decide on a vision for your brand that's focused on the customer.
You should start with a set of statements about your business that identify your company's core values, your company's culture, and the vision and mission statement. Make sure that each one considers the customer and their experience. From here, you can build the rest of your strategy.
2. Create true customer profiles
The next step is to define exactly who your customer is. You should be doing this for your business plan and marketing strategies, anyway. It's essential to have clear profiles of the people you are selling to so that you know how to angle your customer experience strategy.
Be specific with these customer profiles. You can even go as far as creating individual personas who represent the group—give them a name, age, career, interests, and tangible facts about them.
3. Build an emotional connection
Now that you know what kind of experience you want to create for your customers and who they are, you can build that experience.
To do so effectively, the connection needs to be real and have actual emotions involved. Sometimes that means going the extra mile, really listening to your customers and what is happening in their lives. Going further than standard customer service will always define your brand as a front runner.
4. Make room for continuous feedback
Feedback from customer service, salespeople, and customers themselves is the only way you will be able to ensure you are on the right track. Make sure you have space for people to provide this valuable feedback—on social media, via email or your mobile app, and also in the real world. You can ask customers for feedback at the point of sale, or when the service is provided.
Remember, you want to get feedback from the customer to see things from their perspective, as well as feedback from employees to understand how they see these customer interactions.
5. Analyze the feedback
You can get a lot of valuable data from continuous feedback that will allow you to tweak and change the service you're providing. But you can only do that if you are monitoring the feedback and analyzing what it means.
Set up a system that allows information to be collated and viewed easily and then make the time to read through it, along with your own internal data analyses on product sales, responses to emails and marketing campaigns, and so on.
6. Provide training for your staff
All of this information and analysis means nothing if it isn't fed back to the staff who are interacting with your customers. It's essential to set up staff training to ensure that everyone who interacts with a customer on behalf of your brand understands the company values, what the ideal customer experience is, and who these customers really are.
You should take the time to let your staff know when they are doing well and when their actions have created a great customer experience. It's important to praise the staff and show them they are truly making a difference—not only to your company, but also to people's lives. Above all, it's important to show your staff that you take their feedback from their experiences interacting with customers seriously.
7. Run offline events
Finally, you need to make sure that you are interacting with your customers in the offline world. This is true even for companies that live entirely online. Real-world interactions where you can physically connect with your customers will raise your brand and the customer experience you provide to the next level.
If you provide a service, find places where you can set up a stall and give demonstrations of what your business does. If you sell products via an online shop, have a pop-up store at a market or in a mall to give customers a chance to see the products before they buy them. Or, mail out free T-shirts or apparel as gifts to regular customers, or include a free branded item with their next purchase.

These kinds of interactions will almost always result in a boost in sales. They create a new level of trust between your business and customers.
Make an impact online and off
Businesses need to operate in the online and offline world in a way that connects them to their customers. The key is to consider your customers' online and offline experience as parts of the whole picture. Customers should have a great experience online - a seamless, enjoyable and secure experience on your website - and offline, when they interact with your brand in the real world.
If you can create a real-world connection, you'll foster a sense of loyalty and your customer retention should skyrocket.