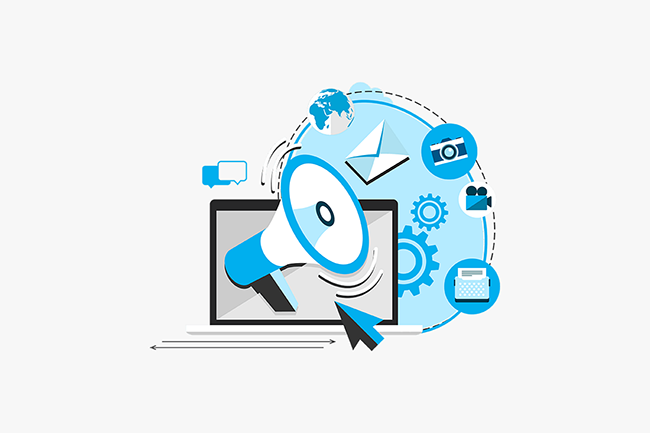 Image source: Joseph Murcia, Pixabay
Are you tired of the constant search for tools that will help your content marketing campaign? If so, it's understandable - there are a lot of them around.
Many mainstream brands have big budgets to market their offerings, so it's easy to miss some tools that are powerful and could make a big difference in your workflow.
This article will highlight some of the frequently overlooked content marketing tools that can offer incredible value for content marketers. We'll cover some of their best features and how they can make your content marketing more effective and efficient.
1. AI-Powered Outlines from Surfer SEO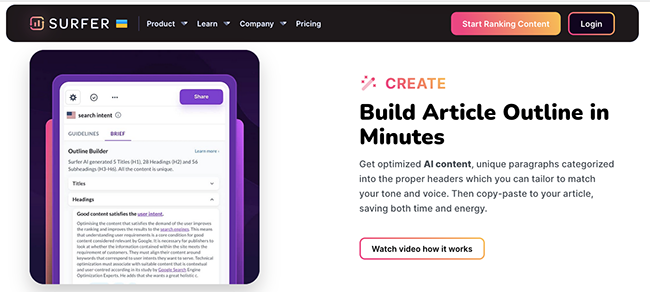 Given how far technology has come, it is safe to say that artificial intelligence is the future. However, while other areas and industries are already using it, content marketers lag behind. This has had many overlook the AI-powered outlines offered by Surfer SEO, which allows you to build article outlines within minutes.
With AI-powered outlines, you get not only AI-optimized outlines but also unique paragraphs that are well laid out with proper headers. In addition, you can quickly tailor the content based on your voice and tone.
Bear in mind, however, that Google doesn't look kindly on AI-generated content. Google's John Mueller reiterated recently that they consider content generated by AI writing tools to be spam.
Use Surfer SEO's AI-powered outlines as a tool to complement your work, a starting point for your content. It's a time saver which can help you get started with a first draft you can then work on to add your own style and comments.
In addition to AI-powered outlines, Surfer SEO surfaces content suggestions aimed at boosting your SEO rankings. It can also help you optimize your content to help improve your rankings.
2. Content aggregation from Feedly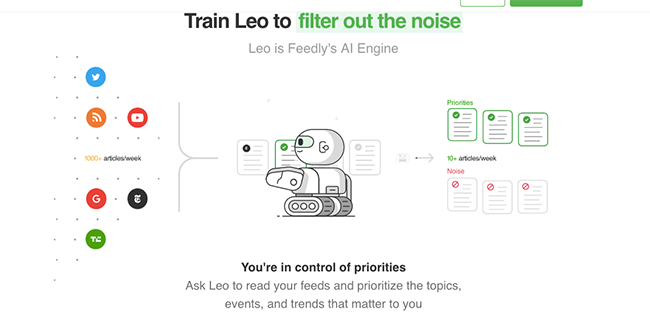 Suffering from information overload? Feedly is a nifty tool which helps you keep across news and trends, flagging insights from news sites, blogs, social media and more.
It works using an AI assistant called Leo, which you train to filter out things you're not interested in and hone in on relevant content.
Enter the data sources from your feed, then define your priorities using keywords, trends, topics etc. Leo will sift through the articles to present the ones most relevant to you. By marking the articles you like and those you don't, you train Leo so it's continually improving.
Whether you want to keep across news in your industry, research a topic or look for inspiration, Feedly is a great tool for decluttering your feed to save you time and effort.
3. Instagram Story Templates from Envato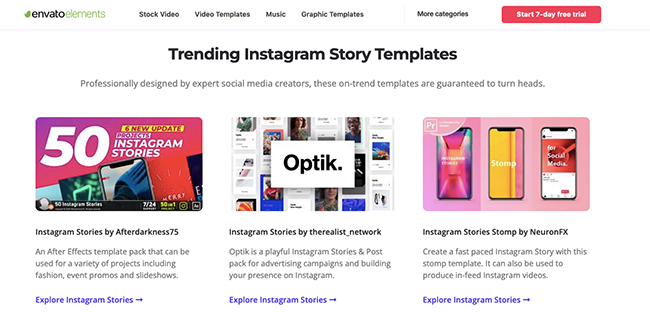 Have you ever come across your competitors' Instagram Stories and been impressed by the capitivating graphics? Maybe you've tried replicating them, but never quite managed the same effect. Well, there's a tool that can help you with that.
Instagram Story templates from Envato Elements can help you elevate the quality of your Instagram Stories.
Choose from thousands of templates to find what suits your needs and style. The templates are easy to use and can be edited to suit your brand. You can create consistency in your Instagram visuals by using the same or similar templates. It's a great time-saver as you're effectively tweaking an existing template.
Envato offers templates for other platforms, too, from YouTube openers to websites. You can also access video transitions, titles, and even logo templates for your video needs. In short, it's a one-stop-shop for anything visual, making it a powerful tool for your content marketing.
4. Notepad from ClickUp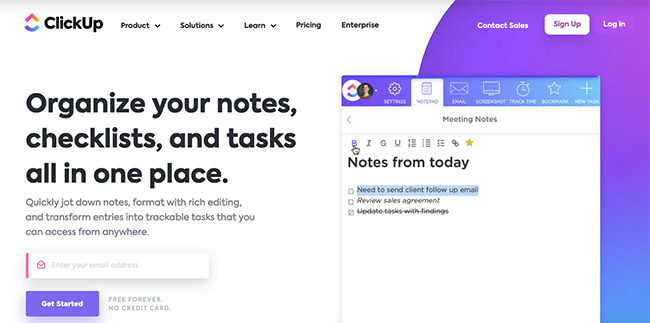 Staying organized can make the difference between a failed marketing campaign and a successful one. With ClickUp's Notepad, you can quickly and efficiently organize all your notes, checklists, and tasks in one place. It allows you to keep track of your tasks in an easy-to-read format, enabling you to stay organized even across different platforms - smartphone, PC, or web.
ClickUp also offers various other features and functionalities, affording you different powerful tools that can make a significant impact on your overall workflow. The platform operates on the promise of simplifying tasks, so saving you time.
It offers integrations with numerous other tools including Slack, Google docs, Dropbox, Amazon Alexa and more. You can connect over 1,000 tools for free, to have everything under one roof for easier management of tasks and objectives. This allows for a better, more effective content marketing campaign.
5. Quuu Promote from Quuu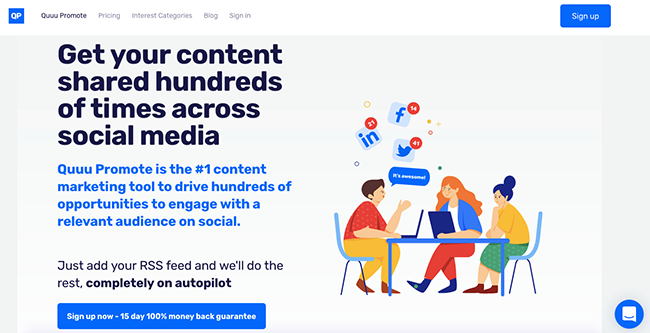 In our online age, engagement is the new currency and every business is out there trying to build engagement and mentions on social media. Quuu Promote is a content curation platform that helps take things to a whole new level by making it easier for businesses to reach the right audiences with their content.
With Quuu Promote, you can distribute your blog content across relevant social media profiles and, so engage with relevant audiences. The process is simple: just add your content and its RSS feed, submit, and the platform takes care of the rest.
You can easily track your shares to monitor how your content is performing and see what improvements can be made. Quuu Promote offers additional features such as personalizing your content, discovering communities, and automating posts on up to 100 social profiles.
6. Heatmaps from Hotjar

Using data visualisation, heatmaps allow you to easily see the magnitude of a phenomenon represented through color. In websites, heatmaps are used to show where users click, the areas they focus on, and what they ignore altogether. Hotjar implements this perfectly, allowing you to discover what your audience is drawn to and how successful changes on your site have been in terms of user behaviour.
While this feature is mainly used by product teams and user experience designers, it can also benefit marketers. For example, setting up heatmaps for specific content pages such as blog posts, can help identify what content users interact with and how they interact with it.
With this data, marketers can learn and understand what draws their audience's interest, and so tailor their content accordingly. In addition it makes it easier for marketers to craft future pieces of content, adjusting them to meet the audiences' needs.
7. Marketing Template Creator from Mojomox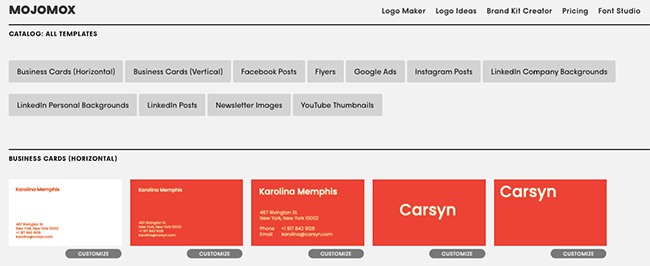 In 2022 you no longer need a designer to develop your business cards, LinkedIn company backgrounds, or even marketing flyers. With tools such as the marketing template creator by Mojomox, you can create these, along with newsletter images, Google Ads, and even Instagram posts, with just a few clicks.
With a growing catalog of templates, Mojomox gives you unlimited options to customize your marketing assets, allowing you to stay ahead of your competitors while creating material your audience can relate to and identify with. With Mojomox, it's easy to maintain consistency with your branding, allowing for better brand recognition and higher engagement with your marketing content.
Mojomox also has tools for creating logos, fonts, and even a brand kit for your company. This means that all your branding needs can be covered by one tool, allowing you to save costs and keep all your assets under one roof.
In closing
The tools and features mentioned in this article are designed to improve your content marketing campaigns. Some of them may be known to you, but we hope there are others that you've not yet come across, and which you'll want to investigate further.