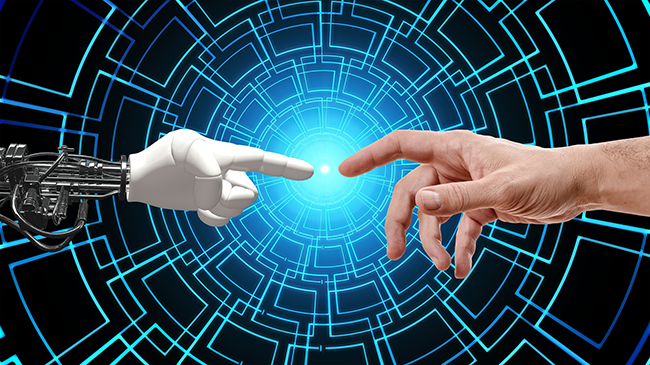 Image source: Gerd Altmann from Pixabay
Imagine this: you're a business owner, and you want to find new customers. You've heard that cold emailing is a great way to reach new people, so you decide to give it a shot.
But there's one problem - you have no idea how to write cold emails that get a response.
Thanks to advances in artificial intelligence, this is no longer a problem. AI can assist you in writing more effective cold emails that are more likely to get responses from your potential customers.
In this article, I'll show you how to use AI to help you write cold emails that work.
What is a cold email and why is it a valuable tool for business?
A cold email is an email that you send to someone without any prior contact with them. They are intended to establish a relationship and start a conversation with the prospect, your potential customer.
For example, let's say you own a web design company. You could send a cold email to someone who just launched a new website to offer your services.
Here are some of the most important reasons why cold emailing is a valuable tool for business owners:
Cold emailing can help you reach new customers: If you're only marketing to your current customer base, you're missing out on a lot of potential business. Cold emailing allows you to reach new people who might be interested in what you have to offer.
Cold emailing is cost-effective: Unlike other marketing channels (such as paid advertising), cold emailing is relatively affordable. All you need is a list of email addresses and you're good to go.
Cold emailing is fast: You can send a cold email campaign in a matter of minutes, which is great if you need to generate leads quickly.
How AI can help you write better cold emails
In general, artificial intelligence (AI) uses machine learning technology to perform specific functions and skills that mimic the human mind.
As AI has improved and advanced it has made a significant entry into the content creation process where it can be used to automate the entire writing process.
There are now AI writing tools that can help you with everything from coming up with ideas to writing and proofreading your work. These AI programs are trained by the best copywriters in the world and use advanced algorithms to write high-quality copy tailored to your specific needs.
In other words, AI can help you write better cold emails by providing you with templates and ideas that are more likely to get a response from your potential customers.
How to use AI to write cold emails that actually work
There are many great tools for writing content. For this article, I'll be using the Jasper. If you're not familiar with Jasper, it's a tool that can help you write better emails, social media posts and blog articles. Based on your input, it will generate high-quality content whch you can then edit and personalize to suit your needs.
Let's see how it works for cold emails.
Once you have created your account with Jasper, you just need to enter a few details to get the process started:
Select the "Cold Email" template.
Enter some information about your product.
Type Your Company or Product Name.
Enter the context you want to include in the email.
Choose the tone of voice (e.g., professional, casual, witty, etc.)
Example 1
Let's say you are a graphic designer and you want to send a cold email to someone who has just launched a new website.
Here's the information I entered into Jasper.
Tell us about your product: "I'm a graphic designer with 5 years of experience in Photoshop."
(You have more than 800 words to describe your product so make it count.)
Your Company/Product Name: Logo design
The context you want to include in the email: "I noticed you just launched a new website"
Tone of voice: Professional
Clicking "Generate AI Content", here's what Jasper produced (image followed by text):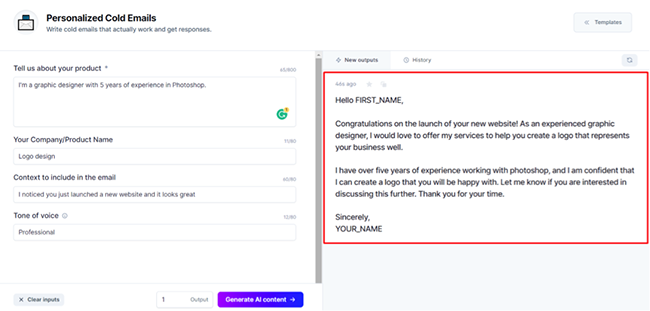 Hello FIRST_NAME,
Congratulations on the launch of your new website! As an experienced graphic designer, I would love to offer my services to help you create a logo that represents your business well.
I have over five years of experience working with photoshop, and I am confident that I can create a logo that you will be happy with. Let me know if you are interested in discussing this further. Thank you for your time.
Sincerely,
YOUR_NAME
You can then customize the email to include your own branding, message, and offer.
If you're not happy with the first one, generate another. It may take a couple of goes to get something you're happy with.
Example 2
Now let's say you want to send a cold email to someone you think is interested in your dropshipping course, but you're not sure how to get started.
Here's the information I entered into Jasper.
Tell us about your product: "I have a course about dropshipping business."
Your Company/Product Name: Dropshipping course
The context you want to include in the email:"I think you would be interested in my dropshipping course"
Tone of voice: Casual
Here's the result: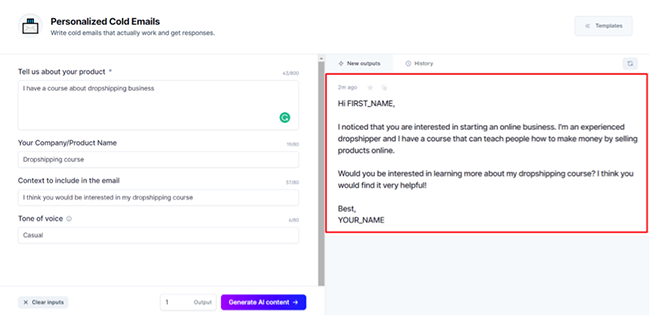 Hi FIRST_NAME,
I noticed that you are interested in starting an online business. I'm an experienced dropshipper and I have a course that can teach people how to make money by selling products online.
Would you be interested in learning more about my dropshipping course? I think you would find it very helpful!
Best,
YOUR_NAME
Remember to personalize each email. The AI tool is great for generating ideas and a first go, but you don't want it to look like a generic form letter.
Subject lines
Now if you want to write a compelling email subject line for the email you just created, you can simply use the Email Subject Lines section.
Using the details from the previous dropshipping example, here are the subject line suggestions I got: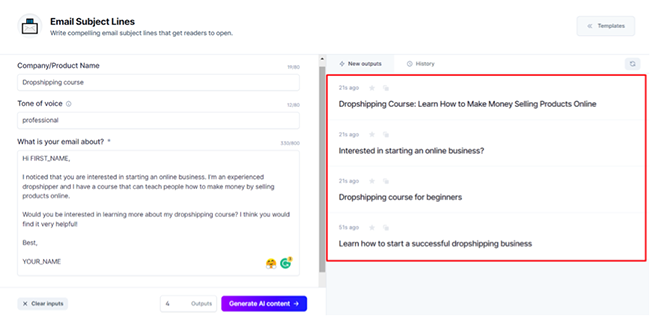 Dropshipping Course: Learn How to Make Money Selling Products Online
Interested in starting an online business?
Dropshipping course for beginners
Learn how to start a successful dropshipping business
These are just some of the great subject lines that Jasper generated for me. As you can see, they are all very eye-catching and designed to encourage people to open the email and read more.
Continue crafting your cold email
Once you have your AI-generated output, you should shape it further to make it as effective as possible. Treat the copy as a first draft, a starting point to craft your email.
Here are some good practice tips which are particularly relevant for cold emails:
Use a clear and concise subject line: Recipients don't know you and probably get a ton of emails. You have one chance to catch their attention, so make it as easy as possible for recipients to see what you're offering and be prompted to open your email and learn more.
Keep the message brief: Get to the point quickly and avoid using lengthy paragraphs or big blocks of text.
Use bullet points or numbering to structure your thoughts: This makes it easier for the reader to scan the email and quickly understand your message.
Use a professional tone: Avoid using slang or overly casual language; a neutral tone is usually more appropriate for a cold email.
Proofread your email before sending it: First impressions count and nothing looks less professional than spelling or grammar mistakes in an email. Make sure you check your copy.
Avoid using harsh language: You can't expect to get a response from everyone, but you certainly don't want to alienate anyone with an overly aggressive tone.
Use social proof: Cite positive online reviews or testimonials in your emails. You're an unknown quantity at this stage, and social proof shows that other people are interested in your product or service. It's likely to make the recipient more inclined to give your email some time, and potentially respond.
Wrapping up
With technology constantly improving, there are good reasons to use an AI tool to help with your writing. It's a time saver which will generate ideas and different versions to get you off the blocks.
However, it shouldn't be a cut and paste job. Anything that looks automated is likely to get discarded straight away. Use it as a starter, which you can personalize and improve to get a really effective email which will cut through to your recipients.
Remember, you must abide by legislation such as the CAN-SPAM Act which governs the sending of emails. Here's the Wordtracker guide to keeping your emails legal.
For further reading, see also Wordtracker's blog post on writing high-converting sales copy to monetize your videos using AI