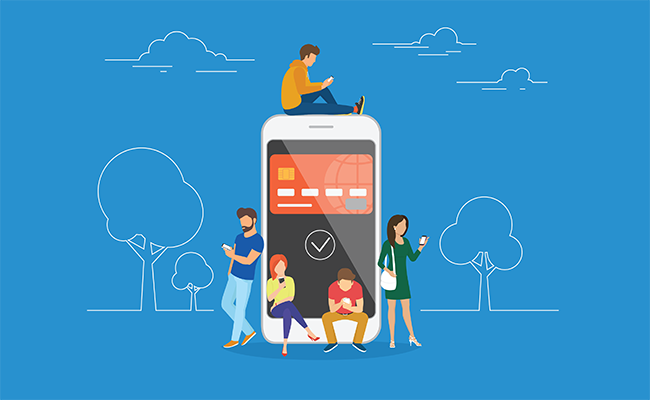 As you already know, interest in what you have to offer doesn't necessarily mean you'll make the sale. There's a lot of competition out there and people tend to shop around. And while price does play a role in the buying process, it's not necessarily the defining factor. There's more to gaining a customer than being the most affordable option on the market.
Explaining what you have to offer and putting a price tag on it is a good first step, but it's not enough. According to Google, 53% of consumers say they always do research before they buy, showing that people want to make informed purchase decisions.
Here's how you can help them decide to buy from you without breaking the bank.
1. Help prospects get to know your business
In order to trust someone, you need to get to know them first. That's why potential customers do their research before making the choice between you and your competitors. Whoever understands their pain points better and looks like a reliable vendor will ultimately win their trust. In other words, you need to use your online presence to get ahead of your competition.
On your About page
Tell your customers what your values are and how your business started. You don't need to go into too much detail and write a lengthy report here. What you want instead, is to tell a story. The logic here is simple - people have always liked stories they can relate to. With that in mind, let your customers know what drives you, why you started the business, and how you can help them. If you can get them to relate to you rather than your competitor, the sale is yours.
In your FAQ section
Creating a dedicated FAQ section does more than boost SEO and save your time. It also leaves a good impression on your potential customers. It shows you've anticipated their needs and provided them with an easy route to getting answers to their questions. This in turn can inspire confidence that your product or service will also be spot on.
The best part? Your customer service and sales teams already know which questions arise repeatedly, so your FAQ should be easy to put together.
On social media
44.8% of internet users around the world use social media to research brands. With that in mind, it's easy to see how a good social media marketing strategy can help you stand out. Projecting an image of trust, reliability, and authority is a good step towards conversions. But if you get prospects to like your company as well, there's a higher chance they will spread the word. Which brings us to the next point...
2. Use social proof to your advantage
Word of mouth has always played a part in purchase decisions, and it seems like this isn't going away anytime soon. The truth is, we're all aware that companies use marketing strategies to persuade us to buy what they're selling. So, before we decide to trust them (or not), we look for proof that someone, somewhere found value in it. And how do we do that? By reading online reviews, recommendations, and testimonials.
With social media automation, you can save time and energy by using tools to find content that's relevant for your followers. You'll spend less of your day scanning feeds or manually posting updates across multiple platforms and more hours developing relationships with those who matter the most - your customers.
Since simply telling your prospects that what you offer is great won't cut it, try including your satisfied customers in the process. Besides asking for a testimonial for your website, you can also encourage them to give you a review. Whether it's on social media or your Google listing, it will give you some extra credibility.
Remember, it's important to know what people are saying about your business. How you handle those reviews can also influence prospects' opinions. That's why you should resolve complaints quickly and professionally, and show appreciation for positive comments.
3. Time is as valuable as money
The thing about money is that you can always make more of it. But time? Well, there's a limited amount available and your customers know it. So, it's not surprising that it's a big incentive to purchase what you're selling if the ROI is time. And to present it as such, you'll need to tell a story again.
Let's say your company sells accounting software. Your prospect struggles with keeping track of expenses and spends time going through bank statements. How much time is being wasted? How can your software help?
In this situation, your prospect doesn't need a list of features first off. They need a solution - something that enables them to spend less time categorizing expenses and more time on other tasks, or doing what they love. Recognising that need before launching into a sales pitch makes your prospects feel heard and understood. You can then circle back to go through the features to demonstrate exactly how your software provides the solution to their problem.
4. Incentives
There are two things that are pretty constant with people: we like free stuff and we're afraid of missing out. No matter what kind of business you run, you can use those to your advantage.
When it comes to converting prospects into customers, consider the following strategies:
Discount coupons and limited-time offers create a sense of urgency. Since they both have an end date, your potential customers know that they can't get the item at this price forever. And since everyone likes a bargain, they're more likely to buy it at a discount.
Referral programs work when they're a win-win situation. If you want existing customers to bring in new ones, make sure there's something in it for everyone. Virgin Media's Refer a friend campaign gives both the referrer and the person signing up a cash reward. Many SaaS companies use affiliate programs for this kind of marketing.
Loyalty programs keep your customers coming back instead of turning to the competition. While they're aimed at existing customers, they can also help you with prospects. If you have a choice of stores selling the same products, one with a loyalty program, and one without, you'd pick the one which was more likely to give you savings down the line.
Free trials are an excellent tool for apps and software because they give your prospects a taste of your service. A great example is Spotify, which gives you a month's free trial on the premium service. You try the service, get comfortable and soon enough, the 30 days end. Do you really want to go back to ads interrupting your music and to lose the other features you've got used to?
5. Analyze and improve your process
Insights and data are key. You need to know that your money is being well spent and your marketing efforts are working. Ultimately, you need to know why one of your campaigns succeeded and another didn't, in order to refine and optimize your strategies.
You don't have to wait until your campaign ends to start your analysis. A/B testing to experiment with CTAs, subject lines, and content will help you determine what your audience responds to best. No matter which stage of the sales funnel your prospects are in, engagement is crucial for conversion. The more engaged they are, the higher the chances of getting customers that convert and keep coming back.
Conclusion
The key to converting prospects into customers is to meet their needs. With good knowledge of your target market you can focus on providing the solutions they want. The low-cost actions outlined above can help even further in nudging your prospects over the line to becoming loyal customers.