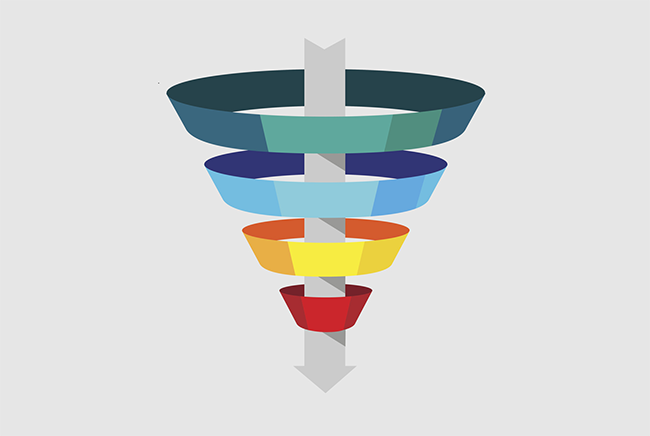 As any business owner knows, you can't force customers to buy your product or interact positively with sales and marketing. There remains a chance that the customer loses interest partway through every interaction, and you miss out on a sale.
However, don't be discouraged by this—the goal of your sales strategy shouldn't be to get every visitor to buy your product. Instead, you want to maximize the people who do decide to buy.
To break down customer buying behaviors into easily understood sections, it works well to visualize a basic sales funnel. This article seeks to give you a better understanding of the basic sales funnel and how it works to help you improve your lead generation and more reliably turn a prospect into a sale.
What is a sales funnel?
A basic sales funnel is a map of the journey a customer takes from being unaware of your brand to buying your product. It's set up in several stages and is highly customizable to fit most businesses, whether online, brick-and-mortar or both. However, the model is always shaped like a funnel to signify the loss of potential customers throughout the process, which is unavoidable.
Though you can switch them out as necessary for your business, the basic four stages of a sales funnel are:
Awareness
Interest
Decision
Action
Before using or modifying the basic sales funnel, the most important thing you can do is learn about your customer base. The same marketing strategies that work for someone buying jewelry may not work for someone looking for computer parts.
With in-depth knowledge of the type of customer you're trying to advertise to, you can use the funnel method much more effectively.
First stage: Awareness
The awareness stage is the point in your sales and marketing where a potential customer becomes aware of your business or product. At the top of the funnel, you're not trying to make a sale but to cast as wide a net as possible to open the door to further prospects. You can do this by increasing your brand's exposure to the public through social media, online ads, and, eventually, word-of-mouth.
Blogging is also a good way of spreading awareness of your brand. Often blogs in your niche have options for guest articles, and it's a surefire way to collect leads because readers will already have an interest in your product.
There are increasing levels of recognition associated with the awareness stage. They start where your customers are mostly unaware of your brand and what you have to offer and end at your brand being the dominant provider of a particular good. The final level of recognition comes with time and success—what a new business should focus on is making as many people aware of them as possible.
From there, you move onto the next stage of the basic sales funnel—interest.
Second stage: Interest
Interest is the first part of the middle of the funnel. It's the stage where potential customers are determining what your business has to offer and whether it's right for them. It's where you can start to play a direct role in lead generation, using your knowledge of your consumer base for more targeted promotion than in the awareness phase.
Your goal in this stage is to strengthen the relationship between your brand and potential customers so that they move further down the funnel.
Your potential customers will be comparing your store to others to determine which business can satisfy their specific needs. There are various practices available to business owners to help convince these customers that your shop has the solution to their problems. Examples include email courses, free trials of your product, and even blog posts or case studies on your product or service's usefulness.
A useful tactic is multi-channel marketing, which allows you to interact with your customer through several avenues and grow your brand. You can analyze which channel is netting you the best conversion rates and expand on it to maximize lead capture.
Additionally, if you're running an online business, you'll want a well-crafted landing page that presents all relevant information on your company upfront. This approach allows customers to quickly make an informed decision on whether to shop at your store, with the convenience typically leading to more significant amounts of conversion.
After you've cultivated a list of interested customers, it's time to move onto the third stage.
Third stage: Decision
This stage is where the customer starts pricing out your product or service, paying close attention to the deals you offer. It's here that you'll begin to utilize hard and soft selling techniques to drive customers to their final purchasing decision. In other words, while in the previous stage you were promoting your business as a whole, here you'll be driving up demand for your product or service.
There are various ways you can do this. For instance, webinars tend to draw in prospects already interested in your product or service, so an in-depth rundown of its benefits may nudge them into the final stage. Scripted videos posted on YouTube work similarly in that a potential customer will only watch them if they solve a particular problem of theirs.
Depending on your target audience, direct interaction might make prospects buy your product more reliably. However, videos are more versatile and can be used in any previous stages to convert potential customers into actual customers. With either method, they're most effective when your product or service's benefits are presented first before going into detail.
Another simple way to show off your product and engage with the prospective customer is a live product demo or free trial. Creating any connection with your target audience at this stage is an excellent way to drive up sales.
Online businesses would benefit from creating a sales page that outlines their product or service's features and advantages, which can move prospects to the bottom of the funnel.
Fourth stage: Action
After the prospect has moved through the rest of the basic sales funnel, it's time to close the sale. The action stage is the final part of the sales process where the lead is ready to buy your product or service and become a full customer. It's still possible to lose prospects at this point in the funnel, but you can easily communicate with them and find out why they lost interest.
The action stage is where you can set up future profits by tweaking the parts of your sales process that make customers abandon a purchase right at the finish line.
Additionally, a successful sale isn't the end of customer engagement; after a customer has made their purchase, it's now your job to keep them happy and coming back.
Providing consistently excellent service to your repeat customers will increase your business's exposure through positive word of mouth. The best way to ensure that your paying customers return is to keep them engaged with your brand through SMS messages and emails offering them deals, surveys, and new product alerts.
Depending on your audience's age, social media can also be a powerful tool in interacting with customers. A well-run Facebook, Instagram, or Twitter account personifies your brand and gives your target audience something to connect with, motivating them to shop at your store.
Conclusion
A basic sale tunnel is a powerful tool to use when growing your business. The key things to take away from this article are the four sales funnel stages. To recap:
Awareness - This is where you use several different types of advertisements to inform the public of your brand's existence. You're trying to attract as many prospects as possible to go through the sales funnel.
Interest - Once people are aware that your business exists, you must convince them that you offer more than the competition by providing information on your company as a whole, typically with a well-designed landing page or content marketing. The second stage is also the one where you collect emails from potential customers for ease of communication.
Decision - This is where you sell your product to the customer by listing its functions and benefits. Engagement with your target audience is beneficial here to ensure as many prospects as possible move on to the next stage. Webinars, live product testing, and free trials provide both quality product promotion and customer engagement.
Action - Finally, the action stage is where potential customers become paying customers after deciding to buy your product. This stage is also where you follow up with customers after successful and unsuccessful sales to retain customers and fix the sales process. Keeping customers happy increases the exposure of your business and can generate further leads.
This funnel setup is a basic one that would be useful to most businesses but not necessarily all. Knowing the most basic funnel in-depth allows you to customize your own to fit your brand's specific needs more accurately.