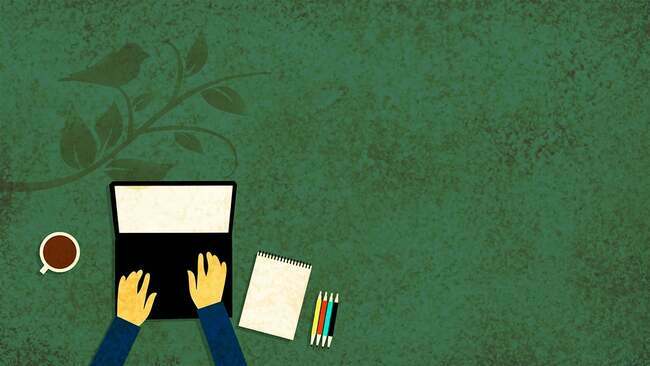 Image: Chen from Pixabay
You spend days crafting an actionable, fact-filled blog post. You pour your heart, soul, and personal experiences into putting together a piece of content you are proud of. And after you click publish... nothing happens.
That gut-wrenching experience is all too common. Unfortunately, building an audience and getting visibility for your content is often the most difficult part of SEO.
But what if there was a way to break through the content clutter and get your work in front of the right audience overnight?
Enter content syndication. With the right content syndication strategy, you can quickly and effectively get your content out to the masses. This not only helps you reach more potential customers, it can also improve your website's rankings in search engines.
Read on to discover the what, why, and how of content syndication.
What does it mean to syndicate content?
Content syndication is the process of republishing content from one source to another. When content is syndicated, it's usually shared across multiple websites and content networks as a means to reach a larger audience.
Despite its sometimes thorny reputation, content syndication is widely used by well-respected publications like Forbes, Entrepreneur, and Business 2 Community. These websites recognize the benefits of content syndication and are willing to lend out their brand name and readership in exchange for newsworthy content.
The SEO benefits of content syndication
If you are interested in syndicating your top content, here are a few of the SEO benefits you can expect to see:
Brand awareness
The content you syndicate is an extension of your brand. Whenever it's republished on another website, it carries with it the potential to expand your reach, readership, and most importantly, brand awareness.
For many content marketers, this is the primary appeal of content syndication. Landing an article in a reputable publication is a major stepping stone in earning the trust of potential readers and clients who may not have heard of you before.
This is because even if these readers don't click through initially, content syndication still increases the number of people who have been exposed to your content.
Over time, this will help you establish recognition and topical authority. As a result, future content campaigns are likely to experience improved results and higher visibility.
Backlink generation
When executed properly, content syndication generates backlinks. In fact, every syndication partner that republishes your content should give you at least one backlink to the original article.
As you can imagine, this is a great way to improve both the quantity and quality of your backlink profile, especially if you work with prominent media outlets. Plus, the additional domain authority that this strategy can yield may make the difference between content that ranks on page one and content that is rarely seen on page two.
If backlinks are your primary objective, then consider creating targeted content that would appeal to specific publications. In many cases, striking a content syndication partnership is much easier than trying to build a backlink through a guest contribution. For the author, syndicated articles don't require any additional work. And for the republisher, the content is of known quality and should not need to be edited.
Referral traffic
Syndicated content can bring in significant referral traffic from other websites. As new readers come across your content, they may be inclined to check out more of what you have to offer. Some visitors will click through links in your content or bio, and others may search for you or your brand directly in Google.
Regardless of how users find your content, this referral traffic signals their confidence in the quality of your work and this can help elevate your organic rankings.
The risks of content syndication
Although content syndication has clear benefits, many prominent SEOs avoid the practice entirely because of these primary risks:
Getting outranked
When syndicating your content to higher authority websites, you are at risk of getting outranked by them in the SERPs if they do not block the page from being indexed (more on this below). This reality may seem unfair, but it's the nature of content syndication.
So if you elect to syndicate an article, make sure that it's worthy of being shared across other websites but also doesn't generate meaningful organic traffic for you.
Generally, this means that content syndication should be avoided for evergreen and monetizable articles. And instead, it can be used for thought leadership and topically relevant pieces.
Duplicate content penalty
Publishers often avoid content syndication out of fear of receiving a "duplicate content penalty" from Google. However, this concern is largely unjustified for two reasons:
1. There is no such thing as a "duplicate content penalty". The only exception is if a site appears to be deliberately manipulating search engine results — which is not the case with content syndication. In reality, the risk is that Google will only index one article if it detects that two or more pages share the same (or nearly the same) content.
Google clearly states: there is no such thing as a "duplicate content penalty" in its post on Search Central.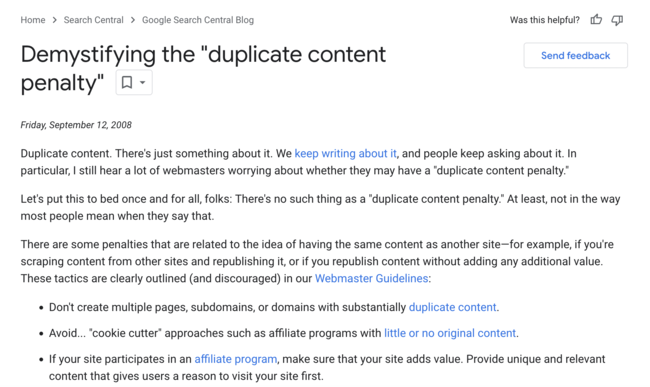 2. To avoid suppressing the original work in the search results, publications typically label syndicated articles with a phrase like "The post originally appeared on [example.com]". This simple markup also helps signal to Google that content has been syndicated and therefore should not be indexed.
The risk of syndicated content here is not a sitewide penalty, but rather content being filtered out of the SERPs. But even this concern is easily managed by following the content syndication best practices below.
How to syndicate content safely
Done properly, the rewards of content syndication far outweigh the risks. Check out our best practice tips for safely republishing your content:
1. Identify authoritative partners
Before you begin trying to syndicate content, identify partner websites that are trustworthy and authoritative. This means looking for media outlets with a good reputation, content that is relevant to your topic, and a sizable audience.
To confirm whether the website is open to a partnership, conduct a quick Google search using the site's url together with the phrase "this article originally appeared on" and look for existing examples of content syndication.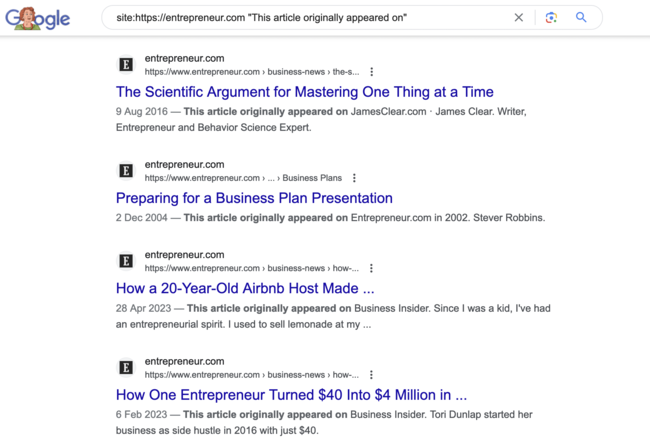 If content from other sources is appearing in the publication in question, then you know their content guidelines permit syndication.
2. Wait for search engines to index your article
After identifying potential content syndication partners, publish the target article to your website and give search engines the time to index the piece.
This is an important step because it allows Google to identify you as the original source of the content. Depending on the size and authority of the website, this process can take anywhere from a few days to several weeks.
You can also ask Google to recrawl your site to get fresh content indexed, though again Google says this can take up to a few weeks.
3. Include links back to the original work
Before distributing the article, be sure to credit your original work. Create a copy of the published piece and add a snippet of text at the top or the bottom of the document.
This brief citation should say something along the lines of: "This article originally appeared on [Your Site]" with a hyperlink to the original article on the anchor [Your Site].
Not only will this reinforce for Google which webpage to surface in the SERPs, it will also direct readers to your website and create a valuable backlink.
4. Ask your syndication partner to block their copy
As your work is shared across other websites, ask the webmasters to block the republished content from being indexed. They can do this by adding this tag to your article: <meta name="Googlebot" content="noindex">
The noindex meta tag is a directive that will tell Google to drop the page from its search and news results.
Previously, Google encouraged the use of canonicals for syndicated content. However, it has recently updated its guidance on this and now advises against using canonicalisation, saying the most effective solution is for partners to block indexing of your content.
Using canonicals would sometimes allow syndication partners to outrank the original publisher. This new approach, on the other hand, prevents any potential suppression of the original article in the SERPs.
Content syndication examples
To demonstrate how content syndication works in practice, let's look at a couple of examples from distinguished media outlets.
Forbes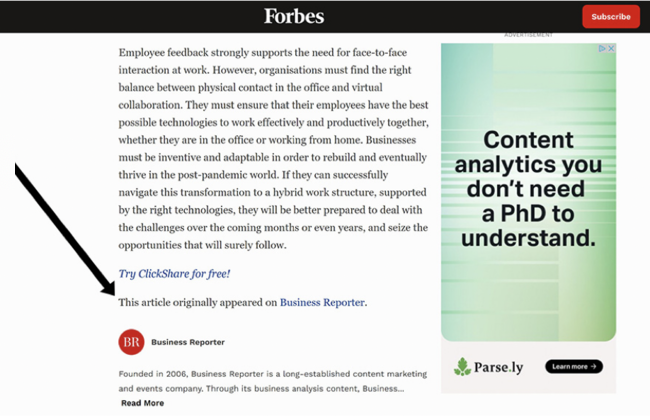 Forbes syndicated this article about work-life balance from Business Reporter. At the bottom of the article, Forbes credits the author with a backlink to the original piece. Interestingly, both pages show the dates of publication and it appears that Forbes syndicated the post exactly two weeks after its initial release.
Business 2 Community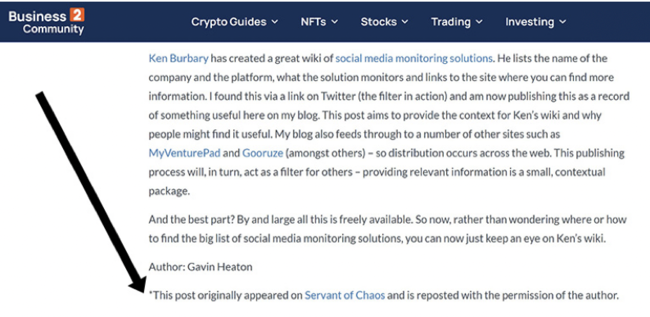 Business 2 Community makes it clear when they repost an article. In this example, the publisher links to the original piece and states that the syndication was done with the author's permission. Although the backlink is marked nofollow, with a domain authority of 89, Business 2 Community is still sure to pass valuable link equity.
In closing
Content syndication is an effective way to get your brand more exposure and help build your reputation as an authoritative source. If you follow these precautions and work with experienced syndication partners, your content will reap all of the SEO benefits of broader distribution without any of the risks of content suppression.