Key Points
Find groups of keywords (keyword niches) that your target customers search with.
Research each keyword niche - its size, the competition, your site's current traffic and sales from it.
Compare and prioritize your target niches in order of profitability.
Your prioritized list of keyword niches is your SEO Strategy
Your Search Engine Optimization (SEO) should focus on achieving success for the keywords that will deliver the most profit. That seems obvious but how do you find and prioritize those keywords? SEO pro Mark Nunney introduces the process so you can apply it to your own site.
Before they do any work on a site, professional SEOs use keyword research to find the groups of keywords - the keyword niches - they want to target. Then they prioritize those niches and the result is their SEO strategy.
The path I take includes the following steps:
Find relevant keyword niches
Evaluate your keyword niches
Prioritize your keyword niches
Let's look at that in some more detail...
Find possible keywords and niches
Find groups of keywords (keyword niches) that your target customers search for using the following methods:
Read the trade press
Look at competing websites - Wordtracker's free Scout app will help you with this
Look at your site's existing traffic – which keywords bring the most sales?
Use your own market and product knowledge
Enter significant keywords into Wordtracker's Related Keywords tool
Wordtracker's lateral search tool
Here's how to use Wordtracker's lateral search feature - the excellent Related Keywords tool - for finding more possible niches to target.
(You'll need access to the subscription-only version of Wordtracker's Keywords subscription tool - take a trial here. )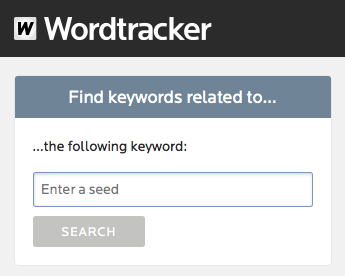 Enter a seed word (one will do). For example, for business management site thinkingmanagers.com, I might enter management.
In the list of results, I found a number of interesting new keyword niches that thinkingmanagers.com might target, including these:
leadership
leadership training
project management
management training
business schools
coaching
careers
human resources
Evaluate each possible keyword niche
You can't work on all your target keyword niches at once, and with the same level of effort, so you have to prioritize. Therefore, you must have an SEO strategy. To prioritize, evaluate the potential of your possible keyword niches using a number of different metrics. Here we'll look at:
size
competition size
current traffic
current sales
Keyword niche size
Log in to Wordtracker and this time go to the main Keyword Research section: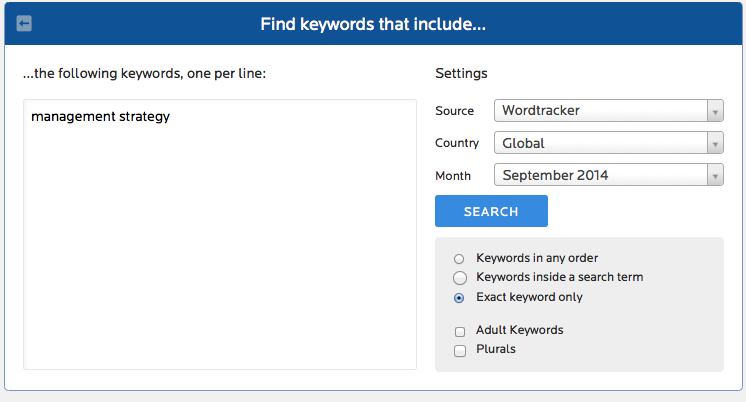 Enter relevant seed keywords - management strategy in the following example.
In the following grab, you can see the start of Wordtracker's results (Wordtracker shows up to 10,000 keywords for each search on the Gold subscription):

… and we see more info relating to each keyword.
Now we have to analyze our keywords at a niche level, and that means we export the data into a spreadsheet and add up or average the results for each metric for each niche. For the eight niches for our example site, this gives us the following results in an Excel sheet I call the 'SEO Strategizer':
Here's a quick reminder of what each of those metrics are showing:
Size is the actual number of searches made on a major search engine advertising network which passes us, on average, 3.5 billion worldwide searches per month
The Competition figure represents the amount of direct competition in existence for each keyword. It's presented on a scale of 1 to 100 and is based on IAAT (In Anchor and Title)
KEI (Keyword Effectiveness Index) uses both size and competition figures to give a single figure estimating the prospects of success for a keyword
If your site is currently live you can also look at how much traffic you currently get from each keyword niche – ie visiting your site having searched with a keyword niche's phrases – and any subsequent response. Let's do that…
Current traffic and response for each niche
Current traffic levels for a niche are a simple clue about how successful your site currently is for that niche. This is important because it is far easier to achieve future success in niches that you currently get good results for. For example:
Thinkingmanagers.com is doing well for the keyword management styles so it should be quite easy to be successful for the keyword different management styles.
Using site stats software, we look at the results for each niche and get reports like the two following examples from Google Analytics:
Management style keyword niche:
Business development keyword niche:
Notice how business development might get fewer visits than management style but it is four times as responsive. (Response is here measured as subscribing to the site's free newsletter.)
If $ sales are being recorded in your site stats (easy enough with Google Analytics) then conversion % could be $/visit instead.
Prioritize your target keyword niches
We can gather similar data for all the keyword niches being evaluated and put them into some new columns in our spreadsheet like this:
Now we can look at keyword research data from Wordtracker and our site stats in one table as here:
Using that data, consider a number of other factors such as:
your own level of resources
your SEO expertise
how developed your site is
how quickly you need results
… you can decide the order in which to target these keyword niches.
The following version of the SEO Strategizer shows the order in which I prioritized these thinkingmanagers.com keyword niches:
I'm going to first target the most responsive niche business development and get up to 400% more return for my efforts than if I worked on others. I then work my way down the list.
If a niche is small I do a small amount of work on it. Perhaps just a few minutes optimizing a page or redirecting some internal link power.
If a niche is big I can do a lot of work on it, eg optimizing a lot of pages, existing or new, and building new inbound links.
Pages relevant to high return niches might be given more bespoke marketing, boosting returns even higher.
Your own version of that prioritized list of niches of keywords is your SEO strategy. Now it's time for action…
SEO Action
For each niche, starting with the first on your prioritized list:
Plan, add and optimize content.
Have one spectacular piece of content that is irresistibly link-worthy, eg, a wonderful widget, a free report.
Using the spectacular, promote the content to build inbound links, with appropriate link text and to relevant pages (deep links).
After working on your first niche, move to the next niche but monitor and return.
Get a free 7-day trial
A subscription to Wordtracker's premium Keywords tool will help you to:
Generate thousands of relevant keywords to improve your organic and PPC search campaigns.
Optimize your website content by using the most popular keywords for your product and services.
Research online markets, find niche opportunities and exploit them before your competitors.
Take a free 7-day trial of Wordtracker's Keyword tool

Join the discussion
You can keep in contact with us on Google+, find us on Twitter. Facebook and LinkedIn