This guide will show you how to use the tool. For explanations of all the numbers, please refer to our FAQ page.
Start by just typing or pasting a keyword (or a number of keywords) into the seed word box, and hit 'Search'.

Great, you've just done your first bit of research, and you have the latest Global data for your search in front of you.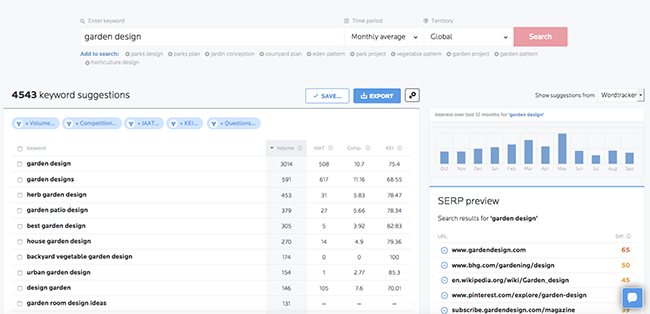 There's lots of information, so we'll go through section by section.
Results are shown as a monthly average from the past 12 months or as individual months, and we show you the trend - how your term performed over the past 12 months.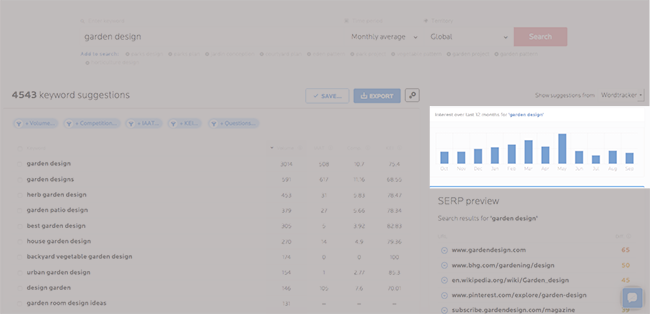 And our Serp preview shows you the top ranking websites for that term - in other words, who your competition is.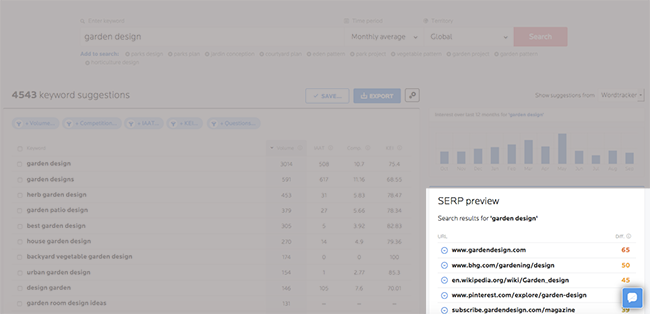 Want more detail? No problem. Just use the drop-down menus to choose a different time period or territory,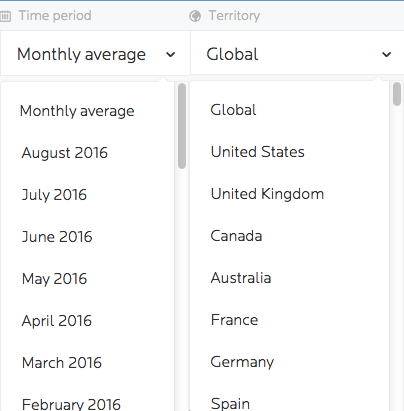 and you can change the type of search you're running by clicking on the cogwheels to the right of the Export button.

You can choose whether to get keywords loosely based on your seed (Keywords in any order is great for this) or keywords that match your seed more closely (Keywords inside a search term).
Using Keywords in any order for a seed like wedding photographer will give results including wedding photographer, photographer for wedding and best wedding photographer and so on - the keywords that have wedding and photographer in them.
Keyword inside a search term will return wedding photographer and best wedding photographer, and any other keywords in the database that contain the exact phrase wedding photographer.
Exact keyword only will just give results (where available) for the seeds you enter into the seed word box.
Checking Include adult terms will return those keywords that we hide by default for our customers who don't need to be exposed to some of the more dubious searches that are made on the internet.
Checking include plurals will give plural versions of the keywords returned. For this to work well, always enter the seed in the singular form and use check plurals - that way you'll get both forms of the keywords in your results.

Lots of terms to search on? Use the Bulk Search option.
If you have a large number of keywords you need to research you can use the bulk search facility. It's the little red box at the end of the red search button.

You can upload lists of words (see our FAQ for limits) either by pasting them in, one per line, or by uploading a csv.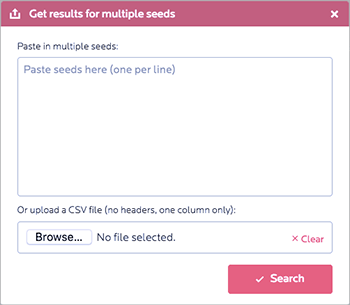 We use fuzzy search to compensate for typos and different versions of terms. So for example if you search for lwnmowers, you'll get back results for lawn mowers and lawnmowers.
We also use fuzzy search when a seed from a broad search returns fewer than 10 results. It works by Googling your search and extracting keywords from the page titles returned. The system looks to see how close each is to your seed term and then runs a broad search on those which are the closest.
To exclude a term from your search, simply put a minus sign in front. So for example to search on cheap but exclude tickets you would enter: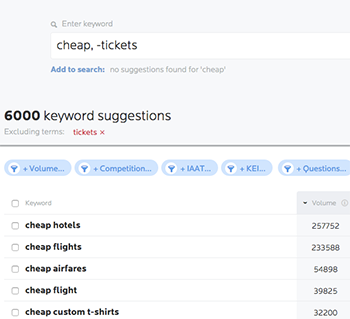 This is a great way to exclude false postives. You can enter multiple negative match terms and keep refining your list. If you decide you do want to include a term after all, just delete it from your search.
Volume: the number of times a search for each keyword appears in our database.
IAAT: A count of webpages that have the keyword both in the title tag and also in the text of a backlink.
Competition: A guide to how many pages are already optimized on the web for each keyword, presented on a scale of 1 to 100. The higher the number the more competition for the keyword.
KEI: based on a calculation involving the volume and competition figures. KEI goes up when the keyword's popularity increases but down when there's lots of competition.
You can see more details about these metrics here: Wordtracker's numbers explained.
Looking for new keywords? Handily the tool shows you related terms for your seed.

Just click on a term to add it to your search.
Once you have a list of keywords, it's easy to be a bit overwhelmed by everything you see, so we've put in some filters to help you hide the things you don't want. Choose to filter keyword results by Volume, Competition, IAAT, KEI and Questions.
Just click on the Filter type to add, and click on the X to remove. Select the range by dragging the left and right handles and your results list will update immediately.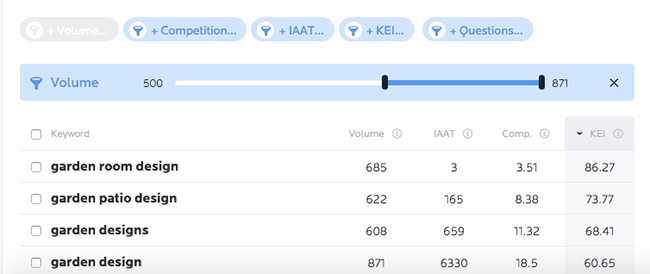 Click on the Questions filter to show only those terms which are questions - super useful to find out what people are asking about in your niche.
If you'd like to save your keywords, just click on Save at the top of the results list. If you haven't selected any keywords the whole list will be saved; if you've selected from the list or used the filters, then only those will be saved.
When you hit the Save button you'll have the choice of saving to an existing folder and list, or creating a new list. You'll see a list of your existing folders, followed by your loose lists at the bottom.
You can create a new loose list - which you'll be able to assign to a folder later,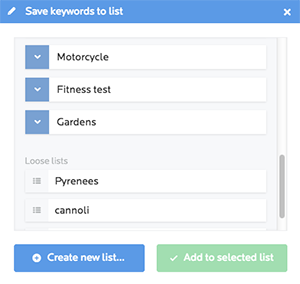 or add to an existing list, whether it's already in a folder or loose.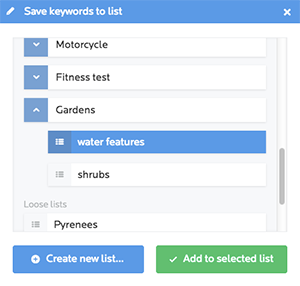 All your saved work is organized into lists and folders so you can easily keep research for different sites or clients separated out. You could even have separate folders for individual ventures, splitting out lists from different territories or times.
The lists page will give you an overview of your folders and loose lists.

You can rename or delete your lists - watch out though, you'll need to confirm you want to delete a list but once you've done so, these are not recoverable.
Just click on a folder to show the lists contained.

and click on the list to bring up the keywords and metrics saved.
You can export your list at any time from the search page. Just hit the export button, and you can choose to export the entire list, or, if you've been using the filters and selectors, you can export just selected keywords. The file will make its way in .csv format to your browser's download folder.

The Account page is the place to manage your subscriptions or update your card details.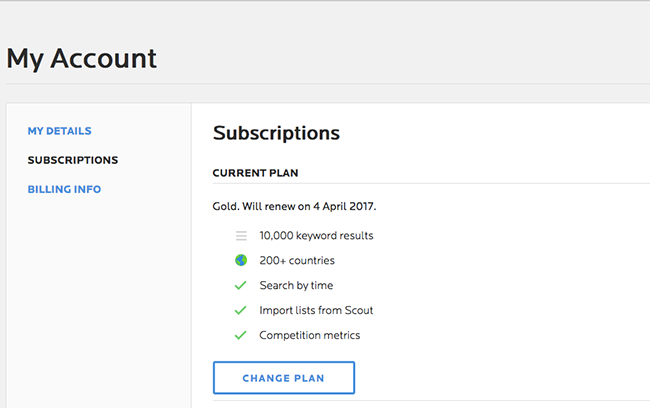 You'll also be able to catch up with your billing history, update your personal details or change your password should you need to.
Still have questions? You can see more information in our FAQ.
Can't find what you're looking for? Drop us a line at support@wordtracker.com and we'll be happy to help.