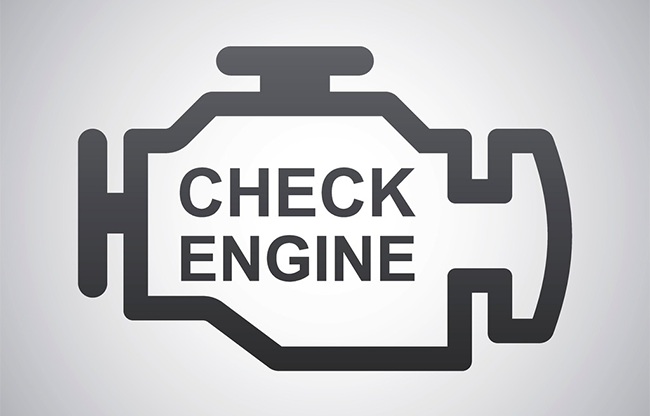 Google uses featured snippets to make it easier to connect us to the information we need, but in doing so could they be endangering the basic model much of the web relies on? We get free information and in return, we used to get served a couple of adverts on the site we look at. But without being able to serve those ads, there's less incentive to create that content.
Featured snippets explained
Featured snippets are intended to make it easier for you to access the information available on a web page by bringing it directly into the search results.
Sometimes when you do a search, you'll find that there's a descriptive box at the top of Google's results. We call this a "featured snippet."

https://blog.google/products/search/reintroduction-googles-featured-snippets/​
Here's an example from the Google blog post where they 'reintroduce' them: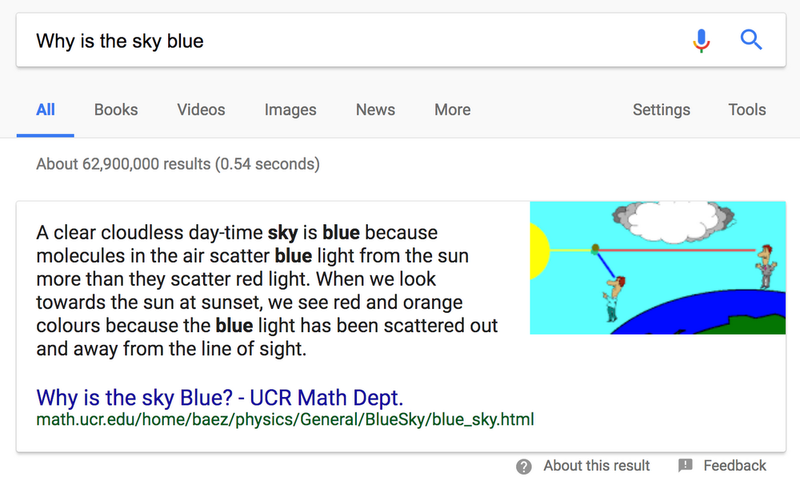 So in short it's taking the text from a page and then featuring it prominently in the search resch results.
Google's shift from connection engine to information engine
Google has always been a connection engine. However, there appears to be a continuing change in the way in which Google sees itself. The model has always been:
I enter a search term and Google provides a list of links to content that best answers that search
I click on a paid or free result
Google gains money from paid results and advertising on publishers' sites
Publishers get paid by the advertising on their sites
Google is increasingly moving towards just showing me the information, lifted directly from the content it indexes. The shift is subtle but it is destroying that model. So now the relationship looks like this;
I enter a search term and Google provides me the information that best serves the search
I read the information on Google
Not only is this chain a lot shorter, it also removes the publishers and so Google's own methods of monetisation. The key though is that Google only shows snippets for certain types of results. Results for searches with a clear purchase intent would be naturally less likely to show a snippet but more likely to have PPC ads. Whilst some results do also feature PPC results, in every search I did these were shown above the snippet, with the organic content below.
The potential effects of snippets on websites
When your business relies on traffic from providing specific or niche information then snippets can be devastating. Take the case of Celebritynetworth.com as detailed in The Outline. If you want to know what someone famous is worth, you look it up on their site and they give you a number and breakdown of how they reached it. The most important thing is the number, that's the key information people are looking for.
Back in 2014 Google emailed the owner of the site, Brian Warner, and asked for permission to use the data from the site in the knowledge graph, Brian was not keen...
"I didn't understand the benefit to us," he said. "It's a big ask. Like, 'hey, let us tap into the most valuable thing that you have, that has taken years to create and we've spent literally millions of dollars, and just give it to us for free so we can display it.' At the end of it, we just said 'look, we're not comfortable with this.'"

https://theoutline.com/post/1399/how-google-ate-celebritynetworth-com
However when snippets were introduced Google just went ahead and took the information anyway. The information that Brian had said he didn't want being used by them.

The result was a loss of 65% of traffic year on year and having to lay off staff as the profitability of the site took a nose dive. That's the very real impact of Google's change from connecting you to the information to delivering that information right there on the page. The sites that provide that information, the ones that have actually put the time and effort into creating the content, are the ones that lose out.
Snippets likely won't affect all websites as badly as in this example, it is just one example. But other studies consistantly show featured snippets reduce clicks on other results, in effect cannabalising traffic. Take this study from ahrefs: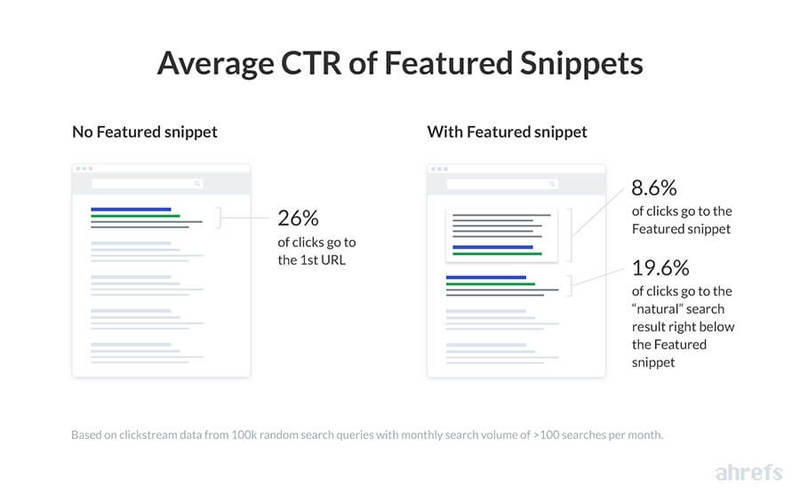 Why did snippets need reintroducing?
Snippets just weren't that bright, and there were several high profile examples of them failing. Some snippets appeared to have been removed, especially on more controversial topics.
The problem came about through a combination of not understanding the user intent and not being picky about where information was pulled from. Google's failure to properly understand intent is something they have got in trouble with before, like with the 'Unprofessional Hair' problem.
As Google shifts from connecting to content, to connecting to information directly, intent becomes even more important. Of course without the context of the rest of the content we're even less able to judge the validity of the information shown. Especially when these snippets also serve to provide information for Google Home Assistant. So there is little context available, beyond the name of the site, to evaluate the information against. It's simply a case of being told an answer to a question as if it's 'The Answer' rather than 'an answer'.
This also leads to problems such as the case highlighted by Danny Sullivan in his own announcement post for the new feature: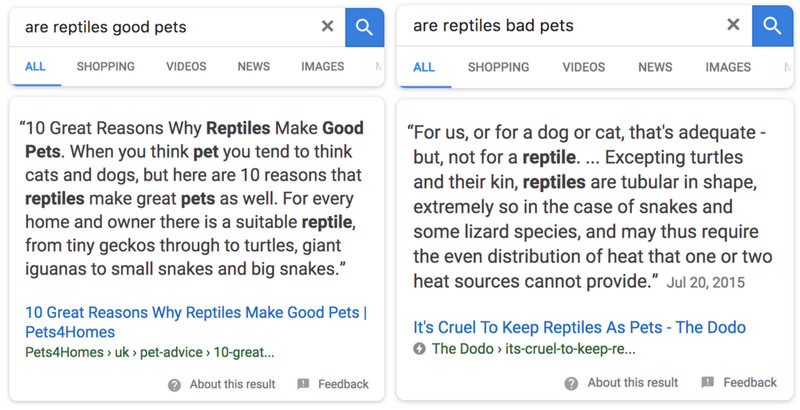 Source: Google blog
Here we have two queries where the intent is the same. The suitability of reptiles as pets. However in a glass half full / half empty kind of way different people phrase this question differently depending on their initial bias. Google has then served each with a snippet that reinforces that bias. In effect two different answers to the same question depending on the searcher's expectation of the result. For my results at least, Google appear to have put in a speedy fix for this by stopping the snippet showing on one set of results. Replacing reptiles with goats replicated the effect though, so it doesn't look to be a fix for the wider issue.
This might not appear to be much of a problem when it comes to reptiles or goats but things could potentially get out of hand quickly as they roll this out across more queries and cover more topics (for example politics). Searching around at the moment it looks like political or controversial topics are more restricted, especially in terms of the search content.
It's not just snippets either
It's not just content publishers that need to watch out. Google appears to be developing their own tools for popular queries and placing these directly in the search results. This is the result I get for a search on 'internet speed test':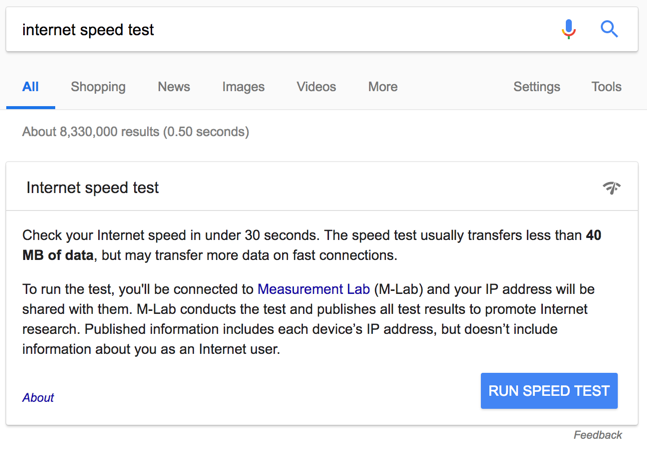 I guess for the rest of the sites offering a speed checker it's just tough. This is different from snippets as it's not using anyone else's information. But in this example at least Google appears to be creating a tool and then placing it at the top of the search results above competing tools. I personally feel that sets a bit of a dangerous precedent as this could potentially spread with Google creating more tools, in partnership with more companies, so harming the competition. Competition and diversity are good, but people will be less likely to innovate and create new tools if Google is going to just step in when something gets popular and publish their own tool above everyone else's in the results.
Google has got into trouble before for placing their own services above competitors. In July last year it received a record-breaking $2.7 billion fine from the EU for antitrust violations with their shopping comparison service:
Google has systematically given prominent placement to its own comparison shopping service: when a consumer enters a query into the Google search engine in relation to which Google's comparison shopping service wants to show results, these are displayed at or near the top of the search results.

Google has demoted rival comparison shopping services in its search results: rival comparison shopping services appear in Google's search results on the basis of Google's generic search algorithms. Google has included a number of criteria in these algorithms, as a result of which rival comparison shopping services are demoted. Evidence shows that even the most highly ranked rival service appears on average only on page four of Google's search results, and others appear even further down. Google's own comparison shopping service is not subject to Google's generic search algorithms, including such demotions.
So Google put their own service higher up in the results than competing services and didn't make their own service subject to the same ranking algorithms as their competitors.
Source: TechCrunch
What will this mean for content?
The trouble with snippets is that the places this might hit hardest are those which invest more in the creation of their content. Or in other words, the content which has higher editorial standards. If you're a journalist, someone needs to be paying you to write the content, an editor needs to be paid to sub the content, designers and photographers paid for graphics and images.
So the content which stands to lose the most is arguably the most important, whilst the lower quality, recycled, poorly researched and quickly written content, which needs to generate less revenue as it costs so much less to churn out, remains profitable.
This creates a vicious cycle: as there is more low-quality content it therefore captures a greater share of the audience, higher quality content gets more drowned out and so gets less revenue and diminishes even further.
Mobile users want information delivered more quickly and concisely. We have shorter user journeys on mobile with less time on site and a higher bounce rate. Capturing these visitors with properly optimized content is important as mobile is a key part of Google's revenue as it continues to dominate the mobile search market.
It does also mean, however, that the user is less likely to visit a site which is funded by ads ironically likely served through Google's own platform. However Google might be less concerned about this depending on how much importance they are placing on their Home Assistant product. The snippets are used by the AI to provide answers for your questions. Ads don't factor into this and they could perhaps have calculated they stand to gain more from better information here than the loss from fewer ads served on those sites.