The story, which appeared in the Wall Street Journal today, says that the change will be officially unveiled at the end of March. However, the move has been met with widespread unhappiness and criticism by Twitter users.
While Twitter hasn't yet issued any confirmation of its own, the social network's co-founder and current CEO Jack Dorsey did appear to add fuel to the fire with a lengthy post of his own which totaled 1317 characters. His comments gave insight into the reasoning behind the decision.
In his update – which was shared with 3.3 million followers - Dorsey alluded to a change in the way Twitter's 400-odd million active accounts are interacting with the site and posting updates. He noted that more and more, images are being used as a way to circumvent the 140-character limit currently in place. This was how his own much longer post, seemingly signifying that a change is brewing, was shared.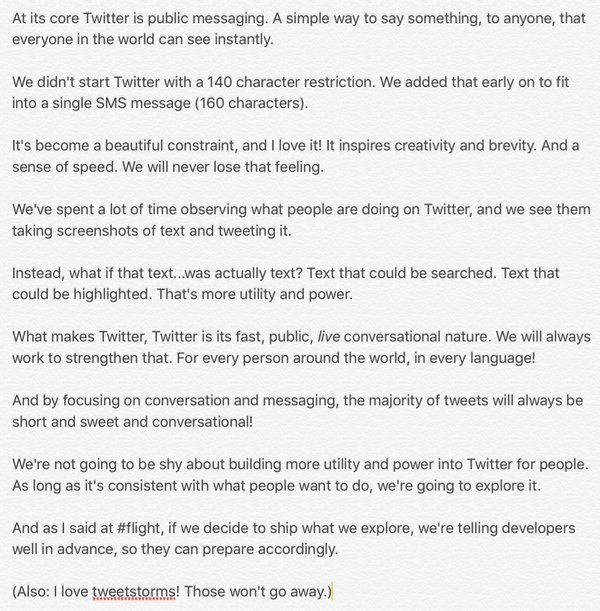 So what's behind the change?
In brief, Dorsey cited a new user trend of writing lengthy posts and then taking a picture to share and tweet as one of the key reasons a longer character limit may be up for consideration.
What are the potential implications?
Removing the need for long posts to be tweeted as an image means more of the content Twitter users generate each day would be searchable. This is significant as Google has recently given a lot more prominence to user tweets in its search results pages.

If longer tweets were posted as text rather than screen shots, Google could index much more of Twitter's user generated content (UGC). This is potentially significant for brands, who could leverage more space and the premium SERPs positioning for better visibility. Dorsey calls this 'more utility, and more power'.

Giving users increased space for their updates would mean that Twitter moves a lot closer to Facebook. The Wall Street Journal article suggests that it could transform Twitter into a public blogging platform.

Bigger character limits will mean brands need to be more aware of their copy and make more of an effort to keep updates succinct and to the point. With no 140-character limit on length of tweet, there is more scope to miss the mark, posting updates that are long for the sake of it with no focus on the core of the news or message being transmitted.

Twitter regularly tops the list for online news sources, with many users saying they turn to Twitter when a news story breaks. Longer posts could kill off this immediacy.

What do you think to the rumored increase to the Twitter character limit? Will you keep your tweets around the 140-character mark or use the full 10,000-character space? Let us know in the comments.