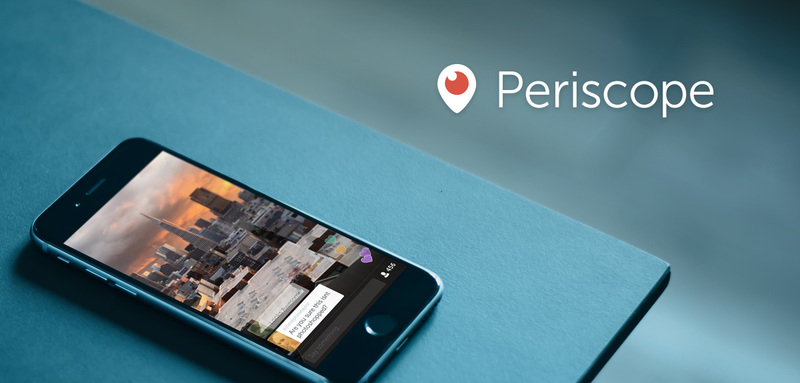 What is it?
Periscope is a video broadcast service, so your content is live video streams. Like Twitter, it is handle-based and users broadcast publicly as you would with tweets. These can be discovered by other users along with your account, and transmitted to your followers' timeline.
So in a nutshell, Periscope is a grown up version of Snapchat, with Twitter's unique discovery interface bolted on. It's worth mentioning that content can also be viewed for up to 24 hours after it has been posted. This is similar to Snapchat's catch up broadcasts function.
Should you jump aboard the Periscope craze?
There are a few key questions to ask when we think about Periscope. Is this new social media platform worth investing time in for your brand or business? Or has Twitter produced another flavour of the month that will soon be drowned out in similar style to its 6 second video craze Vine? Let's not forget Vine was swiftly dispatched following Instagram's rise to popularity which included its own 15 second video capture and share facility.
One of the first big questions to tackle and one I've been asked often is, "Is Periscope really all that different from Twitter? Is it just an add-on?" This was my initial reaction. I wondered if Periscope was simply Twitter adding a video stream feature. If it was, why wasn't Periscope functionality added directly to the existing Twitter interface and app? But actually this is where we come across what is the unique saving grace for me - the reason Periscope offers something different.
Could Periscope offer something different?
Online video and streaming video is already huge. Why would a brand choose to use Periscope over recording a nicely shot and professionally made and edited video? Why choose to upload to Periscope over uploading it to YouTube, which already has a huge audience and clear marketing paths we all already understand? Well the difference is just that. As Periscope is an app, taking on from Twitter's failed Vine app, there is no editing and no perfecting - it's just live, unedited video content.
There's something very personal, almost a behind the scenes feel, to a brand or business airing live video in this way. There's a more genuine feel to a live stream and raw footage than a salesy video with added graphics and pro editing techniques. With modern day audiences more receptive to their own discovery and absorbing information to create their own opinions, brands inviting consumers in a little closer has a unique appeal.
Challenges and opportunities
Now, this throws up opportunities but it also throws up numerous challenges. The exact challenges posed by Periscope I think will differ greatly depending on the business, its size and its industry. For me broadcasting platforms like Twitter - and to some extent Instagram - play well into the hands of celebrities and brands with unique consumer facing personalities. These are the kinds of accounts likely to draw in followers. People love to see what their favourite celebrities and icons are like without all the advertising and editing layered on. It's more personal.
So for me, a big opportunity exists for celebs and individual personalities to shine by creating their own brands on Periscope. I think it's also an attractive prospect for businesses who have invested in ambassadors or faces for their products. These 'personalities' can deliver the kind of content that will be compelling on Periscope. That's the crux of it and I think this is where smaller or less consumer facing businesses will struggle with the platform.
Another big appeal to the Periscope platform is that viewers can interact, posting comments and replies to the video stream even while it's running live. That's a pretty cool feature and a fantastic opportunity for some really exciting customer engagement. There are a lot of possibilities here if you plan it out. For example, you could deliver a live competition in which viewers win by interacting. You could even use the stream service to broadcast live events, or interviews where you can respond directly to questions posted during streaming. These are big opportunities but not all businesses will have the appeal or means to deliver this. Live hosting is a unique skillset.
So, there are some potentially exciting ways to capitalise on Periscope as a platform for the right brands but for me, the major issue for most businesses will be the logistics of producing live streaming content. Who, what and when should we broadcast? Aside from the logistics many brands will also have to ask themselves the serious question, do we as a brand have the genuine appeal for users to want to watch streaming video of us? That is a challenge as much as a con. Some brands may choose to fight their market perception through pushing a platform like this hard, others will simply be unable to establish enough of a benefit or return from this platform to use it at all.
The biggest issue for me will be how Periscope actually performs - and that's something only time will tell. How many users does Periscope have and will it have in the future? Recent stats show that since its launch in March 2015, Periscope has seen just over 10 million accounts activated. Over one million of those came in the first two weeks. That's not bad going, but it's worth keeping in mind that Twitter pushed this new platform very hard. The 10 million accounts already created may well be Twitter users checking out the latest innovation. It's still not clear how many people are using the app daily or even weekly and how long they spend when they're on it, let alone how engaged they really are.
For this long term marketer who has seen a lot of tech come and go, I'm keeping a close eye on it, but I'm not throwing my clients in Periscope's direction just yet.