While comparisons were made with Snapchat, which has long since offered Snapchat Stories, lots of brands and fans were quick to try out the new Instagram format.
Fast forward two months and both Facebook and Twitter have now also rolled out their own versions of the storytelling timeline. Both social media platforms announced their take on the format last week, with Twitter ushering in Twitter Moments for everyone and Facebook quietly starting to deploy Messenger Day – a new feature which sits within the Facebook Messenger app – in select countries.
With users now spoilt for choice, what's the difference between each of these new options and which one should you choose?
Snapchat Stories
Snapchat was the birthplace of the story format. Normally when an image is posted on Snapchat, it's available for a few seconds before disappearing for good. Stories allows followers to view a picture (or series of pictures) for 24 hours and unlimited number of times. A Snapchat Story is made up of a series of images, making them ideal for showcasing or narrating events or occasions, with posts shown in chronological order.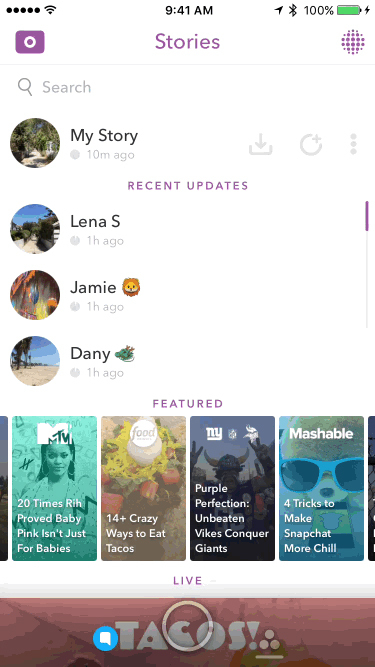 Choose Snapchat Stories for your brand if:
You excel in creating succinct, fun content - Snapchat has a younger demographic than its Story rivals, so this is an especially good option if you're appealing to the 18-34 audience
You already have a good Snapchat following and want to find new ways to get followers to engage with your brand
You have a special occasion or event coming up (such as a launch party) and want to take fans behind the scenes
Instagram Stories
If you have the latest version of the Instagram app, you might have noticed a band of circles at the top of your feed. This band is where the new Instagram Stories feature lives.
As a user, instead of posting singular images and videos to your timeline (and worrying about posting too frequently), Instagram stories allows you to collate multiple updates, which combine into a single slideshow. Images can be decorated with text and drawings to add creative interest and then followers can view at their leisure.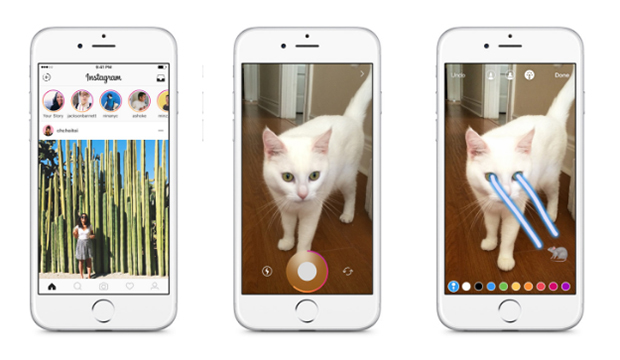 Access to Stories follows your account privacy settings and, Instagram also allows you to see exactly who has viewed your Story. Instagram Stories are visible for just 24 hours and after that period, will disappear. They won't appear on a profile page, making them temporary highlights or snapshots to be enjoyed for a limited period.
A number of high profile brands have been quick to jump on the Instagram Stories feature, with users including NASA, Shopify and GoPro all using the new functionality to inject some creativity into their accounts. NASA used it to share more information about a meteor shower, while Shopify has been experimenting with Stories as a way to promote blog posts.
Choose Instagram Stories for your brand if:
If you already have a large Instagram following, Stories gives you a fun new way to strengthen that community bond and try new content formats, without the need to build up an audience on a new platform.
If you're not on Snapchat already but are on Instagram, you can experiment with the storytelling format to see if it works for your business before investing additional time and resources in Snapchat.
If your product is very visual and / or you are a prolific content generator, Instagram stories is a fun way to switch up your social media activity.
If you're looking to increase audience reach, the option to add tags and geo-locations is an easy way to increase discoverability and grow followers.
Instagram has over 500 million regular active users, giving it the edge over Snapchat and Twitter. If you're looking to grab a big audience, you're likely to find more of them on Instagram
Twitter Moments
Twitter Moments is the latest addition to the storytelling field, with the platform confirming it was rolling out its version to all on the 28 September. It had previously been tested with a select few partners and publishers ahead of its general launch. In its official launch tweet, the platform said, "Creators can now tell richer stories by creating and sharing a collection of Tweets in a Moment."
A Moment is essentially a curated series of tweets about a particular event or topic, such as the US Presidential Elections or Great Britain leaving the EU. You can find all the Moments created by any Twitter account on its profile page.
Moments have a cover image and tweets included within the Moment can be from a single person or group of people. Other content such as GIFs, videos, Vines and images can all be included. Unlike Instagram and Snapchat, Twitter recommends that users keep their Moments to around 10 tweets or less.
Moments can be created from the Moments tab, by clicking on the Moments link on the profile page or, from a tweet itself. Moments must be given a title and a description, and then the desired tweets added to the collection. Twitter also curates its own Moments, using pictures, highlights and headlines to cover key stories.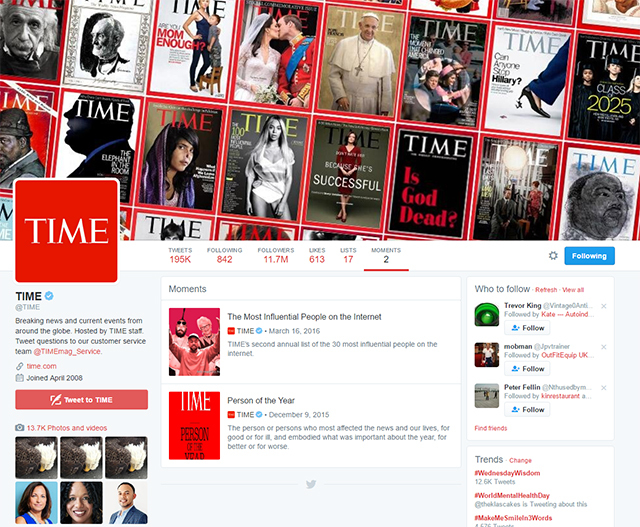 Choose Twitter Moments for your brand if:
Twitter Moments have more of a curated feel than Instagram or Snapchat Stories. If you follow lots of other accounts and influencers or find news and events relate well to your products, use Twitter Moments to tap into that interest.
If you're looking to gain more impressions, Twitter Moments can be embedded on a website like tweets so, if you have a talent for content curation or have lots of fun content to share around a particular story, you could use Moments to capture the attention of a wider set of users
If you host events or take lots of behind the scenes images and videos, a Twitter Moment can be used to bring your audience closer to your business using this format.
Facebook Messenger App
Facebook has previously denied speculation that it would launch its own Story function, but the addition of Messenger Day to its Facebook Messenger App in some countries has many wondering if the social network is planning its own version.
Launched in Poland, Messenger Day appears at the top of the Messenger App window. Users can use Messenger Day to share images, with the option of applying creative filters and customized text and graphics, for up to 24 hours. This mirrors Snapchat's format but Facebook has said it has no extra comment to make at this time.
Users in Poland have seen tiles appear at the top of their Messenger Window, which depict their day. They can then choose how they feel, embellish pics and share with friends for one day before that story disappears.
Some industry observers have speculated that Facebook has deliberately chosen Poland for the trial because it wants to establish a foothold in territories where Snapchat does not have a wide market penetration.
Have you used Instagram Stories, Twitter Moments or Snapchat for your brand? Has it been successful? Share your experiences with us in the comments.