A round-up of Facebook's annual F8 Developer's Conference, held this year in San Jose, will have you thinking otherwise however, as the Mark Zuckerberg-led platform packed its launch pad for new features full of interesting, groundbreaking and sometimes downright bewildering announcements and previews.
In this post, we've rounded up some of the most interesting points to come out of F8, along with one of the most surprising.
1.Brain-powered technology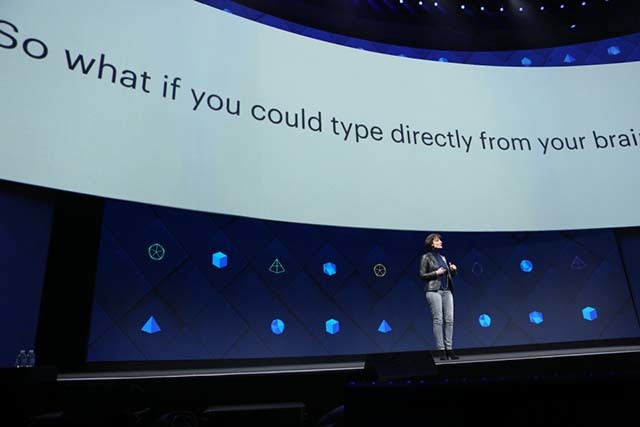 Let's start with easily the most surprising part of the Developer Conference; confirmation that Facebook is currently working on brain-powered technology. An idea stemming from Building 8, Facebook's product development and research team, is focused on silent speech communications. As part of this, the network confirmed it is working on a system which will allow people to type with their brains.
It says in its Newsroom post:
"We have a goal of creating a silent speech system capable of typing 100 words per minute straight from your brain – that's five times faster than you can type on a smartphone today. This isn't about decoding your random thoughts…This is about decoding those words you've already decided to share by sending them to the speech center of your brain. It's a way to communicate with the speed and flexibility of your voice and the privacy of text. We want to do this with non-invasive, wearable sensors that can be manufactured at scale.
More than 60 experts are currently working on hardware and software for this project with the ultimate aim of turning the concept into wearable technology to be manufactured at scale.
In the same area of research, Facebook confirmed that a second project, which will allow people to hear through their skin, is also being worked on right now. It is building the hardware and software necessary to make this a reality, saying its products will deliver language 'through the skin'.
2.Camera Effects Platform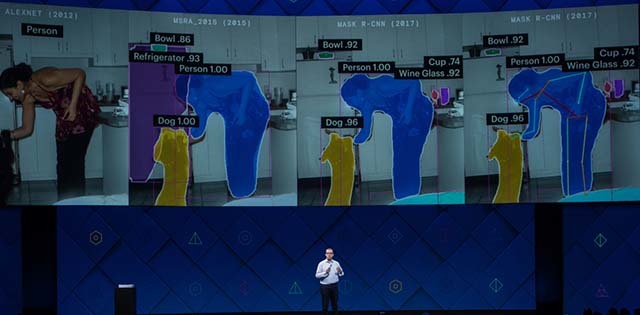 Mark Zuckerberg opened the San Jose event with a keynote speech recognizing the camera as the first mainstream augmented reality platform in the world. He used the keynote to announce the Camera Effects Platform, for use with the new Facebook Camera. Described as a suite of creative tools, the Camera Effects Platform will enable developers to use the latest in augmented reality technology and give them the power to build AR tools to bring people together in new ways.
The Platform currently includes two products; Frames Studio and AR Studio. Frames Studio is now available globally and allows users to design frames for profile pictures. AR Studio is currently only open to beta applications but will enable users to, "…create masks, scripted effects, animated frames and other AR technologies that react to movement, the environment or interactions during Live videos."
3.Facebook Spaces VR App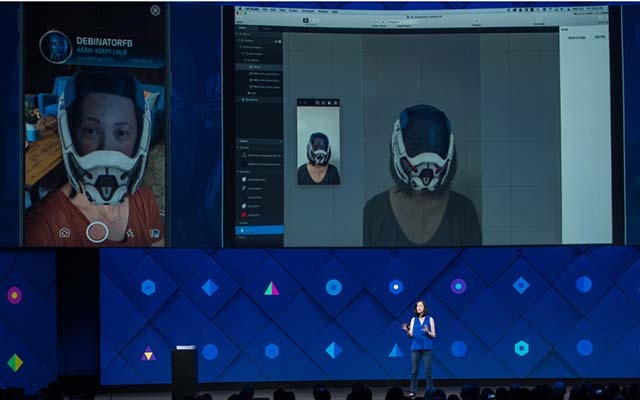 Could physically hanging out with your friends be a thing of the past? Virtual reality and augmented reality were recurring themes at F8 and following hot on the heels of AR Studio is Facebook Spaces, a new VR App which launched at F8. The app debuted in beta for Oculus Rift on day one of the two-day conference and allows users to view Facebook content including videos and images with friends in VR, transporting participants to new locations without actually having to leave the room.
Other features include being able to draw in the air with a virtual marker pen, using video calling to bring friends from the real world into the virtual and of course, the option to take a selfie to share memories created in VR with real life friends on Facebook.
4.Additions to Facebook Messenger
A host of developments centered around Facebook messenger. The social network says there are currently 1.2 billion people, 100,000 developers and 100,000 bots sending 2 billion messages between people and businesses each month. Coming out of F8, new Messenger features include:
Discover: a new tab to enable users to find the bot they're looking for in a more intuitive way. Messenger codes are also being introduced to aid real world discovery, giving users the option to scan Messenger codes and link to favorite brands and businesses.
Chat Extensions: So multiple people can chat with a business at the same time
M: Food ordering is now enabled via the Messenger Assistant, M. Users chatting to friends about what to have for dinner will find M now suggesting placing an order. The food can be ordered and paid for entirely in Messenger.
Smart Replies: To help businesses respond to their most frequently asked questions such as directions to store and opening hours.
5. A free version of Workplace to be available to all
Facebook's push into new technologies continued with the news that a free version of its Workplace project will be available by the end of the year. Workplace is a connectivity, productivity and collaboration app which is similar to Slack - it helps companies to search files, manage productivity, access familiar tools and collaborate with other users via instant message. The basic services will be available at no cost, with premium add-ons such as cloud storage available for a fee.
Read the full breakdown of developments from day one and day two in the Facebook Newsroom.
What do you think to the advances Facebook is making? Should it stick to social networking or is it right to focus on tech advances? Share your thoughts in the comments.