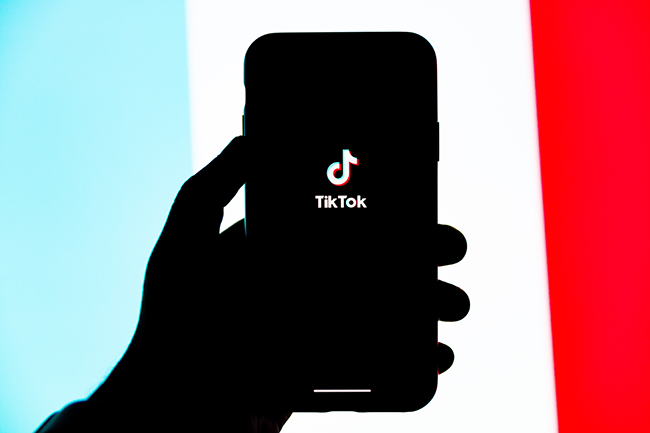 Image: Unsplash
TikTok has announced a change in the character limit for video descriptions, increasing it by a massive margin from 300 to 2,200. The limit started out at 150 and was doubled to 300 last year.
TikTok says the move allows creators to give a more detailed description of their videos, allowing them to make their content more searchable and better recommended to viewers by TikTok.
The change was reported by social media consultant Matt Navara who tweeted a notification from TikTok, adding "This is huge for creators and massive in terms of TikTok's plans for becoming a search engine".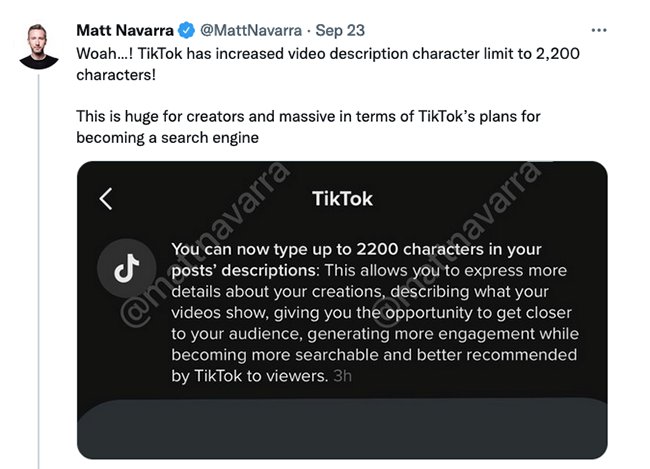 Creators with a knowledge of SEO will be able to optimize their descriptions which, even if not read by users, can still be used by the TikTok algorithm to surface content.
In response to a comment that nobody reads the descriptions on TikTok anyway, Rhayven J tweeted:
"Even if they don't, the algorithm will. If folks know SEO, then this is a huge game changer :)"
TikTok challenges existing platforms
TikTok has grown enormously over the past years with over a billion users a day currently. Competition in the short video format niche and for Gen Z users is fierce. Both Instagram and YouTube have expanded their short video content offerings, with Reels and Shorts respectively. Just last week, YouTube announced plans to monetize Shorts.
Google is well aware of the challenge posed by TikTok in terms of young people's search habits, which are in step with a faster, more frictionless internet experience. As Google Senior Vice President Prabhakar Raghavan acknowledged, they often turn to apps like Instagram and TikTok for discovery, finding content in a more immersive way rather than typing in keywords.
"In our studies, something like almost 40% of young people, when they're looking for a place for lunch, they don't go to Google Maps or Search," he continued. "They go to TikTok or Instagram."
Looking to the future
An article by Connie Chan for andreessen horowitz provides useful context on the possible future direction of TikTok and video search, in the light of how search has developed on Douyin, TikTok's sister app on Bytedance. She tweeted:
"I wrote about what happens when @Tiktok_US becomes a search destination, overtaking @Google @Yelp and Maps searches. There's no need to guess what it will look like -- just look to China to see what happened there."
Douyin has been successfully monetizing short form video for a number of years using tags with links to the in-app pages of stores and locations, where users can take advantage of discount coupons or special bookings.
Read the full article here: What China Can Teach Us About the Future of TikTok and Video Search