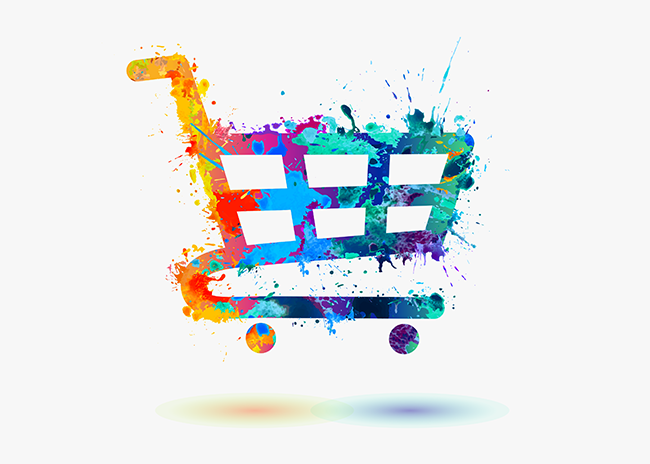 In Google's Ecommerce Essentials series, Developer Advocate Alan Kent picks out 8 search engine optimization tips particularly relevant to ecommerce sites.
It's important to think through and define your goals in line with your overall business strategy before you start. This will allow you to measure performance against specific metrics to give you a good idea of whether or not your optimization efforts are working.
1. Nail the technical basics
There are some fundamental technical elements you need to get right which are part of the basic building blocks of SEO, including:
Make sure Google can crawl your site. Google Search Console is the best place to identify issues and get recommendations on how to fix them. Use the URL Inspection Tool to check any problems with individual URLS have been resolved.
Have crawler friendly URLS and internal links. Check out Google's advice on how to design a URL structure for an ecommerce site. (Many platforms will take care of this issue for you.)
Get your Page Titles right. Think about including product details in your page title, such as the color, or brand name, in order to provide the most useful information to shoppers. Page titles are used as the basis for the title links shown in the results, so it's your key opportunity to make an impression on shoppers.
Use Structured Data. Adding structured data helps Google understand the purpose of the page correctly. Structured data for product pages can help Google better understand the attributes of your products.
You can find more help and recommended techniques in Google's ecommerce guidelines.
2. The right content for stages of the buyer journey
People come to your site at different stages of their shopping journey, so it's important to have the right, most useful content at each stage. A shopper may be browsing for ideas, or want to check out reviews for different versions of a product, or look for detailed information, and will need different kinds of content at each point.
Use Search Console to check out queries where your site is being shown to see where your site performs well, or not. You can also check out the competition for the queries you want to rank for to pick up tips and identify any content gaps you can fill.
Further reading: How to use the buyer's journey as a roadmap for content marketing
3. Mark up product variant pages correctly
Google recommends giving each product variant its own unique URL. This can help it better understand your site content and relationship between product variants.
Add query parameters to identify details such as the product color or size. Then select one of the variants with the query parameter omitted, to be the canonical URL. All variants should include the URL of the canonical page and the relevant query parameter.
For example, if the default value of the color query parameter for a bag is green, then:
Use /bag as the canonical URL for all bag variants
For a green bag, use /bag (and not /bag?color=green)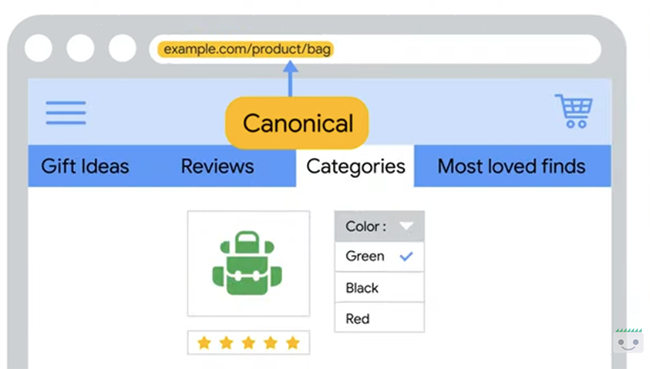 For a red bag, use /bag?color=red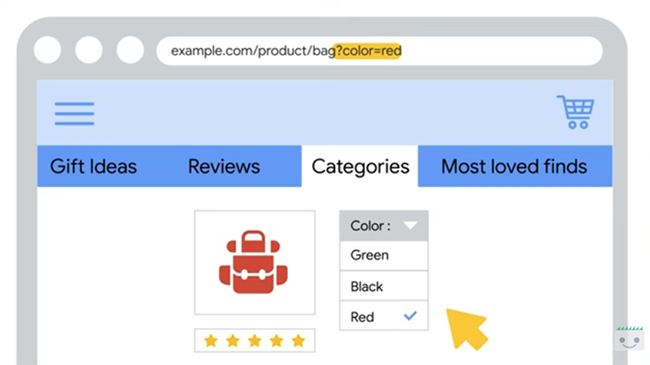 All variants should include the URL of the canonical page and the relevant query parameter.
Make sure the canonical page includes text describing all the variants available, such as colors or sizes. Different ways to do this include descriptive text, or a color swatch (with alt text for the color) that the user can click on to select.
Use Search Console to identify issues and recommendations for fixes, and the URL Inspection tool to check the status of pages.
4. Keep deal page URLS
Most ecommerce sites have deals around certain dates - Black Friday, Valentines, Mother's day etc. Google's advice here is to reuse these URLS across all event occurrences, rather than create new ones for each event. This helps Google correctly understand and trust the purpose of these pages.
Don't include date elements in the URL, so it can be used again the following year.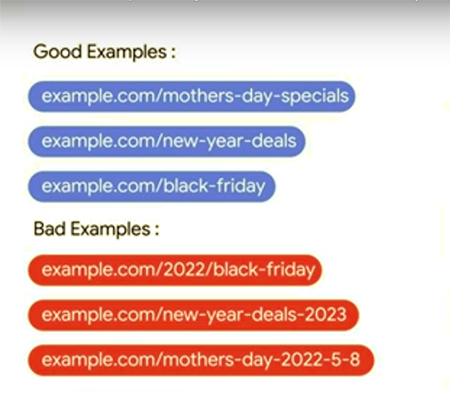 In the intervening time keep the page online and in Google's index. Show relevant content such as information about best sellers last year, or general gifts appropriate to the event. When the event comes round again, update the page with this year's offers, and you're ready to go without waiting for Google to find and index the page.
5. Site performance
Performance is crucial for your site. Users will abandon a site if the page takes too long to load - and Page Experience is now a Google ranking signal. If several ecommerce sites use the same supplier-provided product description, page speed may be the factor that decides which ranks higher in the search results.
Use the PageSpeed Insights tool to check the performance of your page, and get recommendations on how to fix issues and make improvements where needed.
Alan Kent's three final tips are not technical, but no less important for that.
6. Be patient
SEO is a long game so don't expect to see results overnight. There's a lot of competition out there - around 20% of sites on the HTTP archive support ecommerce - and no guarantee of success.
Monitor your progress towards your goals, check and correct any issues you find. Use Google to dig into your traffic levels; if these show an upward trend it's likely you're on the right track.
Keep working on improving your site, also incorporating traditional marketing methods, social media and link building.
7. Get expert help if needed
If you've done everything you can and are still not seeing results, it may be time to consider hiring a professional. Beware, however, of anyone offering black hat SEO techniques such as artificial link building. Anything that contravenes Google guidelines is likely to negatively affect your rankings.
8. Focus on your users
Alan Kent's final tip is to concentrate on your users. This chimes with Google's advice in other areas such as how to respond to algorithm changes. Google's ultimate aim is to present the users with the best possible content for their query. Algorithms may change, but the ultimate goal remains the same.
Alongside your technical SEO, think about changes that can benefit your users. If you're seeing a high bounce rate, for example, you may need to revisit your content strategy. Visual media is increasingly important online, so make sure you have high quality images and videos.
You can watch the whole video here:
Further reading:
Optimize your ecommerce website for ranking and conversion success