Business Insider expected a colossal $4 trillion of merchandise to be abandoned in online carts in 2015, while Listrak's abandonment index calculates an average of 78% of carts were abandoned in the last six months.
Business Insider has a silver lining for those struggling to get customers to the finish line – it estimates that around 63% of those discarded purchases are salvageable.
If your site is registering a high abandonment rate, tackling it now can help to maximize sales during the impending holiday shopping period. With Labor Day done, Thanksgiving, Black Friday and Christmas all loom large. Try these tips to make the most of the seasonal sales rush by reducing cart abandonment and optimizing purchase intent.
Make it easy to switch between cart and store
How many times have you been to the store, got to your car and realized that you'd forgotten something? Or spent an age in the pasta aisle weighing up this spaghetti against that penne? Online shopping is no different. Browsers forget things, want to compare, add things to their bag and remove something else. Making the overall online shopping experience more fluid accommodates the buyer and their quirks. Shopping behemoth ASOS is a great example of this approach in action.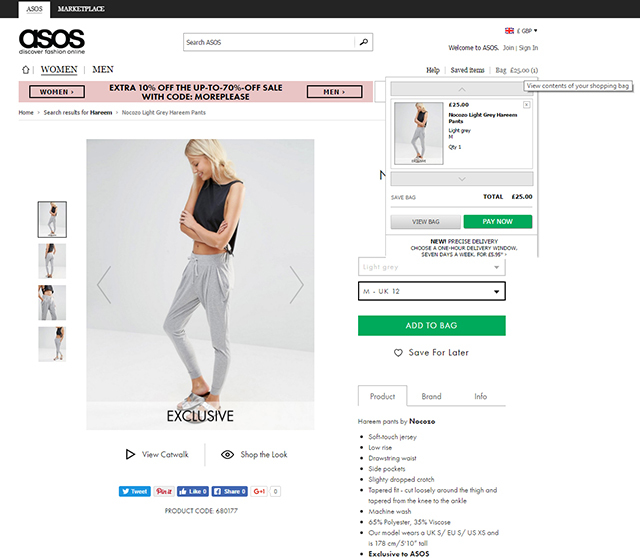 As you're browsing the store it's easy to see what's in your bag, without leaving the site and progressing through to checkout. You can hover over the cart to see its contents, remove items if desired and click through to the product page. The ease with which shoppers can move between their cart and the store makes for a user friendly, helpful and intuitive shopping experience. It's frictionless and convenient, making it easy to complete the purchase.
Add save for later
While mobile internet has made life immeasurably more convenient for online shoppers, things do still crop up and disrupt the buying cycle. Adding a save for later button means the consumer can come back and pick up right where they left off if they do get interrupted by something more pressing.
It's not enough to add the functionality though, it must also be easy to execute. Ideally no more than a single click should save the cart, with a similarly straightforward process to retrieve it later.
Making it easy to save a cart for later is crucial for ecommerce stores with high abandonment rates. This single addition can help the site to overcome the distraction hazards that lead online shoppers to leave a full cart and go off to do something else, by making it easy for them to come back and complete the purchase at a more convenient moment.
Display additional costs up front
There is little as annoying online as getting to the end of the checkout process and being presented with extra costs such as shipping. Bring down your cart abandonment rate by being upfront about costs before the shopper begins the checkout process. Crate and Barrel show estimated costs before even asking the user if they have an account, prefer to checkout as a guest or input any personal details. They also use the same screen to highlight their easy returns policy – a double whammy of lower cart abandonment best practice.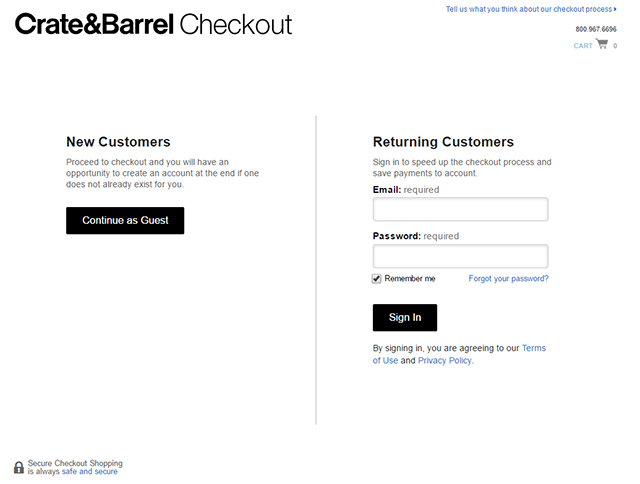 Don't force your customers to create an account
In an ideal world, everyone who buys from your site will register for an account with you. But, forcing this on the shopper is an easy way to drive up abandonment rates. Offer a guest checkout option so the shopper has the option of giving you personal information and registering with your store, or simply checking out as a guest. Crate and Barrel allow users to check out as a guest but give the shopper the chance to create an account at the end of the process.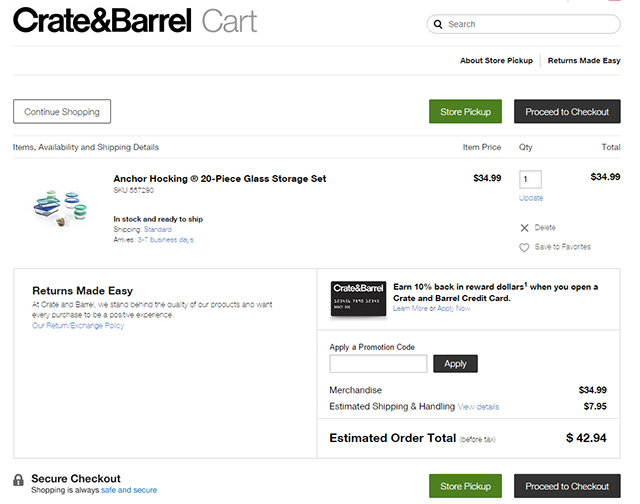 Don't forget your call to action
When you go to the store and fill your cart in real life, there's little doubt you'll go to the checkout and pay for your goods. In the digital world, it's easy to make the same assumption and rule out a call to action on the cart page. If your cart abandonment rates are high, ask yourself if your call to action (or lack of) might be partially responsible. Think of your cart as an extension of your site and apply a prominent call to action in the same way you'd use one to get a newsletter sign up, or the initial add to cart behavior.
ASOS has two on its checkout page, both above and below the cart summary.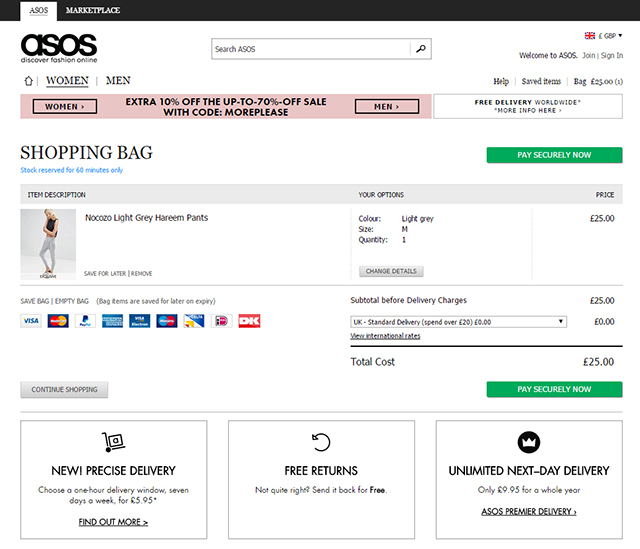 ASOS also subtly reinforces confidence within its call to action by adding in the word 'securely'. This helps to strengthen the resolve of a wary customer and encourages them through to complete the purchase.
What methods have you used to reduce your own cart abandonment averages? Let us know in the comments.