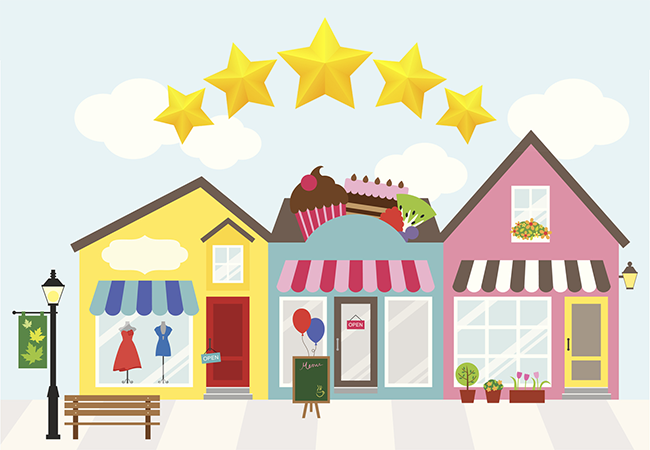 According to a recent study, 84% of customers trust reviews as much as personal recommendations. Positive consumer reviews play a major role in your brand's search engine performance, particularly on Google My Business.

A quick search for local companies is likely to pull up businesses with the highest number of Google review stars. You might be wondering how your SEO could benefit from using customer reviews. This guide will show you a number of ways you can harness customer reviews to improve your local SEO and give it more exposure to local users.
What is local SEO, and why is it important?
Local searches, or 'near me searches' are particularly important for small bricks and mortar businesses with a limited geographical reach. If your business fits into this category, you will want your website to rank high on Google for local searches. Using local SEO will help you achieve this goal.
Multiple factors influence local SEO including:
On-page SEO: Adding the location of the business as a keyword in on-site content will increase your chances of appearing on local searches.
Google My Business: Google generates GMB listings automatically through data from other listings. Claiming the GMB listing for your business will allow you to verify its address and add its contact details and photos.
Customer reviews: These show on your Google My Business listing. Higher ratings will give your business a better chance of appearing in the map pack for your area.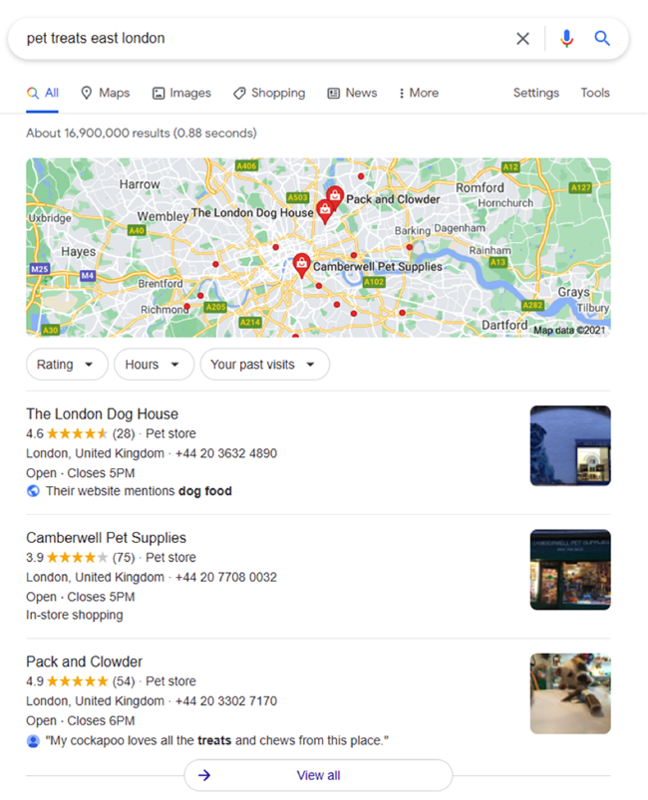 As a business owner, you can control the first two factors. However, you will need the help of your customers to generate reviews and so improve your local search rankings.
How can you use customer reviews for local SEO?
1. Aim for reviews on local, high quality sites
Whenever your website gets a backlink from a high-authority website (usually with a DA of 50 or higher), it boosts your site's authority. Google's algorithm sees that backlink as an endorsement of your website and it will be one of the factors it takes into account as it decides where to place your site in the search results.
One way to build links back to your site is to have someone write a review of your business.
Here's an example: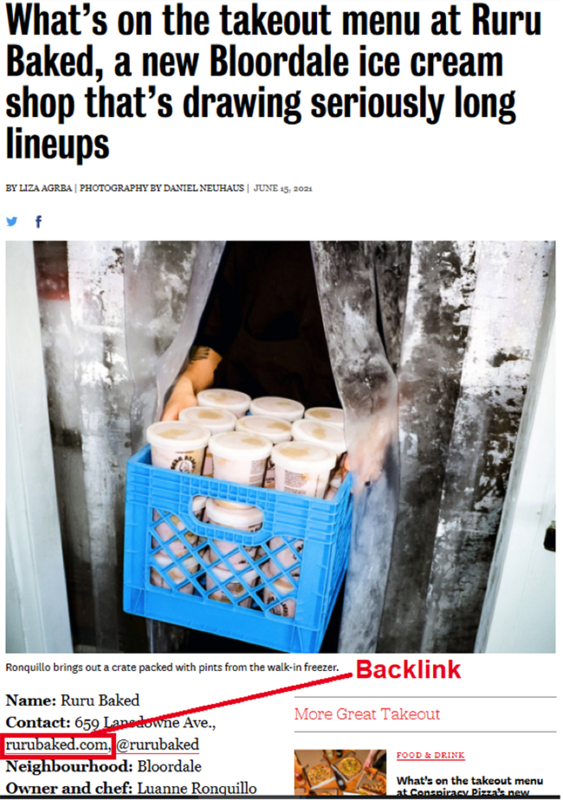 The review above contains the following pieces of vital information:
The restaurant's exact address
A backlink to the website
A link to the restaurant's Instagram account
As if the address and backlink aren't enough, the headline contains the words "Bloordale ice cream", which gives Ruru Baked enough of a boost to put it in the Google map pack for the keyword: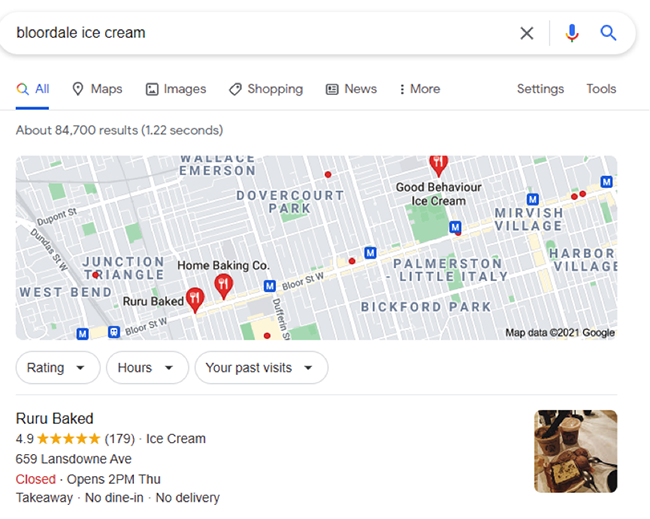 The review works also because the site that hosts the review, TorontoLife.com, has a high authority score (71). If you're working on building backlinks through reviews, aiming for high-authority sites will help you get the most out of your link building.
2. Set up your Google My Business page
Google My Business is an online business directory that lists everything from salons to restaurants to marketing agencies and more. It contains basic information about your business, such as address, contact details, and business hours.
It provides further ways for your customers to interact with your business, including through leaving reviews, and reviews are displayed prominently.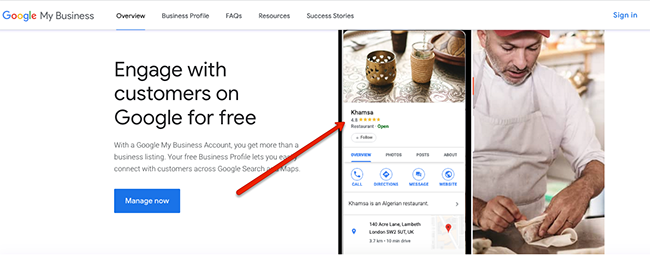 Setting up a Google My Business page is free, and a relatively simple process and this infographic shows you how. If you haven't yet done this, it's something you should definitely take the time to do.
A My Business page will give you access to thousands of users in your area looking for local companies to support, and an easy way to collect reviews of your business.
3. Tap into UGC on review sites
Websites such as Yelp and TripAdvisor allow customers to share their experiences and review businesses they have visited. The volume of reviews and your overall score on these third-party websites impact your search ranking.
Google algorithms treat reviews as UGC (User Generated Content), and they are an important ranking signal. You can check your reviews for popular words or phrases and these will help you with selecting the right keywords to optimize for on your website.
If you're not encouraging your customers to leave a review on Yelp and similar sites, you're missing many good opportunities to boost your reputation and rankings. Most customers would be more than happy to give you a good review if you've provided them with excellent service. All you have to do is ask.
4. Apply structured data
Structured data (also called "schema markup") helps search engines display more informative and helpful information to users. Schema markup is embedded into your website via an HTML code that gives search engines more information regarding your content.
If you have very little coding knowledge, you can either use a plugin like Schema App Structured Data or Google's Structured Data Markup Helper: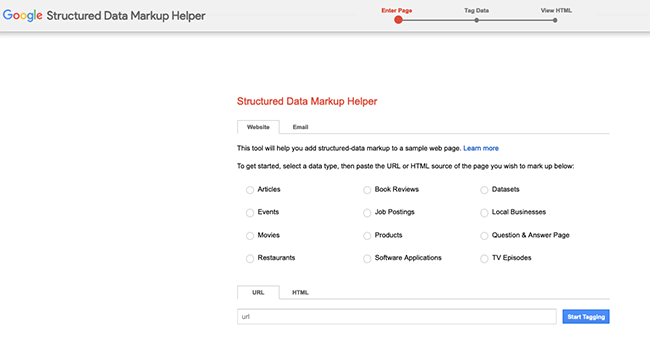 Local Business Schema Markup is used to embed structured data into your website. Once you add it to your website, it helps your business stand out in the SERPs, increase conversions and display important information (including reviews) efficiently.
To leverage customer reviews and boost your search engine ranking, focus on AggregateRating and Review schema properties. The former displays an average score depending on multiple reviews or ratings, while the latter allows you to display snippets of specific customer reviews.
5. Boost rankings with in-depth reviews
Google cares about reviews and these affect your search rankings. It aims to display the most relevant, high quality and reputable results to a search query and reviews are one way in which this can be guaged. It will show the top-rated establishments (those with many recent and positive reviews) to users when they search.
Google's product reviews algorithm, introduced for English-language reviews earlier this year, is designed to reward in-depth, high quality reviews which show expert knowledge of the product or service, rather than thin, low quality reviews. It shows the value Google places both on reviews and quality content.
More positive reviews showing good knowledge mean better visibility, and so potentially more traffic and conversions. They open a window for new customers to discover your business.
Bonus point
This shouldn't need saying, but don't forget to reply to your customer reviews.
On their My Business page on improving local rankings, Google says clearly that businesses should respond to reviews.
"Respond to reviews that users leave about your business. When you reply to reviews, it shows that you value your customers and their feedback. High-quality, positive reviews from your customers can improve your business visibility and increase the likelihood that a shopper will visit your location."
If the customer reviews are positive, you can thank them for taking the time to write a review of your business. If you have a negative review, the best way to respond is to engage with the customer, acknowledge issues and show you're taking steps to resolve them.
Responding to your customers sends a signal to Google that your business actively engages with customers. In turn, the algorithm recognizes this as a sign of brand credibility and trustworthiness, and this will have a positive effect on your rankings.
Bottom line
Acquiring customer reviews and harnessing them for your local SEO is an ongoing process that may not show results immediately but has a significant impact over time.
The best way to get positive customer reviews is to be really good at what you do or offer. When people love your products or services, they will write positive reviews.
Responding to reviews will also help you engage with your customers and signal to Google that your business cares about its customers. By actively seeking and responding to reviews, you can boost your local SEO and elevate your business in the search results for your niche and location.