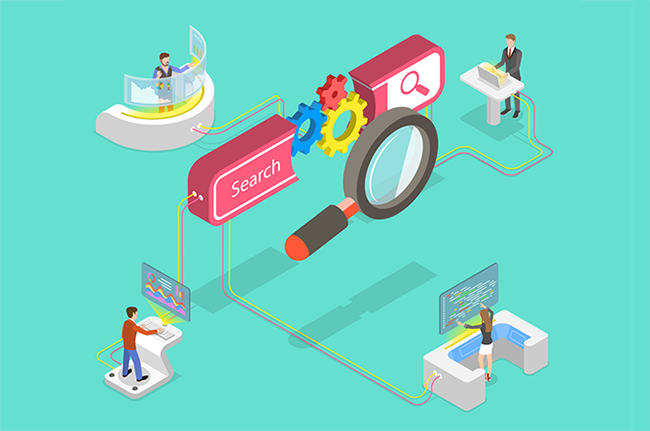 A meta description is like a store window.
It gives users a glimpse of what they are about to experience.
And you should utilize the search engine results page to attract visitors, as a storefront might.
Especially considering the fact that organic search continues to drive more traffic to websites than other channels, with a share of 53%.
If your meta description is accurate, enticing, and satisfies user intent, then it will lead to more traffic and, in all likelihood, a greater number of conversions.
In fact, you can increase traffic by up to 54% and page rankings by up to 10 positions when you optimize metadata, and a recent survey showed meta descriptions were a key driver for search clickthrough.
Pretty impressive, huh?
So, let's take a look at how you can optimize meta descriptions to improve your search rankings:
1. Satisfy search intent
Well-optimized meta descriptions improve click-through rates.
On average, CTR is 5.8% higher when you create your own meta description versus when Google pulls a snippet from a page.
When drafting meta descriptions, you should add your focus keyword towards the beginning of the text.
The reason being, Google bolds exact match and semantically similar keywords in the search results: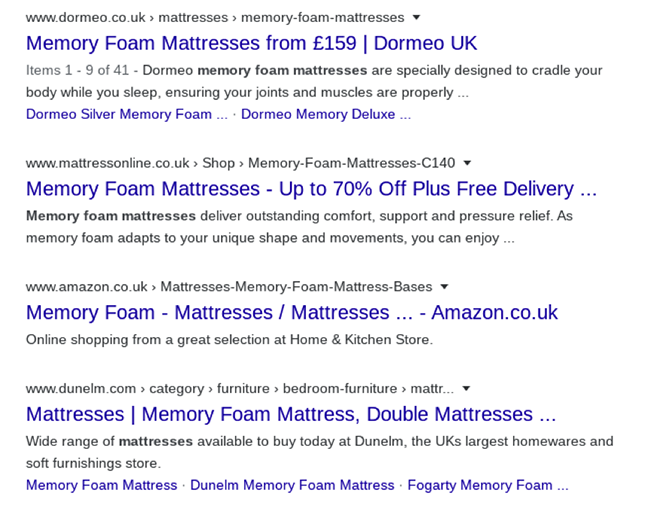 If a user's search query is in there, it draws their eye and encourages them to click.
But, keywords aren't the be-all and end-all...
It's important that your meta description matches the search intent of the user.
Within the copy, you must prove that your page provides a satisfactory solution to the searcher's query.
Now, there are four main types of search intent.
Let's take a look at how you can create a winning meta description for each category.
1. Navigational
This is when a user searches for a specific website or page.
For example, they might type in "Buzzfeed":

Or "Facebook":


Or "Walmart":


As you can see in these examples, meta descriptions with navigational intent should be broadly descriptive.
And showcase all the things the user can find or do on your site.
2. Informational
The user is looking for a specific piece of information or an answer to their question.
So, they might search "how to measure ring size":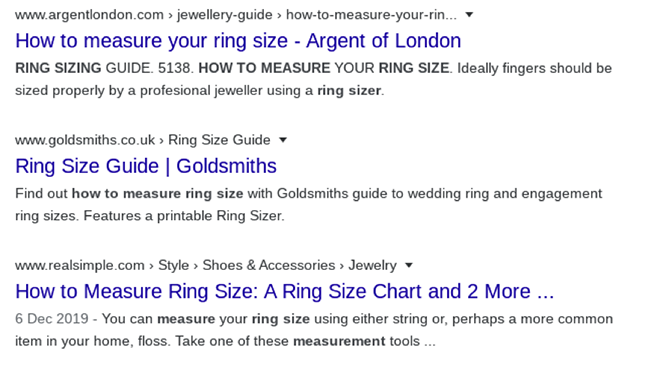 With informational intent, your meta description should tell the user what they will learn or achieve by clicking.
You can also hint at the content within to further encourage a click.
3. Commercial investigation
Here, the user is looking to make a purchase but hasn't made a final decision.
Hence, they may search "best vapes":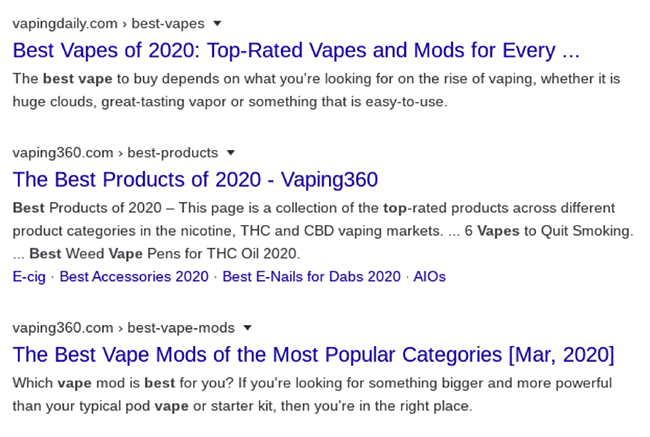 As you can see from the top three results, the meta descriptions are not sales-y.
They're closer to being informational but with the specific goal of helping somebody to make a decision.
4. Transactional
The searcher is ready to buy, they just need to find a place to buy from.
So, they might search for something like "buy hp laptop":


In this case, your meta description should include useful product information, store information, and/or benefits of the product as part of your sales pitch.
All in all, if you can create a meta description that satisfies the user better than any other on the page then they're most likely to click on your search result.
2. Use enticing copy
A good meta description not only gives users and search engines direction as to what a page is about….
But it also acts as an ad for your page.
As Joe Williams at Search Engine Watch says,
"Meta descriptions can make or break how much SEO traffic you get. A great meta description tag will allow any page (including your homepage) to punch above its weight on Google..."
You have to make your meta descriptions super-compelling so that users choose you.
Be the Pikachu, not the bog-standard Charmander, Squirtle or Bulbasaur.
Here's what you need to do:
1. Include your USP
You must describe what differentiates your product, as well as why the user should buy from you specifically.
Here's an example:
This sushi restaurant sets themselves apart by emphasizing their values— freshness, sustainability and authenticity.
You could try making your meta descriptions benefits-focused, instead of features-focused.
And also include ways you provide additional value.
For instance, if you run an e-commerce store, you might mention finance or delivery options.
2. Be persuasive
There are a couple of ways you can give users an extra nudge to click on your page.
Firstly, follow good copywriting best practices to trigger an emotional response in the user.
Take a look at this example from Candy Warehouse:
It's appealing as it evokes feelings of nostalgia.
Naturally, your brand may wish to evoke a different kind of emotion - consider this carefully before crafting meta descriptions.
Furthermore, you can include a compelling call to action, like in this example:

By adding their primary CTA to their meta description, MailerLite sets the scene for conversions from the very beginning.
3. Offer tangible value
Your meta descriptions should focus on the customer, where they are in their lifecycle, and how you can make their lives better or easier.
This is an excellent example from Calendly:

They explain how their appointment scheduling software is "super easy"...
And it puts an end to the usual back and forth involved in organizing an appointment.
You can do something similar by addressing how you solve your customers' main pain point.
4. Use your unique tone of voice
Use a tone that expresses your brand identity.
This will not only make your meta description stand out on the SERPs but also resonate with your niche audience.
Check out this example:
Sock It to Me uses their fun, casual tone even in their meta descriptions.
What tone of voice are you going for?
Intelligent? Quirky? Sophisticated? Wholesome?
Whatever it is, bring it into your meta descriptions, too.
And finally, don't forget to test and monitor your meta descriptions to see what tactics entice the most users to click.
3. Keep them accurate
Yes, you want to lure users with your click-worthy meta descriptions…
However, that doesn't mean you get to tell fibs.
If you make a promise within your meta description, then you must follow through on that promise.
Because if users don't find the information they expect to find on your page, they will just bounce.
This is important because the way in which users interact with your site impacts SEO.
If users bounce regularly, it indicates that your page doesn't satisfy user intent and that users didn't find your page as useful as you made it out to be.
Founder of Searchmetrics, Marcus Tober says,
"Looking at the March 2019 Core Algorithm Update, we see another example of Google rewarding user engagement and helpful content. This means that, as the amount of available online content grows, Google is paying more attention to signals that indicate whether users are happy or not."
This is more likely to turn users off.
If they aren't well-acquainted with your brand, there's no way they'll trust your over-the-top assertions.
Take this example from ScreenCloud:

It's informational and explains exactly how this post will satisfy user intent.
And here's an example of a product page meta description from Photoshop:

It's clear, benefits-focused and doesn't make any outrageous claims.
To sum up, you can use creative ways to entice readers to click, but remember to make your meta descriptions sound natural.
4. Add schema markup
Put the cherry on top of your meta descriptions with schema markup.
It adds useful rich snippets to your search results that can lead to even more clicks.
When student forum Brainly added QAPage markup, their click-through rate rose by 15-25%.
Rich snippets are also great for user experience.
This is because they add useful information, previews, menu options and more to search results.
Seeing as Google puts such a strong emphasis on helping users, you will only be rewarded by the search engine for doing the same.
To find schema markup you can add to your site, head to Schema.org.
The database currently has over 800 types…
Here are some common applications and how they enhance search results:
Site links
This adds links to featured areas of your site.
Use it to help users find the information they're looking for with greater precision: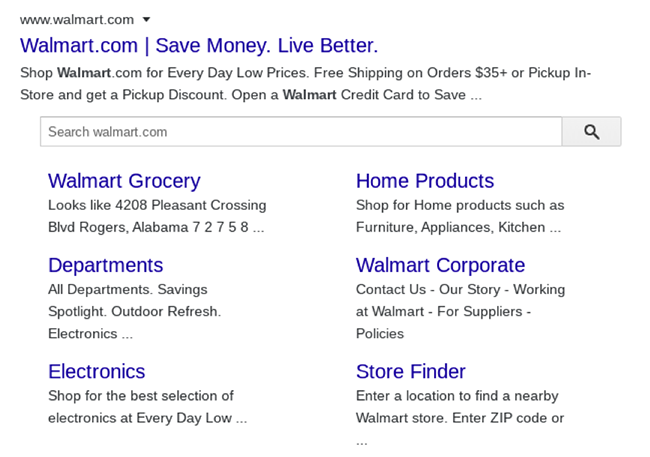 This option is good if you have a large site with lots of pages.
Or you can use site links to direct users to your key sales or landing pages: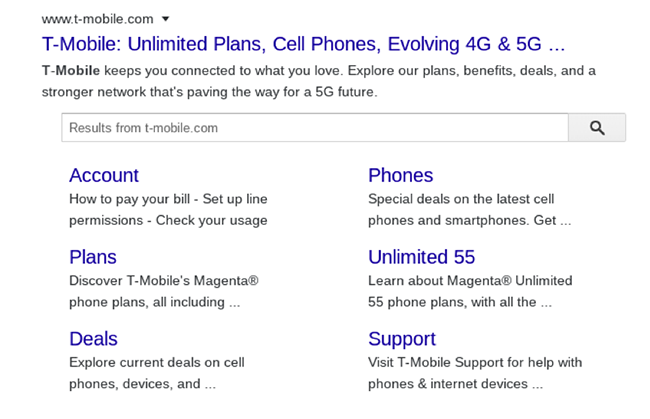 If you have fewer pages, for example, you have a subscription-based company or you offer services, you can direct users to pricing and deals pages like T-Mobile.
Product information
There are several snippets of product information you can add to search results to make them more helpful or appealing.
This includes:
Price
Availability
Star rating
Review count
Number of items/results and more…
Here's an example:

Successful brands include just a couple of snippets so as not to overwhelm potential buyers with too much information.
This means you need to consider which points are more likely to result in a click.
For instance, if your brand offers an item at a cheaper price point than most others, that may be the one to choose.
Breadcrumbs
This shows where a page fits into the information hierarchy of a website, like this example here:


It's a simple but effective snippet that helps users understand the context of a page.
They know exactly where they're headed, so they're less likely to bounce.
When deciding which markups to add to your site, think carefully about the user journey of your audience specifically.
Ask yourself how you can reduce friction and make their journey easier.
5. Don't write them for every page
I know what you're thinking…
So, after all this advice about meta descriptions, you're telling me not to write them!?
Well, in some cases, it may not be feasible.
For instance, if you're an e-tailer and have hundreds of product pages you may not be able to write a unique description for every single page.
In this case, you can allow Google to scrape information from those pages and create the meta description.
Furthermore, Moz advises that you let Google create meta descriptions for pages which target long-tail keywords,
"When search engines pull together a meta description, they always display the keywords and surrounding phrases that the user has searched for. If a webmaster writes a meta description into the page's code, what they choose to write can actually detract from the relevance the engines make naturally, depending on the query."
However, as Moz adds, bear in mind that social sites often use the meta description tag as the description that appears when the page is shared, and without it they might just use the first text they can find.
So, where do you need meta descriptions?
Focus on creating amazing meta descriptions for your most important pages, such as your homepage, landing pages, category pages, pillar content and so on.
And as you monitor Search Console data, pay attention to pages that get a high number of impressions but not enough clicks.
If you optimize meta descriptions for those pages, you could see a substantial rise in traffic.
Essentially, you should hone in on the pages that deserve your attention or that need your attention.
Final word
It might be surprising how much careful consideration you need to pay to a snippet of text.
Yet, meta descriptions have a great impact on SEO as a key driver of user interactions.
If you hope to get clicks, meta descriptions need to satisfy the intent behind a users' search query.
On top of that, there are smart tactics you can employ to make them even more compelling.
If you can strike a balance between those two elements, your meta descriptions will be top-notch.
Now it's over to you to start crafting better meta descriptions.
The first step is to go through your pages and the data to see where they may be lacking…
And optimize the hell out of them.