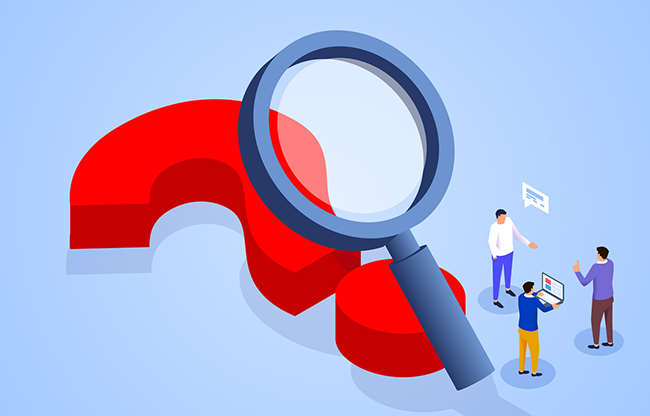 Ignite Visibility surveyed over 500 respondents aged 25-60 for their SEO and Intent Survey 2020. It reveals what drives clicks, user attitudes towards ads and user views on the quality of results
Key findings
62.9% said meta descriptions were the most influential factor in their decision to click a certain result, followed by brand name (24.2%)
55.1% still favour written content in the search results
Privacy concerns - 62.1% didn't know why Google was targeting them for certain ads
Most people looked at more than 3 search results before deciding which to click
68% said they would use Google less if there were more ads
72% said Google results mostly matched their queries accurately
Most searchers said quick, thorough responses were the most important factors in search results
What makes people click?
Asked which factor most influenced their decision to click through to a result, most respondents said the meta descriptions (62.9%), followed by the brand name (24.2%), with title third (13%).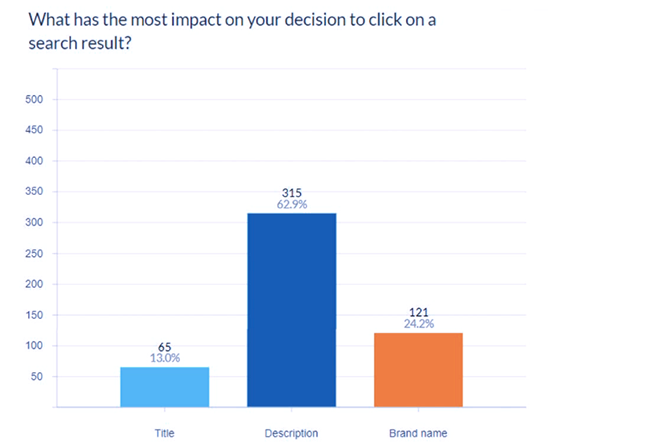 Separately, 55% of respondents said they would only click on brands they know.
In terms of preferred types of content, written content is still far ahead of other formats, despite the continuing hype about video. Video and images are important and have a key role in content overall, but for search text still wins.
Interestingly, searchers don't just go for the first result, but will look more widely at the results. It's a broad spread, with most (17.4%) looking at the top 3.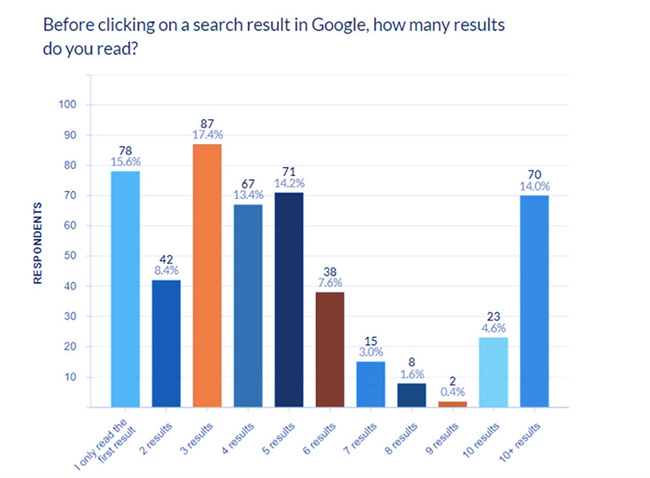 Asked to rate specific elements for a sample search "How to fix the kitchen sink", respondents said the speed and quality of the answer were the most important.

Attitude to ads
Google may be overdoing the number of ads on page. A large number of respondents (66.7%) said Google adding more ads to the search results would make them want to use the search engine less.
Overwhelmingly (85.2%), respondents said they would prefer to click on an organic result over an ad, underlining the importance of ranking high organically in searches. 69.9% disapproved of competitors running ads on a rival's brand name.
Just under two-thirds (62.1%) of people said they had no idea why Google was targeting them for certain ads, illustrating the lack of transparency and clear information in this area.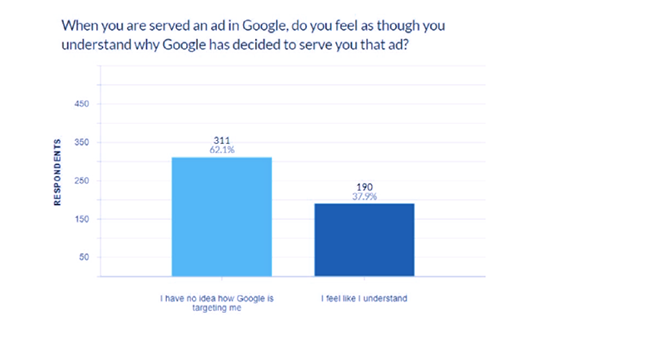 Quality of results
Most searchers are satisfied with the search results with 58.9% saying they had improved over the past year and better matched their search intent. Over half (55.5%) said Google had improved the results by including featured snippets and other SERP features.
Takeaways
Well written meta descriptions and good organic rankings are key SEO factors. Searchers don't just focus on the first result, however, but read a number before deciding which one to click.
Searchers most value written content in the results and look for quick, thorough answers, reinforcing Google's emphasis on E-A-T.
Branding remains important both in terms of driving clicks and for trust in a result.
Searchers favour organic results over ads, and too many ads would put them off using Google.
Privacy is an issue, with most people not understanding how Google's ad targeting works.
See the full survey here.