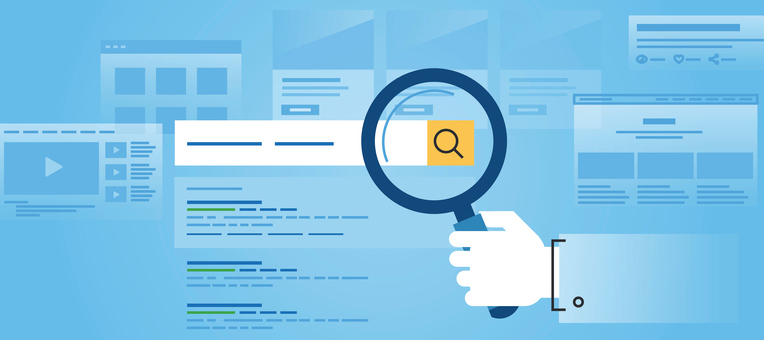 The search engine started the year with a flurry of activity – an intense weekend of ranking fluctuations led many to predict that a new Penguin algorithm was imminent. This was denied by Google at the time but it preceded a series of major changes to the search index through the year, some of which will continue to be felt in 2017.
Panda... ish
The first update came in early January with large changes being reported by webmasters. However Google didn't confirm or deny what the change was. Gary Illyes from Google gave the biggest clue.

So we do know Google made changes to its core algorithm early in the year and at some point they incorporated Panda into the algorithm as well. Google have remained tight lipped however, about exactly what happened when.
Gary Illyes also confirmed that although Panda was now part of the core, it did not run in real time: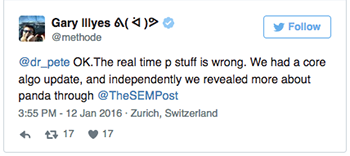 This matches with what Google's search quality senior strategist Andrey Lipattsev said. Adding Panda to the core didn't mean Panda itself had evolved or that any major changes had been rolled out to that algorithm.
"What are we talking about here [with regards to the core algorithm]… it's less about the functionality of the thing which probably doesn't change that much over time. It's more about how we perceive it in the context of the algorithm itself. Do we still think this is an experimental thing which has been running for a while and we're still not sure how long it is going to last or is it …like PageRank, it is part of it, it is always going to be there at least in the foreseeable future and therefore in certain context we might call it [a] core part of the algorithm."
Penguin
At the end of 2015, there was much expectation that Google would make a major change to Penguin at some point in 2016. The biggest change came in September, when Google rolled out Penguin 4.0. Since first being introduced in 2012, Penguin filtered the web to detect spammy sites. It made waves when it was first introduced but ran periodically, meaning sites caught up in its spam filter would not see the impact of any changes made quickly.
When Google confirmed Penguin had been adopted into the core in September, it also said that the algorithm would run in real time, and no future updates to Penguin would be announced as a result. A key outcome of Penguin running in real time was that sites taking corrective action after falling foul of Penguin would be able to see the impact of the changes much sooner than would have been the case previously. With the transition to the core, Penguin would now be used as a signal rather than a penalty. Google said on its Webmaster blog,
"Penguin now devalues spam by adjusting ranking based on spam signals, rather than affecting ranking of the whole site."
Other Google news
There were changes to the Webmaster Tools General Guidelines in early February. There were no major new additions but, the search engine filled in a few gaps, giving more suggestions and examples plus a few new links and resources. It changed the format of the content splitting information into how to help Google find content and how to help visitors and the search engine understand pages. One interesting new recommendation was for publishers to include a human readable version of their sitemap and Google also said that a few thousand links at most per page should be used, where it had previously only said to keep to an acceptable number.
A new AdWords iOS app launched at the start of the year, offering more flexibility and making it easier to stay on top of campaigns on the go. Expect changes through 2017 as the app is refined and user feedback taken onboard.
The biggest AdWords news of the year through was a major overhaul to the SERPs – 2016 will be remembered as the year we bid farewell to sidebar placements and a four ad format became the norm. While the change had major ramifications for advertisers (with fewer positions, competition for ad space increases) there was also an underlying factor here. Retiring the sidebar brought desktop searches in line with mobile results, a theme that would become more and more important as the year went on.
We don't expect there to be any additional major changes to the way ads are displayed in 2017 off the back of this update but, the impact of this switch may well impact the way AdWords accounts are managed in 2017 and could see an increase in advertisers trying alternate outlets such as Facebook and Instagram in search of cheaper pricing. We do know that the AdWords platform itself will be overhauled in 2017, which could have major ramifications to tools and functionality. A complete redesign is pending, the first in the service's 15 year history. It likely won't be complete before the end of 2017 but we should have a good indication of the new look and feel before then.
There were changes to the Keyword Planner too, with Google grouping keyword search volumes rather than displaying individual numbers, and Google itself along with Facebook, was plagued with the specter of fake news which came to a head following the US election outcome.
The year of mobile search
Mobile has been big news at Google for some time now but 2016 saw developments intensify at a rapid clip. The search engine made a number of changes including confirming page load speed will be a ranking factor, better mobile targeting options, a new mobile index to be used as the primary index though the traditional desktop index will still exist, and announcing there will be a big push on AMP.
For a more in depth writeup on Mobile head here, where we go through these changes in more detail.
How did Google treat you in 2016? How have the changes at Google impacted your search marketing this year? Share your experiences with us in the comments and on social media.