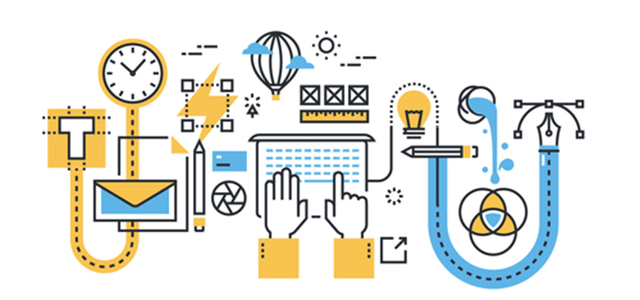 Google's Webmaster Tools platform (and accompanying blog) is the go-to destination when it comes to getting the basics of SEO and digital marketing right. The Guidelines are one of the only documented, official sources of best practice and recommendations to come direct from the horse's mouth. It's not unheard of for Google to update its documents from time to time but usually these changes will be announced with a blog post or similar.
Last week's updates focus on the General Guidelines section which is essentially a framework setting out exactly what makes for a strong web page in Google's terms. It references considerations such as visitor satisfaction, easy categorization of content and the need to ensure pages are easy for Google to index.
Google's changes are relatively significant in terms of the amount of text changed, removed and added in a single update. While the changes do not contradict previously offered information – so there hasn't been a big shift in what the search engine classes as being desirable and correct – there has been a noticeable increase in the amount of text and explanation offered. As well as adding far more context, Google has also uploaded a number of additional examples for webmasters and introduced more links to supporting resources.
One thing worth noting is a change in the layout of the content. A two-heading approach was used previously:
Design and Content Guidelines

Technical Guidelines
This has now become:
Help Google Find Your Pages

Help Google Understand Your Pages

Help Visitors Understand Your Pages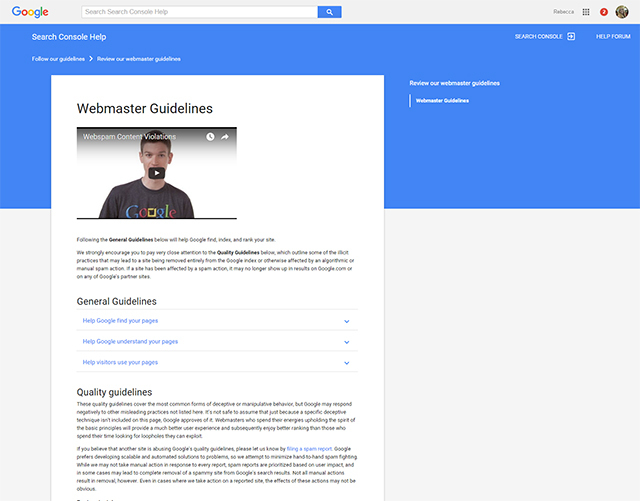 The subheading changes separate the elements of technical SEO. Considerations are divvied up between suggestions for improving Google crawl access and best practice for giving users of your site a better experience.
If you're a search engine marketer, you'll already know that all site criteria is determined by the experience of the Google crawlers (bots). General user opinion isn't factored in, though with these new changes, Google seems to have made a slight change in its tone. The updated General Guidelines give more insight into the criteria for ranking certain elements of the page based on Google perception of a best in class user experience. One such example is the phrase, "Faster loading times make users happy".
What are the most significant changes?
As mentioned, the changes haven't ushered in any big new thinking. The differences for the most part aren't concentrated on introducing new guidelines or techniques to adopt, but rather on Google fleshing out its previous instructions, adding more explanations to some areas and providing more links and resources in others to support its original advice.
You'll see a much wordier document but don't necessarily expect big differences in terms of the advice given jumping out at you. Here are the most important new additions to be aware of:
Under 'How Google Finds Pages', the old version stated that text links and a clear site hierarchy were advisable. The new guidelines say that every page on site should be reachable from another page, with a text link or in the case of an image, alt text relevant to the landing page. This formalises the advice and also adds weight to theories that Google may be giving some consideration to alt image text for ranking purposes.

Where Google previously advised that all sites should have a sitemap, the new version adds an interesting recommendation - that a human readable version of the sitemap also be created and provided alongside the XML sitemap. The human version makes it easier for visitors to navigate directly to the most important parts of the site. This could suggest we're getting closer to seeing the user experience as an important and tangible ranking factor.

The new look General Guidelines put a number to the maximum acceptable links per page. Previously, the framework said simply to keep to a reasonable number. This has been clarified to now say include "a few thousand at most".

The changes appear to suggest that Googlebot can now read text in images. Previously, the best practice advice had been to keep important words and phrases as text, rather than as text included in an image. Google had said that "… Google crawler doesn't recognize text contained in images. If you must use images for textual content, consider using the ALT attribute to include a few words of descriptive text."
The new information make no reference to the crawler not being able to recognize text in images. The updated portion of the General Guidelines now reads, "Try to use text instead of images to display important names, content, or links. If you must use images for textual content, use the alt attribute to include a few words of descriptive text."
Hungry for more? The SEM Post has a full rundown of every change. Head over to http://www.thesempost.com/googles-webmaster-guidelines-breakdown-of-all-changes-made/ for a line-by-line breakdown.
It's worth noting that despite the hefty re-wording and extra content to the Guidelines section, there have been no updates to the Quality Guidelines that immediately follow. With updates to Google's Webmaster Portal also made in recent weeks, it's possible that these updates are part of a longer scheduled plan of changes so there may well be more to come.