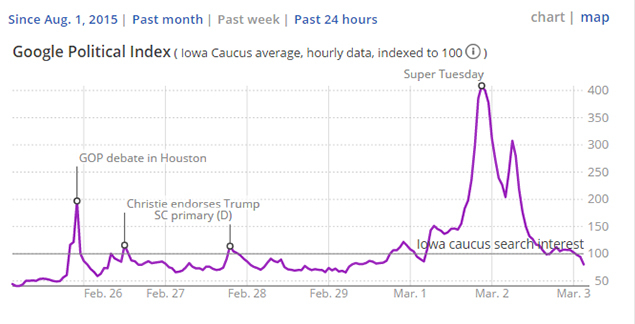 Following Super Tuesday earlier this week, both Google and Twitter have joined forces with the Associated Press to track search volumes and tweets around election-based keywords.
As part of the deal, Google Trends and Twitter's tags and tweets are being used as data points for the Election Buzz tool. Google Trends, a tool which tracks search terms, has long been of interest to marketers for its ability to provide a glimpse into the minds of the masses, and trending hash tags on Twitter are always a microcosm of current events. But this is the first time that the two have joined forces with a third party to track sentiment in the run up to a major election.
AP Election Buzz will use trends and Twitter conversations from now until the election to track how interest in the presidential campaign and related issues fluctuates over time—and where the current focus of that interest lies.
How AP Election Buzz works with Google
AP Election Buzz visualizes interest in the election based on Google's Political Index. The Google Political Index was created by a group of the search giant's (nonpartisan) analysts. It consists of a list of election-related terms and topics, based upon candidate names, other political figures, current events related to the election, and policy issues pertinent to the election.
These weighted terms are then used to update levels of search interest in the election on an hourly basis. AP Election Buzz transforms this data into a simple line graph that visualizes interest in electoral topics. In addition to the search interest line graph, there are also helpful visuals for search interest for individual candidates and issues – helping observers to see which presidential hopefuls are generating the most buzz.
How AP Election Buzz works with Twitter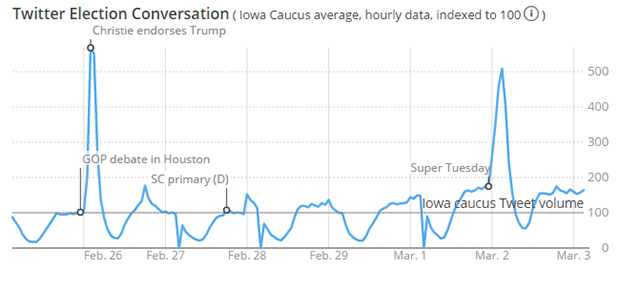 AP Election Buzz has a similar agreement in place with Twitter, but instead of analysing search terms as it does with Google, it analyses tweet content and hashtag use. This data is then used to create bar graphs illustrating the most talked about candidates and issues.
Other tools
Microsoft's search engine, Bing, is also getting in on the election excitement with a tool of its own, Bing Elections. Bing Elections is a portal that provides comprehensive information about the elections, as well as a search analysis tool called Search Wave.
Search Wave focuses on the candidates themselves, but provides a more thorough demographic breakdown of the searchers. For example, percentages of searchers based on gender, age groups, and locations by state.
How useful are these tools?
These tools are intriguing for those following the election build up, by illustrating what (and who) is creating the most buzz at any given time. The trending hashtags and search volume data also has substantial marketing potential, and can be used to inform content marketing, social media posts and some forms of online advertising. As well as brands tapping into this hotbed of interest, candidates themselves could also make use of these new tools. Many of the candidates have tried PPC advertising to drum up support, as outlined in Nathan Pabich's series of posts, A PPC Campaign We Can Believe In.
Will you be using AP Election Buzz or Bing Elections to access election data? Let us know in the comments!