In fact, it's made so many additions and developments that it's been hard to keep up with the pace of the Google AdWords team. Here we've rounded up the most noticeable new features, changes to ad formats and tools that you'll now have access to as an AdWords advertiser.
New app and video ad innovations
With consumers taking to their mobile devices in their millions, it's not surprising that this latest round of AdWords updates includes a notable mobile focus. One of the latest announcements to roll out concerned two new ad innovations which launched concurrently – the next generation of Universal App Campaigns and TrueView for action.
Universal App Campaigns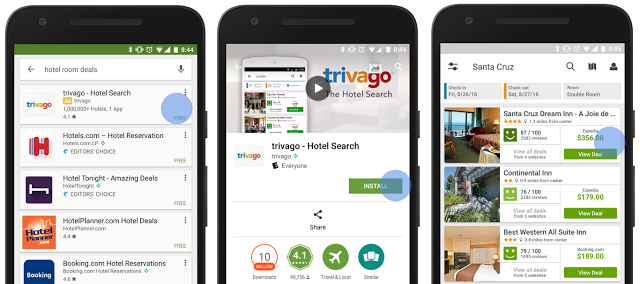 Image source: Google
In his official announcement, Sridhar Ramaswamy, Senior Vice President, Ads and Commerce at Google said,
"…the next generation of Universal App Campaigns [is now] available globally to all advertisers. Across Google Search, Play, YouTube, and the millions of sites and apps in the Google Display Network, Universal App Campaigns can now help you find the customers that matter most to you, based on your defined business goals."
The development means advertisers can select the type of activity they want to optimize for, connect with in-app analytics and then set a desired cost-per-install. Google will use machine learning to evaluate myriad signals so ads can refined in real time, enhancing performance.
The travel site Trivago worked with Google to test the app and reported that customers acquired using Universal App Campaigns were 20% more valuable to its business than customers acquired in other campaigns.
TrueView for action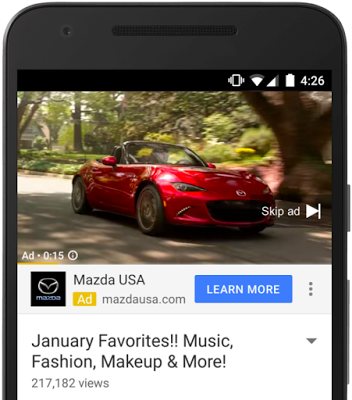 Image source: Google
A second, related change to AdWords adverts and mobile connectivity comes in the form of TrueView for action. TrueView for action is a new type of ad format for video, encouraging viewers to take an online action which is meaningful for the advertiser. This could be in the form of displaying a call to action before and after a video segment or scheduling an appointment to learn more about a product or service. Google says it is an innovation which can help brands to move their mobile connected customers further along the path to purchase.
Longer test period for extended ads
Google has pushed back its own deadline for expanded text ads until January next year. While it made extended ads a reality earlier this year, the search engine recognizes that some advertisers are still busily testing their ad messages to make the best possible use of the increased space offered by the longer ad format. With this in mind, it says all advertisers will now have until January 2017 to transition to expanded ads.
Improvements to remarketing lists for search ads (RLSA)
Google took to SMX East in NYC last week to reveal it had made improvements to its RLSA product. RLSA is designed to allow advertisers to adjust their ads based on the known previous behaviour of viewers. If someone has already visited your website, RLSA means you can adjust your adverts, keywords and messaging to be more relevant to them. More flexibility and better performance should now be apparent as RLSA has been upgraded to allow:
Cross-device application
An extended period of time (540 days) to keep customers within your RLSA list
Remarketing lists will be available at campaign level before the end of the year
Demographics for search ads
Another innovation which has started to roll out to all advertisers globally in the last 7 days, demographics for search ads (DFSA) is a new tool which allows advertisers to adjust keyword bids based on demographic data such as age or gender. This makes it possible to target adverts precisely by reaching core demographics more effectively. In practice, this could translate to placing higher bids for ads shown to certain age groups or genders ensuring your business is more visible to its most desirable consumers.
Store Visits to be expanded to more advertisers globally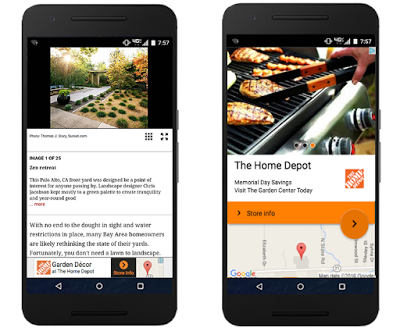 Image source: Google
While the purchase funnel often begins online, research shows that a large chunk of retail sales still occur in person, in store. At SMX East Google said that it's important for retailers to be able to track their ROI in full and this means being able to trace the contribution of online ads to offline sales. It confirmed that thousands more advertisers will soon be able to use its Store Visits product to obtain greater insight in this area. Google says it has 99% location accuracy when pinpointing shopper locations, thanks to its ability to augment AdWords data with Google Maps, WiFi data and other signals.
With so many new developments, updates and roll outs, AdWords advertisers have plenty to get to grips with in the run up to the busy holiday season. Have you tried any of the new functionality yet? If so, let us know how you get on in the comments or on our social media pages.