The search engine says its decision to offer accidental click protection to native ads is part of a wider commitment to protecting users and advertisers. On the user side, it acknowledges how easy it is to mistakenly click on an advert when browsing on a mobile device – an inconvenience for the user but a potentially costly misstep for advertisers who could see the value of their ads diminished by rogue clicks from browsers with no actual interest in the service or product being offered.
What is a native ad?

Image source: Google
Google's native ad format allows publishers to display adverts that "…match both the form and function of the user experience in which they're placed. They match the visual design of the experience they live within and look, feel, and behave like natural content on the publisher property in which they're displayed. These ads augment the user experience by providing value through relevant content delivered in-stream."
As the ads so closely resemble the content within which they sit, they are ripe for accidental clicks – making the extension of accidental click protection a welcome move for mobile advertisers.
What drives accidental click protection?
Google's development of click protection comes after several years studying click patterns and user behaviour. It says it has learnt to ignore super-fast clicks because of the lack of value offered to advertisers. In other words it recognizes that someone clicking through and leaving right away or clicking on a whole series of ads in a very short space of time is likely not a genuine interested party.
A second type of click to be disregarded is those that occur on the very edge of the advert. Google explains, "If you've used a mobile device, you know fat-fingers are a reality of touchscreens: the average fingerpad is roughly 50px large when pressing down. When we're swiping, pinching, and poking our screens, it's easy to accidentally touch the edge of an ad that appears unexpectedly or is placed too close to tappable controls on your screen.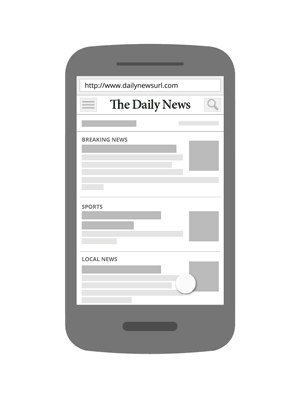 A click is ignored when a user misses adjacent content and accidentally hits the ad (Source: Google)
"When we compared the performance of clicks from the edge of ads to those coming from the interior region, we found dramatically higher conversion rates and user intentionality on clicks toward the middle of ad units. A few years ago, we started to expand these protections across mobile placements resulting in ad clicks that are more intentional."
How will native ad protection benefit advertisers?
The implementation of accidental click protection for native ads should, Google estimates, result in an average conversion rate increase of 10%.
It expects that the mobile ad experience will be greatly improved overall with the new ad protection, saving tens of millions of accidental clicks per day, and tens of thousands of wasted hours.
Writing in the Google AdWords blog, Ad Traffic Quality product manager, Alex Jacobson said, "When we look at the effect for advertisers in mobile apps, we observe double the value per click. We work hard to ensure that the clicks advertisers are charged for are more meaningful, and we hope sharing insight on these protections helps raise awareness and guide the wider advertising ecosystem."
Are you a mobile advertiser? Do you think accidental click protection for native ads is a step in the right direction? Let us know in the comments.