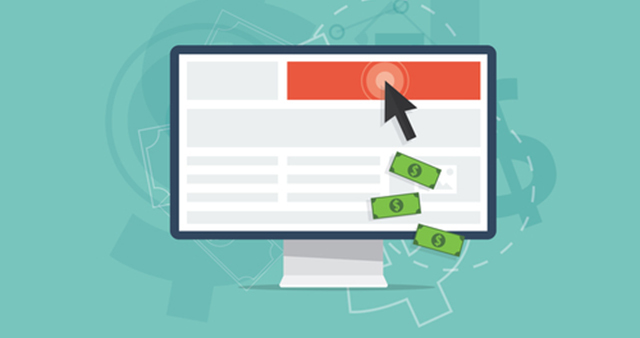 Three results will be the norm but, four adverts will show for highly commercial search queries.
The search engine has been showing AdWords ads at the very top of its results pages, directly above the organic listings, for around nine years and trialing a four rather than three advert quantity for the last five years. Its decision to make this its default display system has led to lots of questions about the impact on advertisers, as well as concerns about increases in cost and likely shockwaves on paid search traffic.
Before considering the ramifications, let's look at what's actually changed.
Google has confirmed a substantial change to the way it displays AdWords adverts on desktop search results. It previously displayed three to four adverts at the very top of the page, with a sidebar appearing on the right hand side with additional text ads. The search engine has now made adverts at the top of the search results its new standard. Google has also announced that it will no longer show its long-standing strip of adverts to the immediate right of search results.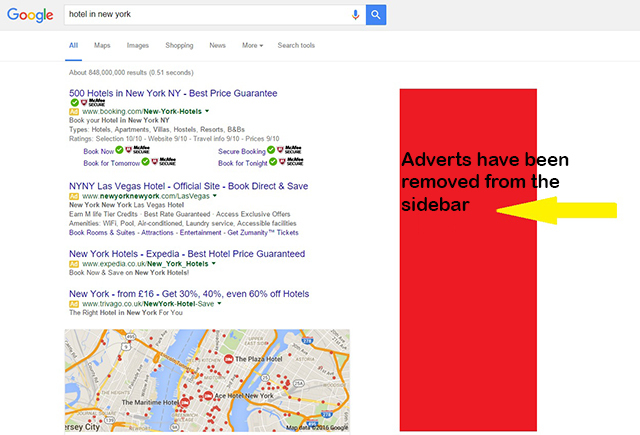 Are there any exceptions?
There are just two exceptions to the 'no ads on the right sidebar' rule – Product Listing Ads (PLA) and knowledge graph advertisements. Product Listing Ads are also known as shopping results and show an image and detailed information about a specific product.
Will this change impact mobile and desktop results?
This major change will be most noticeable for users heading to Google from a desktop or laptop computer, as the mobile version of the search results already lacks the right-hand sidebar strip of advertising. Perhaps to compensate for the smaller advert real estate on each search result page, Google will also display three AdWords text adverts at the bottom of each page. In a statement to Search Engine Land, Google cite the user experience as a factor in this change, pointing out that the new layout is intended to make the results more relevant for users, and encourage a stronger performance for advertisers.
While the confirmation comes as something of a shock and has the digital advertising and paid search industry abuzz, the four advert format at the top of the main results page has actually been in testing since 2006. Google has played with this format from time to time since then, including running tests for specific industries. It now appears to have hit on its magic formula; along with its official confirmation, Google indicated that the top four positions will be for 'highly commercial' adverts in the main. These relate to searches with a high intent to purchase (as judged by the search engine).
So what does this mean for advertisers?
The impact for advertisers won't be known for a while yet. But, it's fair to speculate that with the sidebar ads axed, fewer placement opportunities will lead to greater competition for the coveted top spots. More competition means prices will go up.
The number of text ad spaces available has shrunk – which means that while advertisers may need to compete more on price to actually be seen, there will be less competition in terms of the sheer volume of other ads that browsers will have access to.
There will be an additional opportunity to appear at the bottom of the search page – these are the lower positions so we would expect them to be cheaper placements. These positions could benefit those products and services where there is a longer buying cycle. If the consumer is likely to browse through a range of different suppliers before purchasing a big ticket item for example, a lower page placement may offer strategic value.
What does this mean for organic search?
While adverts and AdWords campaigns have no bearing on SEO performance, the change in ad placement could have SEO repercussions. With more space taken up at the top of the page for ads, the organic results will naturally be pushed down the page, meaning it will be even more important to secure those top organic listing spots.
What do you think about this change? Do you expect it to impact your AdWords advertising effectiveness? Let us know in the comments.