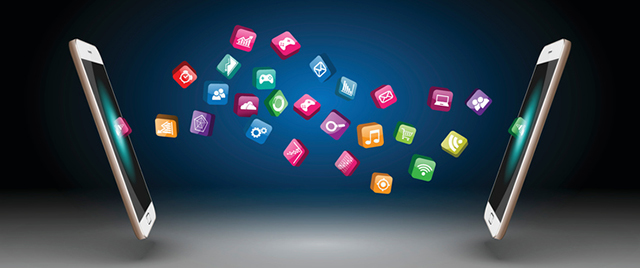 However, when we talk about the place of mobile within our marketing mix, we're usually thinking about mobile optimization, perhaps AMP and tech considerations such as page load speed.
With the massive adoption of the mobile internet amongst consumers and the ease and willingness with which shoppers now buy from mobile devices, this need to be visible and be found on the mobile web is non-negotiable. But, what if there was another way? Enter the mobile app.
Not more than two years ago, having a mobile app was almost exclusively reserved for big brands. The development costs alone put this handy piece of kit into the realms of the impossible for small and medium enterprises. Today, the landscape is different. As mobile technology has become more widespread and mobile device usage has grown, the technology and expertise needed to build an app has become more widely available and more affordable.
For ecommerce brands, the prospect of an app is intriguing – it offers another avenue to make sales, can complement the main website and is available with a swipe. Its constant presence on the screen of the user's mobile device makes it prominent and it goes wherever the device owner does - promising alluring impulse purchase and brand awareness possibilities.
Making the business case for ecommerce app development
According to Deloitte research, there are few daily habits that do not involve a smartphone. 92% of US consumers use their phones while shopping, 89% during leisure time, 87% while talking to family or friends or watching TV, 81% while eating at a restaurant and 54% while using public transport.
Couple this with an increase in mobile payments and it's clear that a constant presence on a mobile device, such as that offered by an app, warrants further investigation.
App use dominates mobile time
Research by Yahoo!'s Flurry in 2015 suggested that mobile device owners spend the majority of their mobile screen time on apps rather than connected via a browser. Sharing the results of the research, Simon Khalaf, SVP Publishing Products said, "…today only 10% of the time spent on mobile is spent in the browser, down from 14% a year ago. The rest of the time, 90%, is spent in apps. Effectively, the browser has been sidelined on mobile." This trend continued in 2016 with ComScore reporting in September, "Mobile has grown so fast that it's now the leading digital platform, with total activity on smartphones and tablets accounting for two-thirds of digital media time spent, and smartphone apps alone now capturing roughly half of digital media time."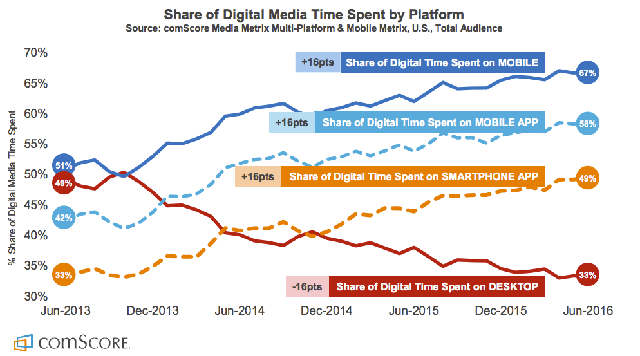 Source: comScore
For ecommerce businesses, this increased connection time means an app is more likely to be used as a method of product discovery than a mobile website. More screen time means more opportunities to nurture leads and close deals.
Direct marketing opportunities
With consumer adoption of apps cemented, the proliferation of screen time offers ecommerce businesses the most valuable of added value benefits – a new direct marketing channel to leverage.
Already, many app developers use the push notifications feature of smartphones to keep their audiences close but, with rapid developments in mobile technology, other opportunities and functionalities may well present themselves. As things stand, apps can be used to deliver exclusive discount codes, personalized content and tailored user experiences. Because the app is at fingertip reach, this rich pot of possibilities often exceeds what a standard web presence can provide for ecommerce brands and connected consumers alike.
Mobile app revenues are growing
Statista reports that in 2015, global mobile app revenues totalled $69.7 billion U.S. dollars. In 2020, mobile apps are projected to generate $188.9 billion U.S. dollars revenue.
Of course, just with any marketing asset, building an ecommerce app can require a large upfront investment and ongoing maintenance, development and update time. This expenditure – and the possible need to recruit an in-house team to keep the app as up-to-date as the ecommerce website – must be weighed up against the potential gains.
The gains include the creation of a new direct marketing channel, increased revenue possibilities and more connection time with consumers. Because of the nature of app consumption, and the abundance of time mobile users spend on apps versus the mobile web, there is great potential to build much closer relationships with consumers and be more present in more key moments through the day.
Have you invested in an ecommerce app for your brand? Share your experiences in the comments.