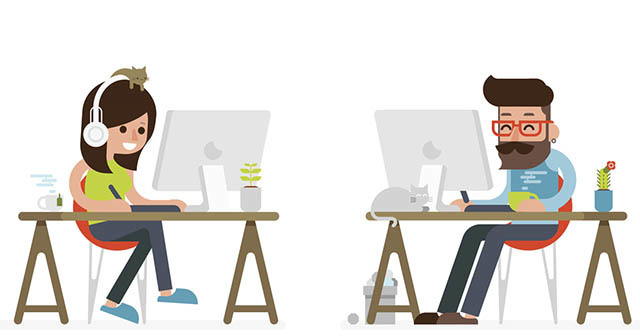 If you're ready to add a freelance web developer, coder, app maker, marketer or any other skill to your team, these online talent marketplaces can help you find your next freelance hire. Don't forget to read our playbook for outsourcing to freelancers before you post your first job.
Upwork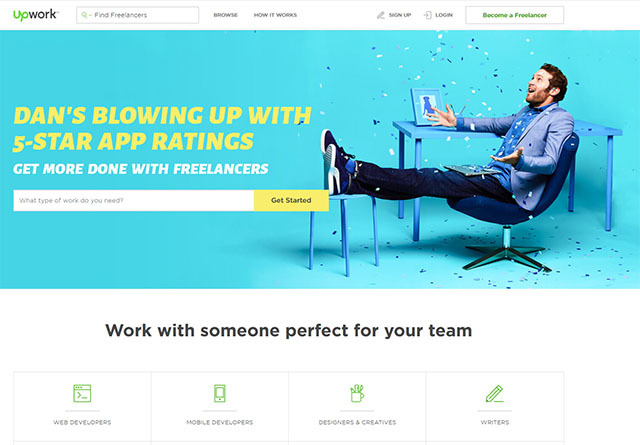 Based in Silicon Valley Upwork.com is the world's leading freelancing website. Millions of jobs are posted on site each year and its freelancers bill over $1billion via the site annually. Over 3,500 skills are covered on the web-based platform, ranging from admin to SEO, graphic design to customer service and accountants to consultants.
The Upwork process is straightforward; simply create an account and post a job. Upwork will analyze the skills you need and recommend relevant freelancers, or you can search for talent and invite those you'd like to shortlist. Freelance workers can browse your job post and submit an application too. There are three levels of membership, a free version where you can post jobs, find freelancers and hire them for free, a Pro version where talent is vetted for you at the cost of $500 per job, and an enterprise version for large organizations (fees vary).
People Per Hour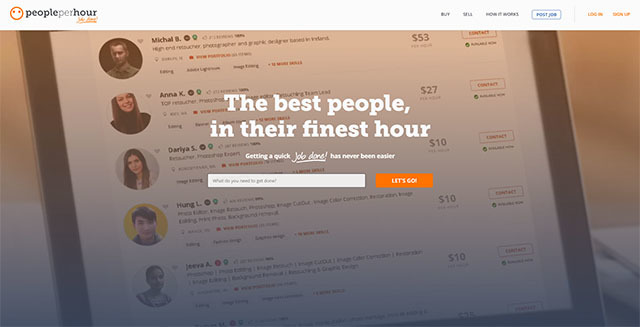 Founded in 2007, People Per Hour is the leading European freelance marketplace, although its freelancers and buyers span 89 countries around the world. Its global presence means its 1.5 million registered users speak a variety of languages and there is a huge global skill set to tap into.
As a buyer, you have two ways to make a hire on People Per Hour. You can post a job and then review applications, or you can browse hourlies – these are pre-packaged services offered for a fixed fee and delivered within a set timeframe of no more than five days. With hourlies you know what you're getting, how long it will take and what the cost will be.
People Per Hour supports eight categories of freelance work: design, writing and translation, video photo and audio, business support, social media, sales and marketing, software dev and mobile and web development.
Toptal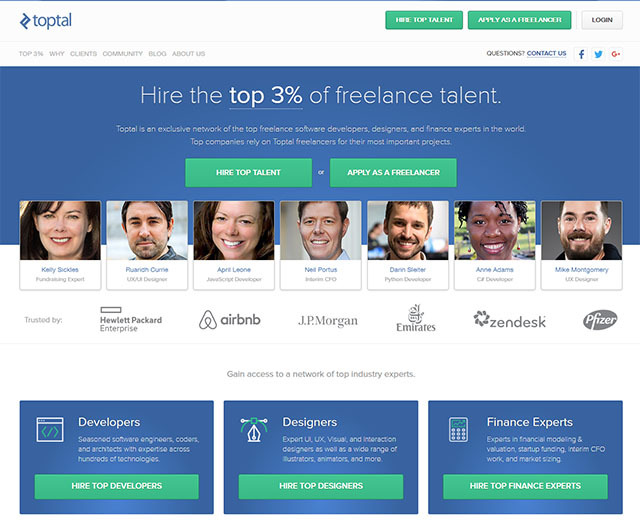 If you're looking for an experienced freelancer, Toptal is a select platform for the top 3% of freelance talent in the fields of software development, design and finance. It's used by large companies including J.P. Morgan, Airbnb and Hewlett Packard. Bloomberg.com says its vetting is 'almost Ivy League' level, meaning freelancers must go through a rigorous screening process to gain membership to the site. Over 100,000 professionals apply each year with just 3% accepted – making it an elite choice if you need a top-notch professional to scale your business. Once your project is posted on site, Toptal will match you with relevant talent in an average of 24 hours.
Pro Blogger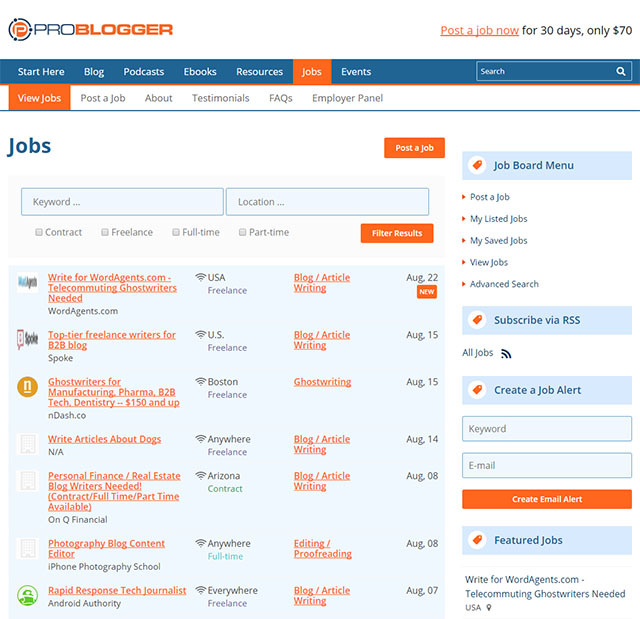 Pro Blogger, as the name suggests is a site dedicated to bloggers. If you're looking for a blogger to join your team, either on a one off or ongoing basis, it's a good bet you'll find a match within this community of wordsmiths. The site was actually founded for bloggers as a way to help them make money and attract traffic. It still has a huge number of resources for bloggers, with articles, videos and events but also includes a jobs board for employers. Simply register for an account and then post your blogging job – there's a fee of $70 for 30 days. In addition to blogging, the site says it has successfully helped businesses find freelancers for tasks such as journalism, content marketing, ghost writing and researching.
LinkedIn ProFinder
https://www.linkedin.com/profinder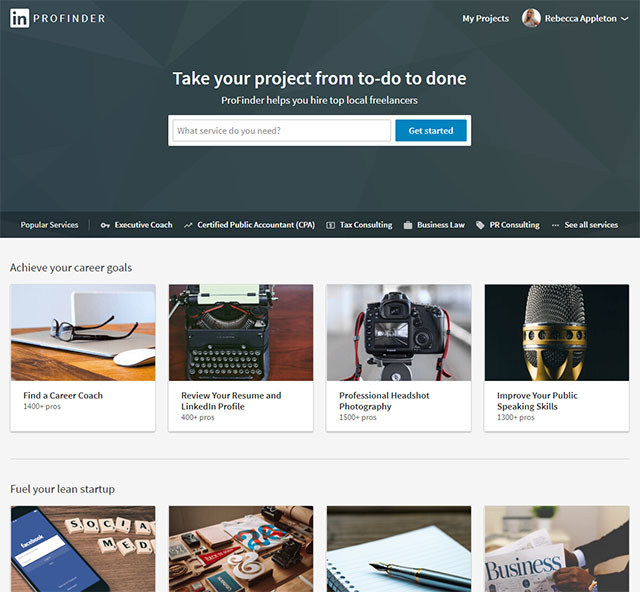 LinkedIn launched its marketplace for freelance talent to help professionals find their next job. With over 500 million users and 10 million job postings, the professional network is a natural fit for the freelancer finding niche. Its freelancers are professionals in a range of industries and with a huge range of skill sets; from business development and consulting to SEO and web design. As an employer, all you need do is tell ProFinder what you're looking for by answering a few quick questions. It will present you with a curated list of local professionals. You'll receive five proposals from relevant freelancers at no cost and can call on the ProFinder concierge if you need extra assistance.
There are dozens of freelance sites to choose from so it can pay to trial one or two platforms initially in order to find the one that best suits your needs. Whichever one you land on, you will be able to tap into a huge talent pool which could provide the on demand answer you need to scale your business and complete your next pressing project with ease.