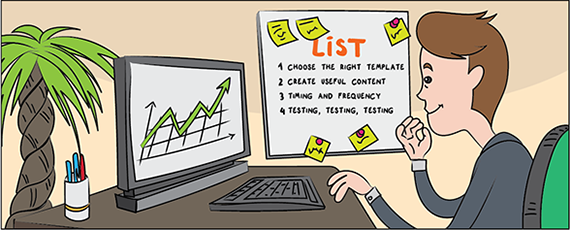 Regular email newsletters can be a great way to engage your audience and create trust with your brand - ultimately leading to conversions and a richer community. You can read more on our post which details 10 reasons why you should be doing email marketing.
However it's not all plain sailing, here we review how to get started as well as some of the common pitfalls.
1. Choosing the right template
This usually boils down to choosing the right template from the options provided by your email platform. The lack of clean, simple and effective templates in this scenario is something we're currently trying to address.
You should select a template that fits your own branding but keep it clean and simple. Remember that 51% of emails are opened on mobile devices in 2013 according to Litmus. Obviously this will vary depending on your industry and location but having a simple design will lend itself to multiple screen sizes with fewer issues.

Flexibility can also save you a lot of time. Some weeks you may run with a single article, other times you may have several articles or an offer as well. Having a template that will easily adapt can be very helpful.
We'll be coming back to this in the testing section later on in this post.
2. Creating content
For newsletters this depends very much on your website and how much content you normally produce. Here at Wordtracker we tend to produce a fair bit between all the guides and articles we do so we choose the best to go into the newsletter. We also have some regular segments that although we publish online we create them specifically with our newsletter audience in mind.
If you are a more product focused or sales site then it will be tempting to post a list of offers on products as your newsletter. You can do this, but you will need to be using exceptionally good offers every time or you are likely to struggle with retention. You don't want to just add more advertising to your subscriber's inbox, which may not go down too well. Try to focus on using the newsletter to add some personality to the business and help build a bond between you and your audience. Use more informational tactics, such as product reviews, and make the content fun and engaging to the user.
One part of your content that stands out is your subject line. This is often thought of as the single most important part of the email, whilst this may be an overstatement it certainly is a big influence on if that email gets opened or not. It's worth saying upfront that you are better off creating a newsletter which has fantastic content and keeps people engaged, then you will be less dependent on variable factors such as the subject line. That being said, it's still worth making sure every element of your email is as good as it can be. Here are some great tips on creating subject lines. Testing is absolutely key here and there's more on that to follow.
3. Timing and Frequency
The more you batter your list with emails the lower your response rates are going to get. Here at Wordtracker we've found that once a week works well for a newsletter and we try and send on the same day and time each week. The reason for this is simple: it's when we get the most opens.
The industry standard is that Tuesdays and Thursdays at 2pm will see your best return. However this will vary massively. For example, if your audience opens most email on mobile devices you'll find that your open rate may be stronger much later in the day.
The best approach here will vary on audience size. If you have a substantial list size you could pick a few different times, split your list randomly, then send out to each segment at a different time and see which gets the best response. Keep doing this until you find your best time. You may want to try the time at which you got the most opens as one of your variants.
If you are just starting out and only have a handful of subscribers to your list, or even none at all, then picking an industry standard time (such as Tuesday at 2pm) is a good place to start. Concentrate on building up a base of users and then start testing as described above. This way you will give your audience time to grow and get familiar with your sending times.
Your newsletter might not be the only piece of content you send out that week, you may be running an offer or promotion as well. Here we will only send out one piece of marketing material per week, no more. So if we are running a promotion we will replace the newsletter with this rather than send out both. This also has a focus on quality, we prefer to concentrate on one really high quality piece per week rather than try to do too much and risk a drop in quality.
4. Testing
This is perhaps the most important section and also ties into all of the above points. Mistakes made in setting up your newsletter can be found and corrected through proper testing. It will help you establish what to send, when to send it and who to send it to. Test and learn should be the overriding principle of your email campaign.
In this piece I am going to stick to split testing, or A/B testing. This is where you create two versions, usually the original against a variation, and test them against each other. The first step may be to test your template. To do this you will need to split your audience into two, try to create two random segments of equal size.
Your template is a great place to start testing, it's important to minimize anything that may affect the results which isn't the template itself. For example you need to use the same copy, subject line, and time of day on both versions. This means that any results you get can be attributed to the changes you made. This post on testing your template from mailfow (who we work with) gives some handy hints on exactly what elements to test.
If you have a larger list it may be beneficial to use the stage testing methodology we have developed here at Wordtracker. We send our newsletter on a Thursday, however we have a completed version by Wednesday. Anything we want to test which is unique to that newsletter, typically the subject line, copy and articles to include, is tested then. We use a small segment of approx. 5% of our overall audience. This means by Thursday when it comes around to the main send we know we are sending out the best possible version.
Any alterations or changes, which are part of our wider testing strategy, will be sent to half of the remainder of the list on Thursday.
Test One (Wednesday)
5% of list
2 random groups
Example tests:
Subject line
Copy tweaks
Articles to include
Test Two (Thursday)
Main list
2 random groups
Example tests:
Template changes
Call to action text
Time of day
This approach gives us the advantage of being able to test twice as much each week, but also making sure we are sending out the best possible version of each newsletter. The more you test the better your newsletter will become.
5. Keeping it clean
A common problem with newsletters is the strategy used to handle sign ups. This goes along the lines of someone subscribes, they are sent to continuously, and eventually they unsubscribe or flag the email as spam. To avoid this a list needs to be kept clean and it needs to be made really easy to unsubscribe. Most email platforms will force you to have an unsubscribe button in the email. This is a legal requirement in most countries and far from removing it, you should make it as big and obvious as reasonably possible. The less people you send to who don't want your emails the better.
This is also why you should be tracking the amount of sends and opens that occur within your list and seeking out those users who are not opening your emails. Opens can be a difficult metric as these are based on images being loaded within the email and if the email client doesn't load images you won't be recording an open. This is why clicks are important. Clicks can be recorded accurately, so you know if someone isn't clicking - ever - then they're probably not interested. If you've got a recipient with 5+ consecutive emails they have not opened or clicked you should think about if they really want to be receiving those emails.
You can try to reactivate these people by sending them a rescue email. This may have some exclusive offer for them, or may simply ask if they still want to be subscribed to the newsletter. A failure to respond means you can remove them from the list and stop wasting sends on them as well as cluttering up their inbox.
What you don't want is your email being captured as spam and relegated to the junk email folder. When someone ventures in there it's not going to give a great brand impression to see your email sandwiched between the one about the long lost uncle's inheritance and the 100 million in unclaimed lottery winnings.
Contrary to popular belief the single use of individual keywords, such as 'free', won't merit an automatic relegation (using them multiple times might though). Instead it's more reliant on quality and trust metrics, so if your emails are usually opened and from a trusted source, you'll be fine.
6. Time for your first send
So the time has come to hit the button, the content is rich and interesting, the subject line relevant and catchy and you've figured out the perfect template. You press send and, oops, you realise you've just sent a glaring mistake out to all 3000 people on your list. Ouch. It's happened to everyone, including us, which is why we use a pre flight checklist. Take a look at ours and feel free to adapt it for your own:
EMAIL SET-UP
Correct custom template used
A B Test set-up
Exclude Wed split test group
check email subject line in sentence case
From: "Wordtracker Team"
Google tracking code correct [Newsletter #]
Issue number correct
social settings correct? [auto tweet, if not test]
DESIGN
Main feature image and 2 smaller images all sized and aligned correctly? See style guide
Is the image relevant to the article
Are the 2 smaller images strong, and aligned
LINKS
Make sure each article has 3 functioning links: headline, image, and CTA button
Do the links go to the right article
Does the headline and article title on landing page match
ARTICLE TEXT
Headlines: in sentence case
Introductory text in the Newsletter: check spelling and relevance
Authors names, check spelling
Headlines in blog, and sub heads - sentence case.
BELOW THE FOLD
Popular Article links aligned correctly
Popular Article links: any new ones needed?
Footer in place
Links in Footer working
Creating email focused on quality and honesty really is the best policy. Trying to trick someone into opening an email with a misleading subject line is more than likely going to result in fewer clicks, higher unsubscribes and more complaints. We already have a problem with the amount of junk in our inboxes, so don't add to it. Curate and share amazing content and offers. Respond to how people react and keep people enamored with your brand. That's being part of the solution.
Please do let us know about your experiences with email marketing in the comments below: