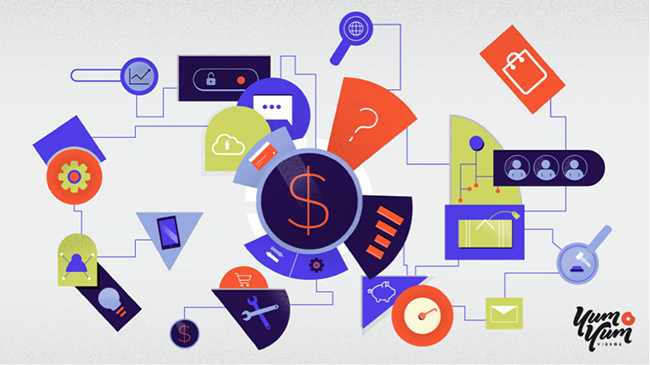 There's no two ways about it: the future of digital marketing is video.
Not only are we well on the way to reaching Cisco's original estimations of video traffic comprising 80% of all traffic, but new projections point to a doubling of bandwidth demands in the near future. Considering video applications of the future, it says "today's bandwidth needs are a sliver of the future needs."
There are many surveys and statistics all pointing to the fact that users like video, are watching more of it and consider it a useful way of learning about products and services.

Which is why marketers are looking to update their digital strategy with a multimedia focus in mind!
Video content gives you a fantastic way to structure, plan, and nurture leads' progression in your marketing funnel. However, not every video's the same!
Different styles have specific traits that make them more (or less) effective at accomplishing different marketing goals. Are you looking for engaging video ads that strengthen your social media presence? Maybe you need a whiteboard animation to make your app more approachable? Something else entirely?
Well, today we're going to talk about some of the most popular styles of marketing videos out there. We'll be covering when and how to use them to get the best results and maximize engagement.
1. Educational and how-to videos
Did you know that 70% of YouTube viewers watch videos to solve a problem they're having with their hobbies, studies or jobs? This shouldn't come up as a surprise.
Educational videos are an excellent way to help your audience understand the problem you are here to solve. They should be a mixture of helpful, informative and as fun as possible.
How-to videos are a special kind of educational video. They center around a process through a step-by-step explanation, breaking it down into a simple and clear fashion. They can also be animated, use real actors or use a white-board style.
Why you need them
An effective educational video will make your brand stand out as a reference in your industry. This means it will increase your company's visibility and awareness, while also educating your audience and increasing the trust in your product or service. Educational videos are also great at attracting more visitors to your site and generating leads.
2. Social media videos
There's no strict code about what type of content you can use to stand out on social media, and that's why social media videos can be a little of everything.
Social media platforms can be a very distracting medium, so you'll want to keep your video short, fresh and relevant. And videos that are meant to be shared in social networks should also be tailor-made to that specific platform. One video won't have the same engagement rate on Twitter as Instagram!
Live videos have become very popular on many social media platforms and can also be a great addition to your marketing strategy. They can offer an interactive look at the behind-the-scenes of your brand and generate a real and direct conversation with your audience.
Why you need them
Social media videos have multiple goals: they can entertain, inspire and inform. They are also the most effective way of increasing engagement with your audience through likes, comments, and shares with your followers.
You should consider producing a social media video if you are looking to boost your brand awareness and presence in relevant social networks, and then redirect traffic to your site.
3. Ads and commercial videos
If you're reading this article, chances are you already know what paid ad commercial videos look like. Not only because they are a traditional kind of advertising, but also because they don't hide the fact that they are trying to sell you something. This is why ads are usually short and focus on the brand and the products being sold.
Why you need them
Ads and commercial videos are highly effective at generating views, for example, though paid ads on YouTube. If your video's message is aligned with the needs and desires of your audience, it will also help raise your brand's awareness, get more visits for your brand's site and generate leads.
4. Explainer videos
There's a reason why there are so many quality video production companies focus on explainers: they are one of the most powerful types of marketing content out there.
These are short animated pieces (usually no longer than 90 seconds) that provide a simple answer to your product or service's main questions: what is the problem you are going to solve, how are you going to solve it, and why should the customer choose you.
Why you need them
Explainer videos can be customized with your brand's look and feel, generating brand awareness. Since they are aimed at a specific audience, you can also have them embedded on your website or social media platforms. If you're looking for an effective way to increase conversions, get quality leads, and increase the average visit time on your sites, then the explainer video is the type of content you're looking for.
5. Product videos
Product videos are another very common type of video content and are very popular in e-commerce video platforms. They are a concise and quick way of explaining your product and its benefits. They can contain instructions or show your product in use and in context so that your audience can understand your product easily.
Why you need them
Product videos are like watching a video sample of your product or service, showing in a clear way how to use it. They help to increase trust in your product, nurturing your leads and getting them closer to a shopping decision.
6. Company culture videos
Up to now, we've seen videos that put your brand's name or product in the spotlight. But company culture videos are all about the people behind-the-scenes. They showcase your brand values, telling the audience about the people that make your brand so good. This is why culture videos should feel unique: you can't really compare your brand with any other!
Why you need them
Company culture videos are made to increase your audience's trust and add a human touch to your brand. It will also generate a stronger connection with your target audience, and help boost your business.
7. Customer testimonials
People trust people. As simple as that. This is why customer testimonials are a very convincing way of showcasing your brand and the customers you've helped with your products or services. An honest review can go a long way! But customer testimonials can also be kind of tricky, so be sure to plan ahead: you'll need to choose the right customers and draft a questionnaire to get good answers from your interviewers.
Why you need them
Everybody looks at reviews before making a purchase decision. Customer testimonials will have a direct impact on your sales and in getting your leads closer to a shopping decision. But most importantly, customer testimonials increase trust in your products by humanizing your brand.
Summing up
One of the best things about videos is that they are a flexible medium, so keep in mind there are many types - more than those that we've covered here!
There are even some that feel like a mixture of more than one type: product videos with how-to steps, company culture videos that include customer testimonials…
Brands are always looking for new ways of connecting with their audience, and marketers will always be on the lookout for the next new kind of video.
So, it's important to understand what your marketing goals are, way before starting work on a piece. There's going to be at least one type of video that will be perfect for your needs. Take your time finding it, and the results will speak for themselves!