Keyword research is the foundation of good search engine optimization (SEO). However, it doesn't stop there. It's important to construct a well optimized site which allows search engines to quickly and easily find and understand your content. To help you make sure your site is set up in the best way, Wordtracker has created the Site Audit tool at no extra cost to Keywords tool subscribers.
What the Site Audit tool does
Wordtracker's Site Audit (accessible from the Campaigns dashboard) helps you to assess and more clearly understand how your website is structured, highlighting potential obstacles to the search engines and splitting into categories for you. Using the tabbed navigation system you can quickly view the obstacles by category, or alternatively use the overview to see which URLs have the most obstacles and prioritize your work accordingly.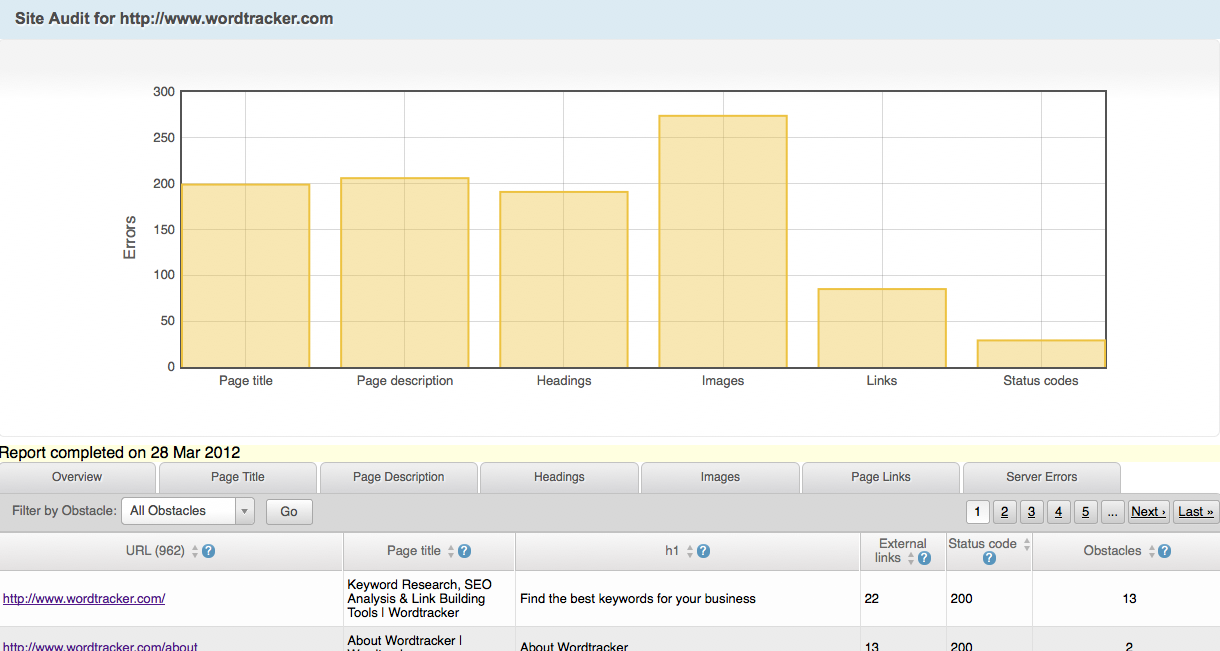 In order to assess your website, a search engine sends out a piece of software called a spider. This 'crawls' your website and brings the search engine its own copy of your html code. The Site Audit tool works in a similar way. When you create a site audit we send out our own spider and crawl your website, assessing each page by looking at specific elements. Any obstacles we find are reported in the tool.
What's the benefit?
In order to get the best results from your website it needs to be optimized so that the search engines can easily understand it. An important thing to realize is that what is best for search engines is most often best for users. So using the tool to find errors that you can fix can help to improve your rankings; driving more traffic to the site - and then helping your visitors once they are there.
The first thing we did at Wordtracker once we had the tool up and running was to look at our own site. We found many more errors than we thought existed on our site! Trying to find these errors manually would be a time consuming task, requiring the site to be constantly assessed and reassessed. An automated tool can find and categorize these problems for you.
As we've mentioned, the Site Audit tool will be available at no extra cost to Keywords tool subscribers. As we continue to develop and build great new features like this one we'll add more functionality over time as well.
Site Audit features
On the Overview page the URLs of the indexed site are displayed. In the adjoining columns Page Titles, Page Headings, Server Response and Number of Obstacles can be seen.
Each of these columns is sortable, so you can prioritize your work or get a better picture of one particular aspect of the page. For more information on any of the elements listed, select the corresponding tab. The table will then become focused on that obstacle type.
More information on each obstacle type can be found in this article about SEO mistakes and fixing them
There are also six tabs, each dedicated to different obstacle types:

Page Title: Analysis of the Page Titles from the pages' meta data
Page Description: Analysis of the Page Descriptions from the pages meta data
Headings: Analysis of h1, h2 and h3 headings
Images: Analysis of image alt tags
Page Links: The number of links on each page
Server Errors: Server responses which indicate problems with delivering page content
More information on all these obstacles can be found in Fixing SEO mistakes with Site Audits
More features are in development for the Site Audit tool and we'll be refining the existing work as well as adding new tabs in the future. We will continue to develop the tools our users tell us they need - so if you have any thoughts or suggestions for the Site Audit feature, would like to publish a review of it for your own blog or just want to say hi, then please do feel free to get in touch at support@wordtracker.com or leave a comment below.