Nowadays, when SEO agencies mention social media, some businesses think that it's already included in the campaign. Often it's not. Social media marketing can be utilized alone, especially if the brand needs to knock down negative reputation; OR as support alongside an SEO campaign. As a matter of fact, the latter can be a highly effective method to drive traffic to a website – even BEFORE starting link building strategies.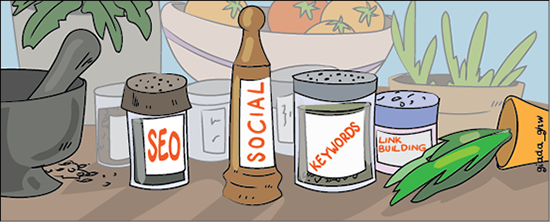 How it works: three-step process
Social media marketing works best with proper market segmentation, targeting, and brand positioning.
1. Market segmentation
No matter what type of business you are in, it pays to know your end buyers. You do this by dividing the market into like-minded subsets These will form groups of people with similar tastes and interests (individuals who are more likely to purchase your products). This is called market segmentation. You don't want to pick a market type that's too small (marketing efforts won't make a difference); or a market that's inaccessible.
2. Market targeting
Now that you have classified and identified the market into several segments, it's time to pinpoint which ones the majority of your efforts will be applied to. A common mistake in target marketing is concentrating on ALL segments at once. Not only would you be wasting time, you'd also be wasting valuable effort on a campaign that would yield few results.
Take this opportunity to pick one or two segments, then evaluate how attractive your business is to them. Does your chosen market portion stand to benefit from your business? If not, pick another segment.
3. Brand positioning
There are two crucial bits in this final stage: detailed product knowledge AND the perfect mix of social media strategies per segment (depending on how many you selected). Apple is a great example of a company with fantastic brand positioning. From changing their name to 'Apple Inc.', they have conveyed themselves to be more than computers.
Based on the efforts of their marketing team, they tend to focus on lifestyle. Apple has positioned their products to look 'cool', 'hip', and 'ambitious'. So it's not surprising that most of their buyers are young professionals.
Let's create social media magic
If you follow these three core concepts properly, you should be able to craft an effective strategy to reel in leads. It wouldn't be a guessing game anymore because: you already know WHO you are targeting and WHERE they hang out online. You also understand your product and/or service so well that you can pair their benefits perfectly with your chosen market you are aware of WHICH social media platforms to use to best reach your customers.
It's possible to get traffic without getting links. With the right social media tactics alongside cleanly implemented SEO, you can EARN valuable links. Plus, the effects are more sustainable.
Let's take a look at KISSmetrics. It's a company that has gained a good following, while maintaining their authority on the Web. Aside from building links, they used social media marketing to support their campaigns. And it has paid off. Now, they are one of the top names in the SEO and blogging communities. In a post by co-founder Neil Patel, he outlines some helpful social media techniques that anybody could use on different social platforms.
What if social media fails?
Think of social media as a tool – so technically, it cannot fail you. Why? Because it all depends on HOW you use it. Can you remember a time when a favorite brand has left you disappointed? It could be due to one or more of the following reasons:
they cannot be found online

they didn't respond well or quickly enough to your needs
they didn't deliver on their promise
they lack online presence and/or authority
their product/service didn't suit you
Learn from these mistakes. One of the reasons why people turn to social media is because it's quick. So if you're not fast enough, you could be throwing away profit chances.
Another great thing about social media is its ability to tell stories. In addition, these stories spread quickly – especially if you have a good number of followers or fans. Study how each platform works. Utilize their strengths to make your brand come alive. Then ask others to share this story to their friends.
While link building creates 'juice' to put your website on top, social media is the face you put on for customers to see. It all goes back to presence. If you're not there, people won't know about you. Make friends in the right places using various platforms. Talk with 'influencers' (people who can affect user buying decisions). Participate in expert discussions. Be active.
With the right marketing plan, social media is the perfect backup to long-term SEO campaigns. It keeps lines open, engages customers, and provides all sorts of valuable information for the business owner.
How about you, how do YOU use social media in your SEO campaigns?