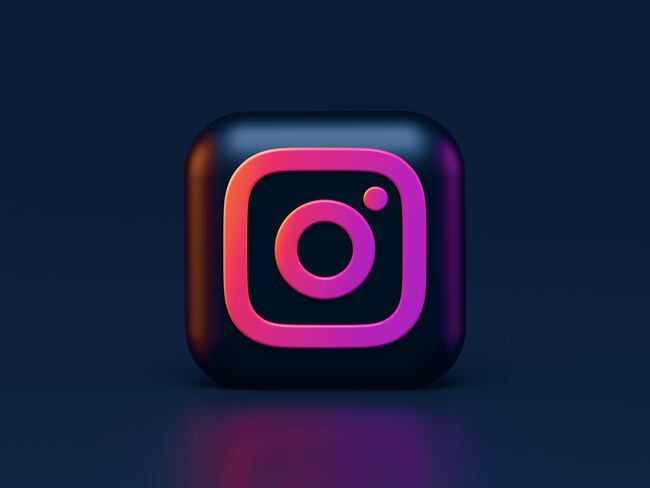 Image source: Unsplash
As one of the fastest-growing social media platforms with the most engaged user base, Instagram is a great place to hook your audience and generate more website traffic.
Instagram has grown into a valuable marketing channel for business communication. If you don't use Instagram for business purposes, your company is likely to fall behind its competitors.
The Instagram community has 2 billion monthly active users, 90% of which follow at least one business account on the platform, and Instagram is the top social media platform for building relationships with brands, according to Meta's own data.
Simply put, Instagrammers are interested in brand communication, which gives your company an opportunity to reach your target audience, interact with engaged users, and redirect them to your website, thereby generating qualified traffic.
Why use Instagram to generate website traffic?
The best way to generate more website traffic is to reach your audience where they are.
First, your audience is definitely active on Instagram. As of January 2023, over 85% of Instagram users are aged between 18 and 54. Its wide demographic ensures that your target audience - unless you are exclusively targeting the retiree market - is on the platform, so it's no wonder that more and more marketers are seeing potential in Instagram.
Second, your potential website visitors spend much time on Instagram, and they love interacting with brands. According to the Digital 2022 report, 62.3% of people use Instagram to follow or research brands, the average user spends 11.2 hours a month on the platform, and Instagram's share of web traffic has increased by 88.2% over last year.
Now we've highlighted the potential of Instagram, let's walk through eight effective tips on how to use the platform to generate more website traffic.
1. Make full use of the 5 Instagram bio links
Instagram's link-in-bio is the most effective way to generate website traffic from the platform. Up until a few days ago the platform allowed only one link in the bio, leading to the use of third-party tools to work around the single rule link.
However, Meta CEO Mark Zuckerberg announced last week in a post on his Instagram channel that the bio could now include up to five links. He described it as "probably one of the most requested features we've had".
The ability to add multiple links is available to all accounts and you should make full use of the feature to highlight relevant landing pages (for example, sales or new collections).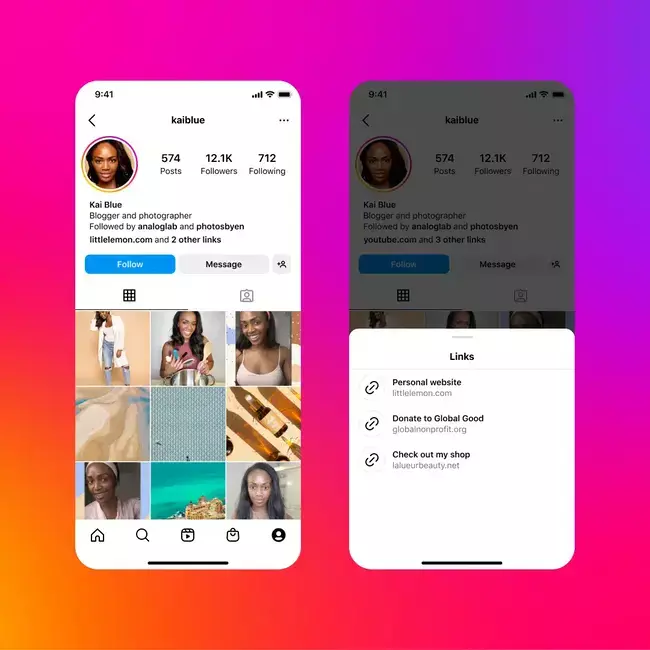 To add multiple links, go to Edit profile > Links > Add external link. You can sort the links in the order you want.
The feature provides a great opportunity to maximise your website traffic, making the platform a great tool for promoting your brand, products and services.
Maximizing your bio link goes hand-in-hand with writing a compelling Instagram bio. You have limited characters and it's the first thing your profile visitors will see, so you have to ensure that your bio can communicate who you are and what you offer at a glance.
While there is no formula for writing the perfect Instagram bio, the best kinds are able to show some personality and push followers to action.
2. Grab users' attention with clickable Story links
Because of the limited-time nature of Instagram Stories, adding links to them gives your followers a sense of urgency, prompting them to click and take action.
You can add links to your Instagram through the swipe up feature (previously reserved for users with over 10K followers, but now available to all), or through link stickers.
Adding a link to your Instagram Stories can help increase engagement and website traffic and ultimately, boost conversions and sales.
Don't forget to include a clear call-to-action (CTA), so your viewers know what to expect when they click on the link.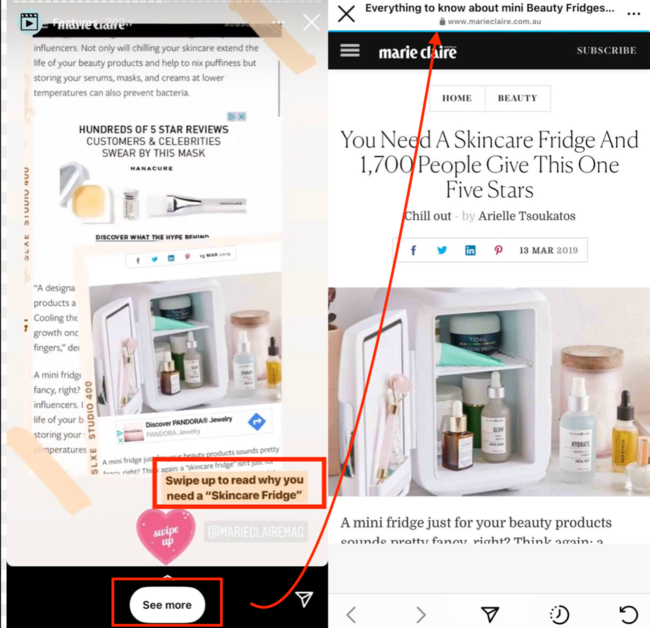 Image source: Instagram
Here's what link stickers look like: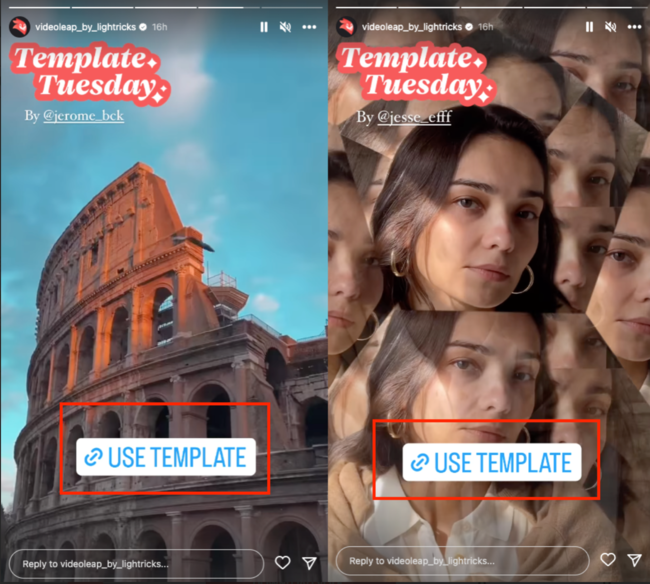 Image source: Videoleap on Instagram
To capture your audience's attention, accompany your links with eye-catching visual content. Video editing tools such as Videoleap can enable you to create compelling videos with little or no video or design experience. It offers a variety of filters, effects and business templates, making it easy to create professional looking videos and clips for Instagram formats.
3. Take advantage of Instagram product tagging
Instagram has become a great place for shopping. According to a Meta survey from 2019, 83% of users discover products in-app and 79% search for more information after seeing a product or service on Instagram.
With the introduction of Instagram Shopping, brands can now create a more effective digital storefront. Customers can easily browse products on your feed with the help of product tagging and get more information without having to leave the app.
These shoppable tags lead to a product page, where customers can choose to view the product on your website to proceed with the purchase. So, this tactic allows companies to redirect interested viewers to the website and even boost sales.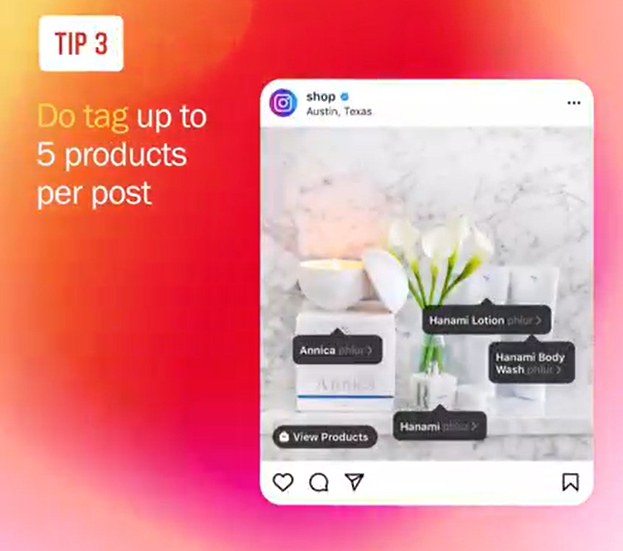 Image source: Instagram
Using product tags also creates a more positive user experience, as customers are redirected straight to the product page rather than having to search on your website. With product tags, users can go from browsing your feed, to viewing a product on your Instagram shop and adding it to cart on your website in just a few taps.
4. Send website links via direct messages
One of the advantages of social media is that you have a direct line of communication with your customers. When it comes to Instagram, more than 150 million users have conversations with businesses via direct messages each month.
Take advantage of the direct message feature on Instagram to send key links to your audience that you want to ensure they don't miss.
This technique can work well for smaller local businesses that have a more personal connection with their audience. Make sure to add a personal touch to your direct message, so customers will feel that they're speaking to a human rather than a business that's just trying to make a sale.
Instagram allows you to send pre-set responses (quick replies) to frequently asked questions. Always include a link to your website with a CTA to encourage frequent site visits.
Image source: Teamlocals
5. Include a call to action in your Instagram posts
If you don't add a CTA to your Instagram posts, don't expect your audience to take action. A good CTA should be able to tell your audience what to do and how. CTAs can also help add context to your posts.
For example, one post may invite your audience to read your blog, while another might encourage them to shop your new collection. Without a CTA, your audience may just stop interacting with your brand after seeing your post. After all, the instinct on Instagram is just to double-tap the post (if you like it) and keep scrolling.
Including CTAs in your captions can also remind your audience about that valuable link in bio.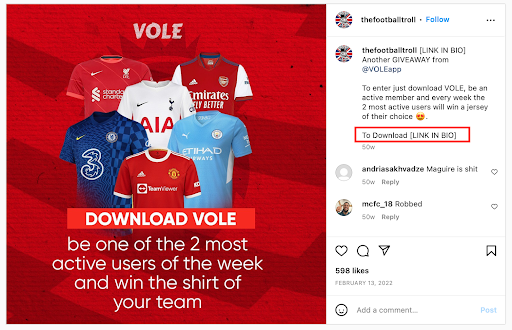 Image source: Instagram
And if you want to attract more website visitors, you can add your CTA on the image, just like in the example below: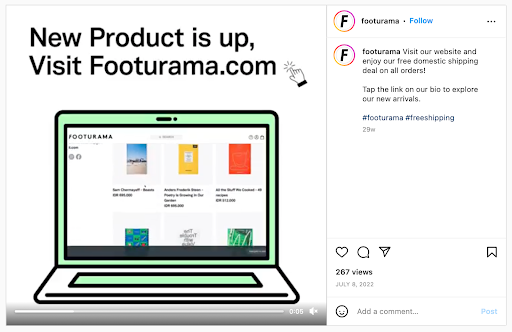 Image source: Instagram
6. Ask Instagram influencers to promote your website
Many brands have shifted a considerable chunk of their marketing budget to influencer marketing for a good reason—it works. According to a Morning Consult study, nearly three quarters of Gen Z and Millennials follow influencers on social media, and a majority say social media is where they most often learn about new products they're interested in.
Partnering with the right influencers exposes your brand to a wider and more engaged audience that's already interested in your niche. What's more, you can ask influencers to give their followers a solid reason to check out your website and this can help generate more website traffic.
When running an influencer marketing campaign, use unique codes or affiliate links to track the effectiveness of your chosen influencer. This way, you can measure how much traffic they generate. Here's an example: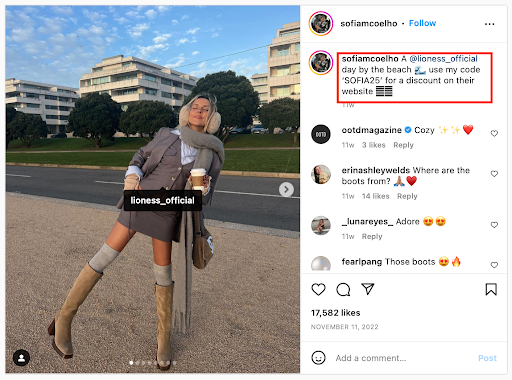 Image source; Instagram
Pro tip: To get in touch with the right Instagram influencer, you can use a tool like SignalHire to find contact information with ease.
7. Include relevant URLs in IGTV captions
Because everyone is so used to the singular link in bio rule, many users forget that IGTV is the exception. IGTV allows you to add clickable links to your IGTV captions/video descriptions.
Instagram videos are on the rise, and people spend a considerable amount of time watching video content on the platform. Not only do IGTV videos engage your audience and allow you to deliver your brand message in an interesting way, they also help companies to generate more website traffic. How? Include an URL in your IGTV caption to redirect viewers to your website.
As always, include a CTA before the link.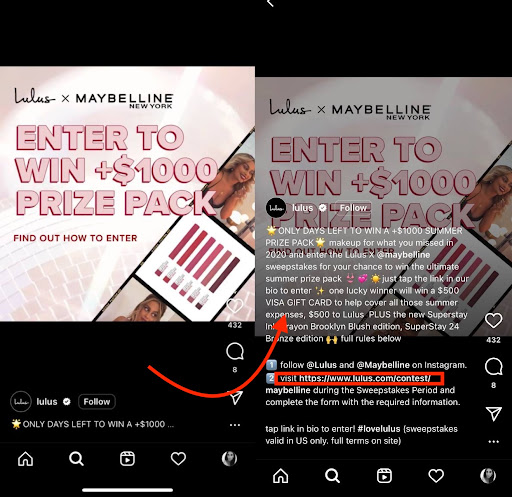 Image source: Instagram
8. Choose the traffic objective for ad campaigns
Meta's ad tools allow you to choose from different objectives for your ad campaigns, such as:
awareness
traffic
engagement
leads
app promotion
sales
If you want to increase traffic to your website beyond your existing followers, then you should select Instagram traffic ads. Campaigns of this nature will display your boosted posts to those users who are most likely to click on them and go through to visit your website.
Pro tip: To get great results when running Instagram ad campaigns, make sure you keep track of KPIs for advertising to analyze your ad performance and make continual improvements for your next campaigns.
The bottom line
Instagram's massive user base alone makes it one of the best social media platforms to use for boosting your website traffic. Pair it with the right tools and techniques as mentioned above, and you'll see followers and likes translating into clicks and sales in no time.