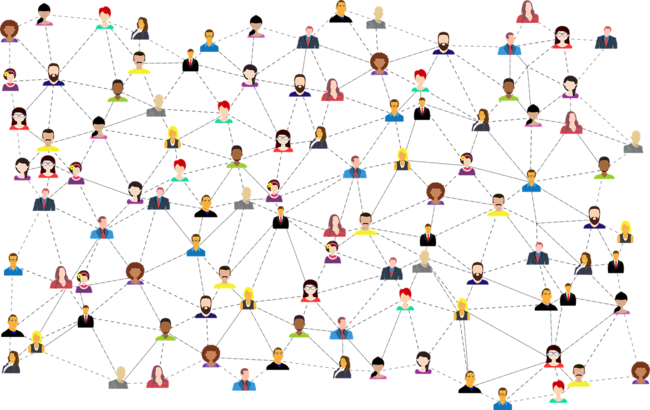 Image: Gordon Johnson from Pixabay
In today's business landscape, networking is vital for the growth and success of any organization. That's why LinkedIn has become an essential tool for businesses looking to connect with potential customers, partners, and industry leaders.
With over 900 million members worldwide, LinkedIn offers unparalleled opportunities for businesses to expand their reach and build valuable relationships.
With the new year upon us, it's the perfect time to take a look at your LinkedIn strategy and see what you can do to improve your networking efforts in 2023.
Utilizing LinkedIn's networking potential
Utilizing LinkedIn's networking potential can greatly benefit individuals and businesses alike. One way to do this is by actively building and maintaining a strong network.
This can be done by connecting with colleagues, classmates, and industry professionals, as well as joining relevant groups and participating in discussions.
Additionally, LinkedIn offers a variety of tools such as InMail. This feature allows you to directly message someone you're not connected to, and so connect with and learn from industry leaders.
Another way to take advantage of LinkedIn's networking potential is by using the platform to showcase your professional brand.
You can achieve this by regularly updating your profile, sharing relevant content, and participating in discussions and groups related to your industry. By doing so, you can establish yourself as a thought leader and position yourself as an expert in your field.
Now that you understand the potential of LinkedIn as a networking tool and the features it offers, it's time to implement strategies to make the most out of it. Here are four ways to improve your LinkedIn networking in 2023:
1. Optimize your profile
Your LinkedIn profile is like a virtual business card, it's the first thing people see when they come across your name. It's important to ensure that it's up-to-date, professional, and well-crafted.
By optimizing your profile, you'll be putting your best foot forward when networking on LinkedIn. Here are a few tips to keep in mind:
Use keywords: When hiring managers or recruiters are searching for potential candidates, they'll often use keywords to find the right person. By including relevant keywords in your profile, you'll increase your chances of showing up in search results.
Showcase your achievements: Include information about any awards or accolades you've received, as well as any notable projects you've worked on. If you have any publications or patents, be sure to include those as well. These details will give hiring managers or recruiters a better sense of your qualifications and experience.
Make it visually appealing: Use a professional headshot, break up the text into short paragraphs, and make sure your profile looks polished.
Tell a story: Use your summary to tell a story of your career, what you're passionate about and what makes you stand out from the rest.
By following these tips, you'll be able to create a profile that showcases your skills and experiences in the best possible way and make a great first impression on potential employers, recruiters, or business partners.
2. Personalize your connection requests
When reaching out to someone on LinkedIn, it's important to personalize your connection request. A generic message, such as "I'd like to connect with you," is less likely to be accepted than a message that shows you've taken the time to research the person and their background.
Personalizing your connection request shows the person that you're genuinely interested in connecting with them and that you're not just looking to add another number to your list of connections.
To personalize your connection request, take a look at the person's profile and see what they're interested in.
Are they passionate about a particular industry or topic? Mention that in your message. Are they working on a specific project or have they recently been promoted? Congratulate them on that in your message.
By taking the time to personalize your connection request, you'll increase your chances of getting a positive response.
3. Engage with other people's content
Engaging with other people's content on LinkedIn is a great way to build relationships and establish yourself as a thought leader in your industry. When you engage with others' content, you're showing that you're interested in what they have to say and that you value their insights.
To effectively engage with other people's content, take the time to leave thoughtful comments. Instead of just "liking" a post, take a moment to write a comment that adds value to the conversation.
Share relevant articles or posts that you think the person might be interested in. By doing so, you're showing that you're invested in the conversation and interested in building a relationship.
4. Leverage LinkedIn groups
Joining and actively participating in groups within your industry is an excellent way to make valuable connections and expand your professional network.
Here are some dos and don'ts to keep in mind:
Do participate in group discussions. Share your unique perspectives and insights on the topics being discussed.
Do connect with other group members and start private conversations. Building relationships is key to making the most out of your group membership.
Do show that you're an active participant in the group. Consistently engaging with the group demonstrates your interest and commitment.
Don't spam the group with self-promotion. Instead, focus on providing value and building relationships.
Don't ignore group rules or guidelines. Make sure to familiarize yourself with them and follow them to avoid getting kicked out of the group.
By leveraging LinkedIn groups and following these tips, you'll be well on your way to expanding your professional network.
Over to you
LinkedIn is a powerful tool for businesses and individuals looking to expand their professional network and advance their careers. It offers a variety of features and tools to help you connect with other professionals and build valuable relationships.
By following the four tips outlined in this article, such as optimizing your profile, personalizing your connection requests, engaging with others' content, and leveraging LinkedIn groups, you can take your networking efforts to the next level in 2023 and beyond.
Remember to stay consistent and active on LinkedIn, this will help you to build relationships and opportunities that can lead to growth and success for your business or career.