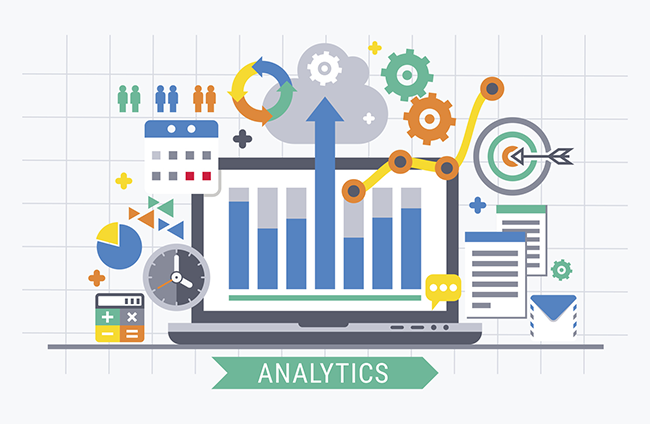 Microsoft announced last week that their free-to-use analytics product Microsoft Clarity was out of beta and generally available.
It has a range of tools designed to help you understand how visitors are using your website and to identify problematic areas, including "rage clicks," "dead clicks," and "excessive scrolling", to provide better user experience and engagement.
Main features
Heatmaps
Clarity has two kinds of heatmaps: clickmaps and scrollmaps.
Clickmaps can show you where on a page visitors clicked, so you can see which areas get the most interaction and whether these align with your goals for the page. Scrollmaps will tell you how far down the page your visitors get, and whether they are seeing the content you want them to see.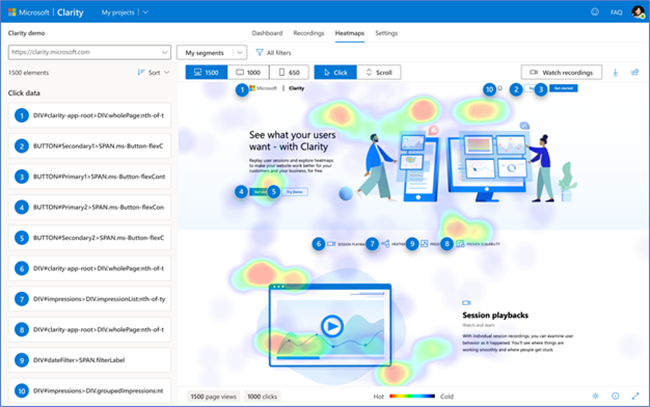 Image source: Microsoft
Areas in red indicate the highest frequency of clicks.
Session Playback
Session playback allows you to view recordings of individual sessions to see the full sequence of user behaviour and interactions on the page, as these occurred.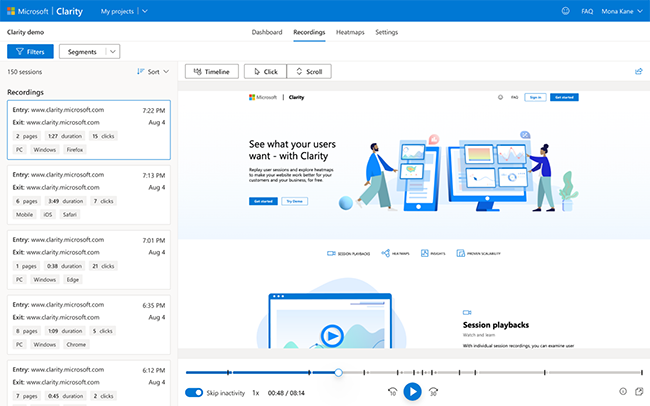 Image source: Microsoft
Microsoft says their filters enable users to achieve a high level of granularity in selecting recordings. They have used machine learning to identify "rage clicks," "dead clicks," and "excessive scrolling", and these can also be used as filters to pinpoint problematic areas in your UI.
This example shows a rage click, where a user repeatedly clicks on an area which might reasonably be expected to link to further information.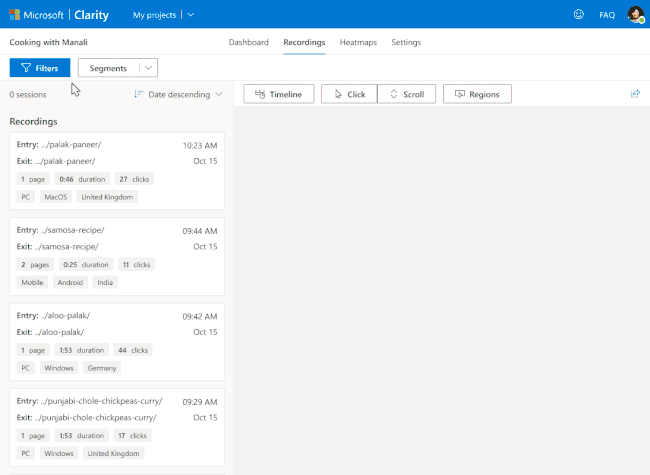 Image source: Microsoft
Dashboard
The dashboard shows aggregate metrics to help you understand user behaviour on your site. It will show you, for example, the number of clicks on non-existent links, or how many people scrolled up and down a page, looking for something which wasn't easy to find.
Stats can be sliced using many of the session playback filters, allowing you to focus in on specific user behaviour patterns.
Image source: Microsoft
Privacy
Microsoft says Clarity operates in a way which "helps respect user privacy and data security", and is GDPR compliant.
"We are GDPR compliant as a data controller for visitors to our site and processor for the data gathered by the Clarity script on your site."
Ease of use
The toolset is designed to be easy to use, according to Microsoft, with no caps on traffic and a very low impact on page loading times.
"Clarity is designed to have a very low impact on page load times, so you can make sure users navigating to your site won't have to wait for pages to load. Additionally, we don't place any caps on your traffic so whether you get 10 visitors per day or 1,000,000, Clarity will be able to handle your traffic with no additional cost for you."
Sign up
Good UI is key to a successful website and Clarity is an additional toolset to help you achieve this. By pinpointing and highlighting areas where your website might be failing it can help you eliminate user frustration and also ensure your goals are met through site visitors taking the desired actions, or seeing key areas of content.
You can get started or view a demo here: https://clarity.microsoft.com/