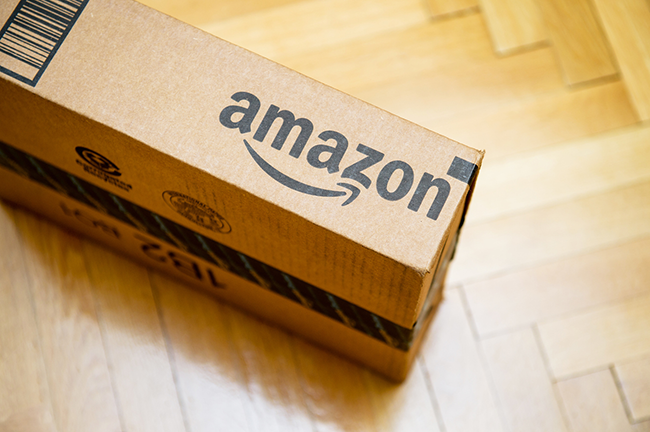 Amazon is an extremely powerful platform for ecommerce businesses, whether you're starting your business from square one, or you're an established online seller.
The reason it's so powerful? Organic traffic. In 2019/2020, Amazon averaged 2-2.5 billion visits per month. A significant portion of these visitors end up making a purchase too, thanks to the trust and reputation Amazon has as a brand.
This means, if you're an independent seller, Amazon search can and should be your most valuable customer acquisition channel. Showing up at the top of page one for high volume and relevant search terms is often the difference between an Amazon business succeeding or failing. Once you're there, it's a low-cost (free!) traffic source with high buyer intent. That's pure gold in the world of online business.
In this article, we're going to explain how the Amazon search algorithm works, and how you can optimize your products to reach the top of page one.
How does Amazon's search engine work?
Whenever we're talking about search engine optimization, the most important place to start is understanding how this particular search engine works.
If the topic is Google SEO, you want to look at how Google ranks sites, and create posts with this in mind. It's the same thing for Amazon. If your goal is organic search traffic, you need to understand the Amazon search algorithm as a starting point.
This algorithm - known for a long time as the "A9 algorithm" - is what dictates which products show up in the organic positions for the Amazon SERP. This means the results that aren't sponsored results, or special sections like editorial recommendations or related products.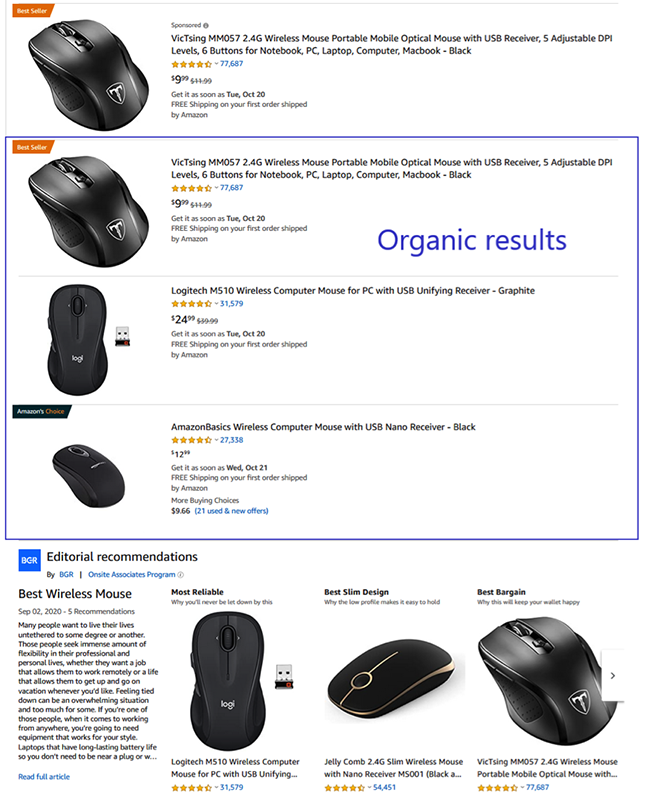 Amazon A9/A10 search algorithm
The algorithm that runs Amazon search is commonly known as the "A9 algorithm", or just "A9". This name comes from the company of the same name, which was set up by Amazon in 2003 to build search and advertising technology.
The A9 company has since been absorbed fully under the Amazon banner (the A9.com domain now redirects to Amazon.com), but the name still sticks around in reference to the algorithm.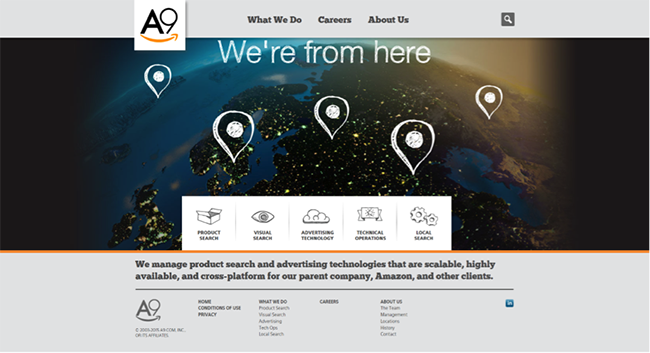 Snapshot of the A9.com website from 2017, via archive.org
Many now refer to the algorithm as the "A10" algorithm, after a reported big update midway through 2020. This is not a term used externally by Amazon, though, as they don't make any of the details of their search technology public.
Whether you want to call it A9 or A10 now, the important part is how it works.
The algorithm is designed to provide the best customer experience for Amazon shoppers. The aim is to make sure as many product searches as possible end up in a sale. It does this by ensuring that relevant, popular, high-quality products are recommended for each product search.
One of the fundamental tenets of Amazon as a business is their commitment to customer satisfaction, and the search experience is central to this. If you were to search for something on Amazon, and the search returned a bunch of irrelevant results, would you be satisfied with your experience as a customer?
Same thing if your search returned a lot of low-quality products. If customers are shown poor quality products, they aren't going to come away happy with their purchase, and are unlikely to come back and buy from Amazon again.
The Amazon search algorithm takes into account a number of factors to make sure products shown are more likely to make the customer happy. These factors include:
Sales history
Keyword usage
Reviews
Product rating
Conversion rate
Bounce rate/exit rate
These are all factors that show Amazon your product is relevant to the search terms it's appearing for, and that it is worth recommending to shoppers. Thus, satisfying the intent of the A9 (or A10) algorithm - customer satisfaction.
How to optimize for Amazon SEO
Optimizing SEO on Amazon means showing the algorithm what it wants to see. Now that we understand much of what the algorithm looks for, we have a good idea of how to rank a product on page one.
There are several key signals your product needs to show the algorithm in order to rank, coming under two categories; relevance signals and popularity signals.
Keyword optimization
First of all, we need to show relevance if we want to rank for any search term. The algorithm needs to be able to tell from your product listing that this product is relevant to what the customer is searching for.
It does this primarily by looking at keywords on your product page. This is the best way for Amazon's search engine to know what your product is, and which keywords it should be "indexed" for (meaning which keywords you are eligible to show in the search results for).
Keep in mind, not all areas of your product page weigh keywords equally. Keywords in some parts are given more power than others.
Your title, for example, is the most important field for keywords, where keywords have the most power. So when a customer makes a search, let's say for "mountain bike gloves for men", the algorithm is going to look for product pages with this phrase in the title first. It will then take keywords from areas like your bullet points, product description, and backend keywords to weigh how relevant your product is to the particular search term.
Here are the product page sections: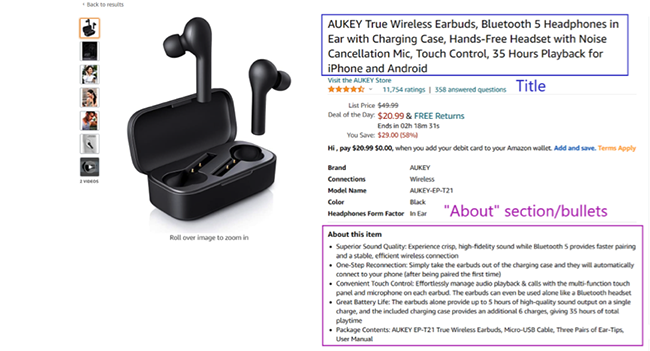 The takeaway here is that, before anything else, make sure your listing contains and keywords you want to rank for. If you're not indexed for a search term, you've got no chance of showing in the search results for it, full stop.
Popularity signals: sales
Establishing relevance to the search algorithm gets you indexed, which gives you a shot of ranking for a search term. But you need to show popularity signals to rank on page one. You need to show that your product is a winner, and Amazon customers are going to be satisfied after purchasing your product.
The most powerful popularity signal you can send to Amazon is sales. Since Amazon takes a percentage of all sales from third-party sellers, doesn't it make sense they would want to give more visibility to products with a proven sales history?
Simply put, to rank high you need to sell a lot. There's a little more complexity to the algorithm than this, but you can be sure that if your product makes a lot of sales (in comparison to your competitors on the SERP), it's going to be in or around the top half of page one.
Popularity signals: reviews
Another vital popularity signal: reviews. Again, it makes perfect sense why this would be one of the biggest indications of a popular product. Reviews are literally positive/negative feedback from Amazon customers (who the algorithm is set up to provide for).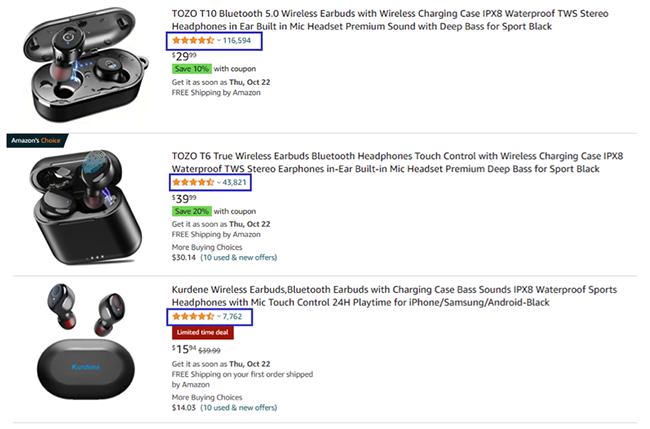 There are two elements related to reviews that impact your rankings. First, the overall star rating. It's pretty easy to see why this is a ranking factor. A high rated product is clearly one that customers love, while a low rating indicates a lot of unhappy customers. When the algorithm sees this, it responds by giving more visibility to the product with a higher rating.
Secondly, the overall number of reviews is another big factor. In recent years Amazon has moved further away from "me-too" products, and towards notable brand-name lines. They want to be known for fun and interesting products, rather than boring ones.
Boring products rarely attract reviews, good or bad. Products that get a lot of engagement from customers are the type of products Amazon would prefer to have on their site. Thus it benefits you to get a lot of reviews, rather than just a small number of positive ones.
Popularity signals: conversion rate
Another signal of popularity is conversion rate: how often people buy from you after viewing your product page. This shows Amazon that your page does a good job of pushing customers into a sale, which is the end goal they want to see from a product search.
This also doubles as a relevance signal. A high conversion rate for a specific keyword shows your product is exactly what the customer is looking for from that search. A low conversion rate shows the opposite.
Take this example. Your product ranks for the keyword "lightweight hiking backpack", gets a lot of clicks from the SERP, but has a lower than average conversion rate for this keyword. This is a sign that your product isn't totally relevant for this long-tail keyword, even though you may have a lot of sales and a lot of reviews.
This is why it doesn't make a lot of sense to try and optimize for irrelevant or low-relevance keywords. You're unlikely to make many sales from these keywords in the first place, and even then you're going to be pushing the overall conversion rate of your product down.
Customer experience
There are many more smaller ranking factors, but almost all of them can be grouped under the umbrella of customer experience.
You want to do all you can to provide the best experience for Amazon shoppers. If you're making it difficult for them, they're less likely to come back and shop on Amazon again. And Amazon is clearly not going to like that.
Some things that might indicate a negative customer experience are:
Frequent out of stocks
Pricing too high
Frequent changes in price
Lack of product images
High bounce rate (meaning customers leave Amazon after clicking on your product)
Low time on page
Poor account health metrics (things like order defect rate, late or lost shipments, high cancellation rate, high number of returns, high number of A-Z claims)
If you're not making customers happy, either before or after their purchase, you're hurting Amazon's bottom line. You can be sure that the search and rank algorithm will be set up to derank your products if this is the case.
Check out this infographic for a summary of what we've discussed in this post, in regards to Amazon search ranking factors and how to improve your Amazon SEO: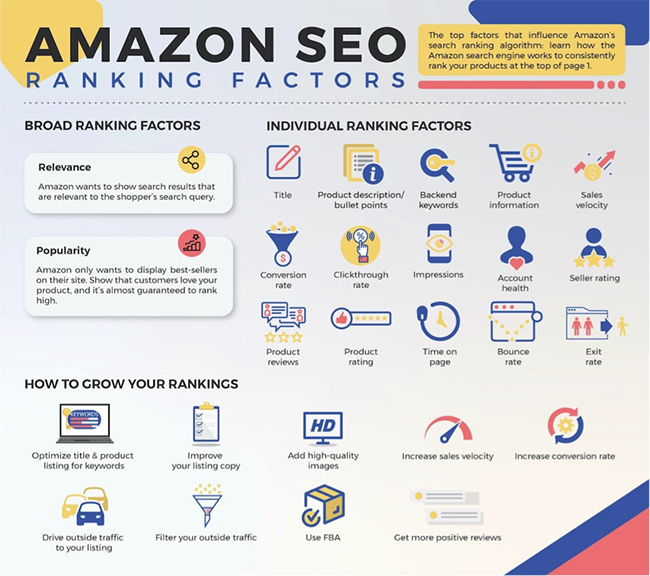 You can read more on Amazon SEO ranking factors, and learn the best way to improve your rankings, in this post.
The Golden Rule of Amazon SEO
We can go extremely deep when analyzing Amazon SEO, by inspecting every small ranking factor, how this impacts your search rankings, and how you can optimize each factor.
You can also keep it very simple and stick to one golden rule, which covers every single individual ranking factor.
The golden rule is to focus on the customer. Put yourself in a customer's shoes. Ask yourself if you'd buy your product, if you'd have a positive experience when shopping and finding your product in the SERPs.
Instead of focusing exclusively on optimizing your product for an algorithm, optimize your product for shoppers. After all, the Amazon search algorithm is designed with the satisfaction of Amazon shoppers in mind. As further updates are made to the algorithm and it becomes more sophisticated, it will do a better job of recommending products that Amazon customers love, and that offer a great customer experience.
If you're creating your listing and running your business with the same end goal - producing happy customers - you're going to see more and more favorable results in Amazon search over time.