Do you want to be more effective in marketing your company, product or services? Would you like to attract more customers who stay loyal for years? I run my own digital marketing agency, and I try to help people attain these objectives. One of the ways I successfully to do this is by employing a long-term, sustainable approach to SEO, within an integrated marketing strategy.
Forget any "black box" or "quick-fix" approaches to SEO, I'd like to introduce you to far more effective solutions. I always urge clients to avoid any kind of short-term approach designed to trick the Search Engine Algorithms. Trying to fool the Algorithms can easily backfire, and your site can get penalized, resulting in lower rankings or worse. You need to think long-term. That's why I developed the "5 Pillars of Sustainable SEO" and I'm going to share these with you today.
The 5 Pillars of SEO framework is rooted in a strategic and holistic approach to SEO, placed within an integrated digital marketing strategy. It focuses on audience development and brand reach. Let me take you on a tour.
The 5 pillars
Foundation: Keyword Research
Pillar 1: Technical SEO
Pillar 2: User Experience
Pillar 3: Content Marketing & Outreach
Pillar 4: Public Relations
Pillar 5: Social Media
Ongoing: Analytics and Reporting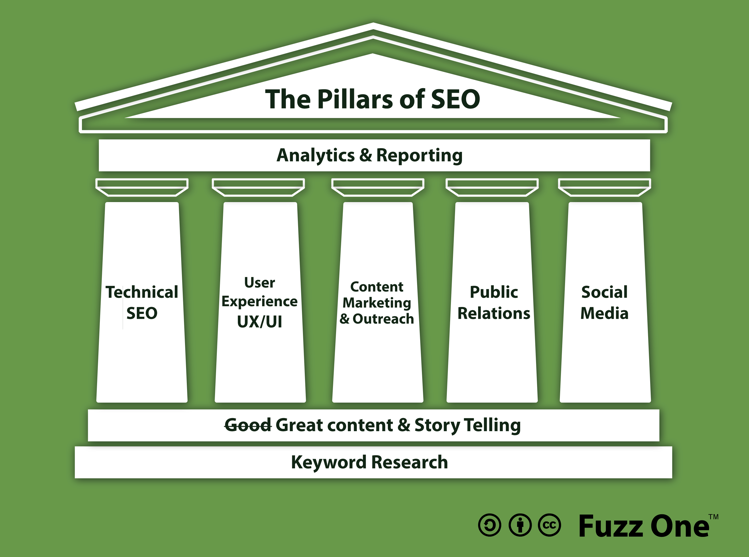 The foundation: Keyword Research
Keyword research is arguably considered to be the most important aspect of an SEO strategy, as it establishes the keywords and key-phrases an SEO campaign is to target by matching current search queries (often specific to a target geographic location) to keywords relevant to the business/website. Understanding how people search for your product, service or content forms the very foundation of SEO.
Keyword research data is used within the pillars:
In technical SEO, it is used in information architecture and for title tag updates.
In social media & PR, keyword research drives the thematic focus.
In content marketing, keyword research guides content plans and internal page linking.
In UX / UI it drives a top-level direction for designers.
Getting keyword research wrong leads to driving unqualified traffic and a sub-par user experience. Understanding the difference between head (general/popular) and long-tail (specific) keywords is essential to setting up structured goals throughout a SEO campaign, as head keywords tend to individually attract more traffic - although long-tail keywords account for 70% of total user searches.
Some of my tools of choice for effective keywords research are:
WordTracker's Keyword Tool
Google AdWords Keyword Tool(now the Keyword Planner - ed)
Google Search (using 'related searches' results and competitor title tags)
Übersuggest Google suggest scraper tool
Client interviews and research to understand industry terminology
Google Analytics
Keyword research sets SEO apart from other marketing disciplines such as PR, Social Media and content marketing.
Pillar #1: Technical SEO
As Google needs highly accessible websites it can crawl and index, technical SEO is an area where Google offers significant support, including:
A dedicated Webmaster help & knowledge centre
The Webmaster Central forum
Google Webmasters YouTube channel
The Webmaster Central blog
Google Webmaster Tools (dashboard management for technical SEO)
Matt Cutts
Technical SEO broadly involves dealing with issues such as Indexation (and pagination), site speed (page load times), meta tags, rich snippets (micro-data mark-up), Keyword research, Information architecture & URL structure, and site management (using Google Webmaster Tools and Bing Webmaster Tools). I'll go into a few of these aspects in more detail below: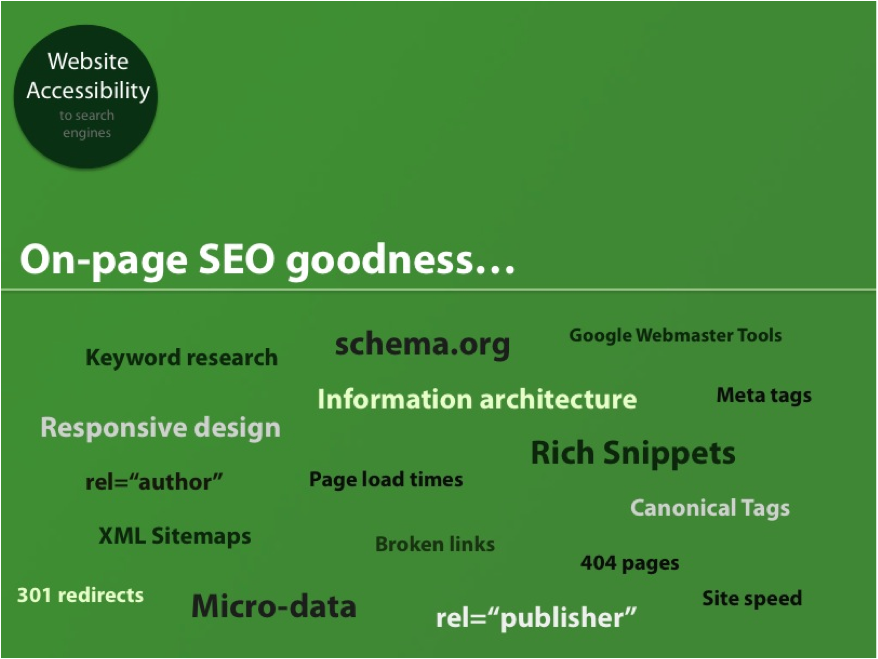 1. Indexation:
Covers how thoroughly and accurately search engines are able to access or 'crawl' publicly accessible web pages on your website, ensuring that 'crawled' web pages are added to the index database of search engines.
The key areas to note for maximum indexation involve:
Generating XML sitemaps (submitted to each search engine).
Optimising internal linking within web pages on your site.
Managing how deleted pages (which can lead to 404 errors) are handled.
Resolving duplicate content issues.
Being aware of (and working with) Query Parameters, Canonicalisation and Pagination - the goal is to include your publicly available site in the index of search engines for possible search queries.
Recommended tool: Screaming Frog SEO Spider.
2. Speed:
Website speed is essential for technical SEO and user experience. Slow loading websites are frustrating for both site visitors and search engines spiders. Keep your site's page load time under 3 seconds - I would recommend:
Using Google PageSpeed for measuring both home page and inner page speed,
Using Yahoo's YSlow Plugin
Using the Pingdom website speed test tool
Tracking page load times in Google Analytics by adding the following lines of code to your Google analytics tracking code:

_gaq.push(['_trackPageLoadTime']); _gaq.push(['_setSiteSpeedSampleRate', 10]);

Optimizing CSS and JS files
3. Micro-data (rich snippets): Micro-data is the marking-up of HTML content into standardized categories of content. The result of micro-data mark-ups is structured data that can be sorted by attributes in databases.
Schema.org is the universally accepted Micro-data standard employed by all major search engines, and the following are some of the types of content can be structured using Schema:
Creative works: books, movies, music recording, recipes, TV series
Embedded non-text objects: audio clips, images, videos
An event
An organization
Google+ Authorship (of an article)
A place, a local business, a restaurant
A product in an e-commerce store
An offer
A review
Breadcrumb navigation
Schema.org provides full reference and documentation at http://schema.org/docs/schemas.html.
4. Information architecture: Defining the hierarchal structure of your website is critical for both user experience and search engines. Information architecture should link with keyword research and also establish a URL structure for your site.
5. Bing & Google webmaster tools: Google, Yahoo & Bing provide webmasters with website administrative dashboard interfaces for managing indexation, site speed, micro-data, search queries etc.
Pillar #2: User Experience
User experience is an essential pillar of SEO - creating an intuitive and accessible website with users in mind makes it easy for visitors to navigate, retrieve content and stay longer on your website. 'Average time on site' and bounce rates serve as engagement indicators that display the value your website offers its visitors. Think about branding, user experience and ease of payment (for eCommerce). A website should offer a solid user experience - which is an on-going process.
Matt Cutts talking about User Experience and High Quality Content
Two key aspects of User Experience are:
1. Responsive design:As multiscreen i.e. tablet & smartphone adoption grows, so creating a mobile responsive website has emerged as a critical facet of user experience. The number of devices, platforms, and browsers that you need to work with your site grows daily. Responsive web design represents a fundamental shift in how we'll build websites for the decade to come.
2. Image and video driven content:Images and videos convey messages a lot faster than written words, and given that most content is skimmed through on the Internet. The visual web is increasing. If your website's audience communicate better through video or images, adopt an image/ video driven layout and user experience journey. Video, particularly, is the closest thing you have to a face-to-face encounter.
Pillar #3: Content Marketing & Outreach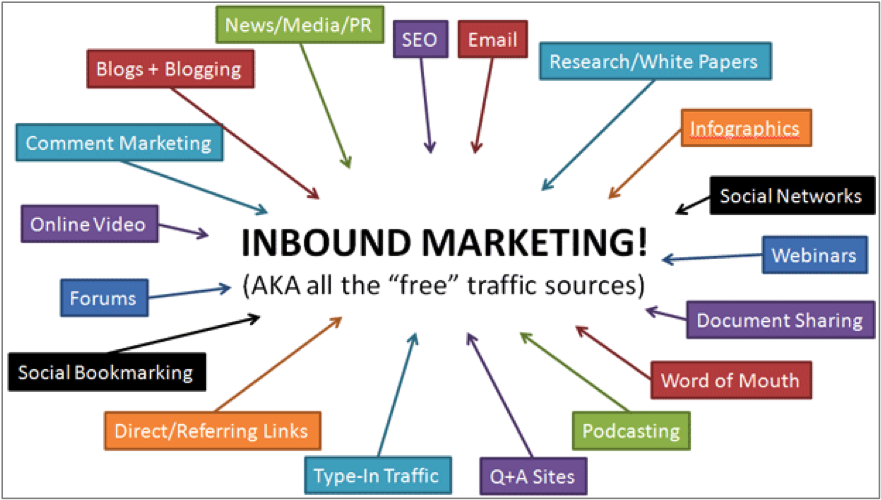 Building a site that offers a superior user experience with technically sound SEO is not enough for search engine success. Creating and promoting good quality content that aligns with your store's product is the next step - think about how you can offer complementary content both on and off site to help increase sales.
For an e-commerce store, consider running video reviews/demos or even TV shows, like DigitalRev's YouTube photography show, the most subscribed and viewed photography on the Internet).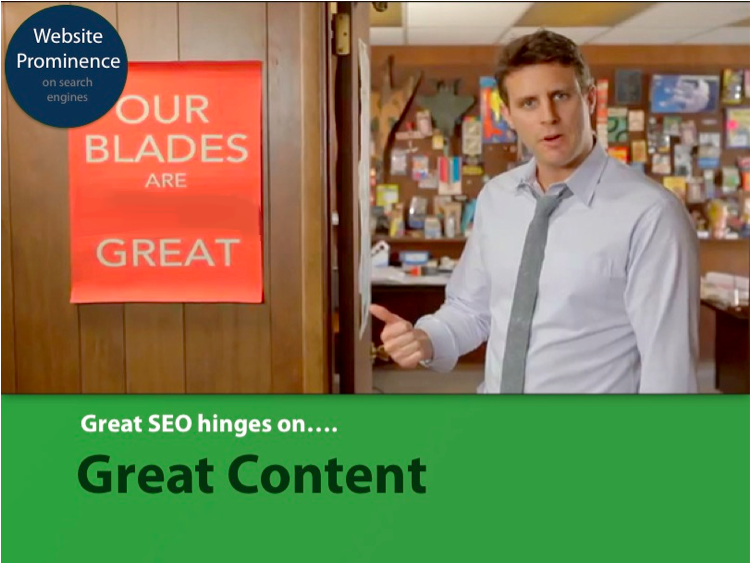 Content does not only come in the form of text – content can be consumed as video, audio (podcasts), images, Infographics, whitepapers, competitions, webinars or hang-outs, guest blog posts, mobile apps, email newsletters and research. Establish a content marketing engine that supports your brand, website or e-Store. Promoting your 'high-quality' content encourages publishers and bloggers to discuss and link to. All good stuff for your marketing.
Pillar #4: Public Relations
PR is still hugely relevant and arguably the most effective way to promote your brand to its target audience. Traditional media has evolved and taken an online form continuing with influencer engagement and outreach. Bloggers have emerged in the PR space and are now critical for all SEO campaigns. Media sites still rate amongst the most authoritative and trusted sites to acquire reference backlinks from, for search marketing. PR by its nature is very people-focused and aims to ensure that a broad or targeted audience becomes aware of your brand.
Pillar #5: Social Media
"Content is fire, and social media is gasoline" - brilliantly coined by Jay Baer.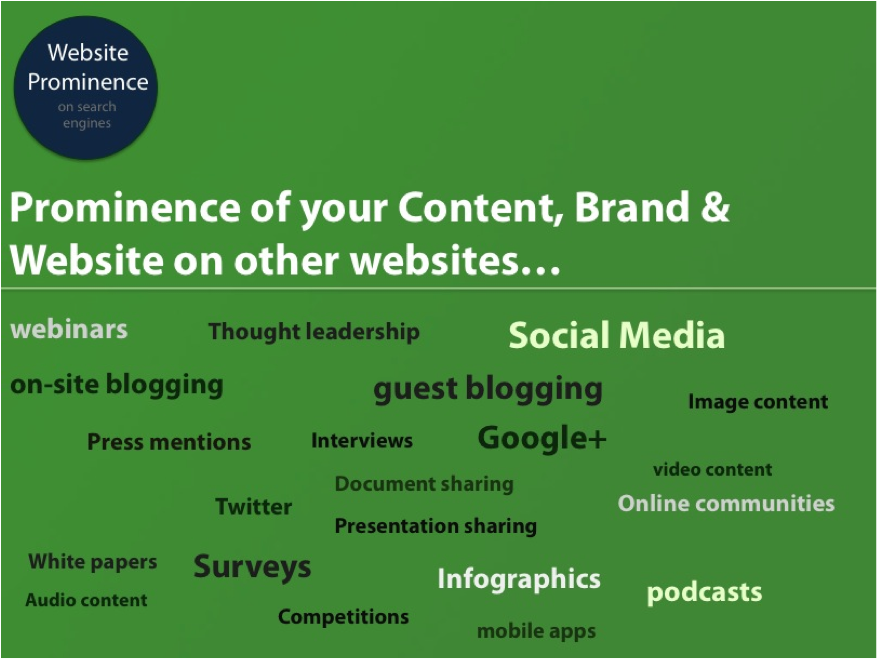 Social media is the final pillar of SEO. People spend more and more time on social media, whether it's Facebook, Twitter, Vine, Pinterest or other, and this is where we increasingly discover and engage Brands.
It was in 2010 that Matt Cutts admitted that social signals really do figure in organic SEO. Everyone is still debating how strong an impact channels like Facebook, Twitter and LinkedIn really have, but it's very clear that any company that's not active on G+ is missing out on an easily won SEO gain. If you're not already using Google Authorship, it's time to start right now. Authorship helps Google assign credibility to your content, and can result in higher Search Engine results. Marketers are still figuring out how to best deal with the Facebook Graph and its semantic search possibilities, but with all that Big Data gathered from Facebook users, it's an area to keep a close eye on.
When you integrate Social with your SEO and Marketing strategy, don't forget to think about your own site as well as the various channels. Make your onsite content so great that people want to share it. Give them the tools to do that - like social media share buttons.
Remember that the consumers and customers of tomorrow are spending more and more time on the social media of today. Companies and marketers need to go where their audiences spend time.
Conclusion
Remember, the principles laid out in the 5 Pillars are all about integrated digital marketing and sustainability. Be certain to continually evaluate your performance with your analytics, and track the performance of each marketing effort. This will give you a good guide as to where you may excel, and where you may need to do better.