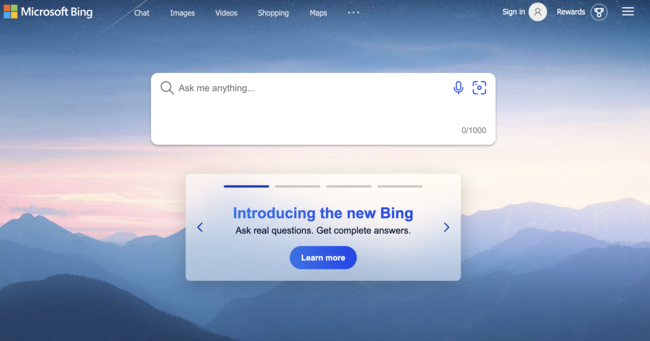 Microsoft has announced the integration of ChatGPT capabilities into its Bing search engine and Edge browser, bringing cutting edge AI technology into these products.
In a blog post yesterday, Microsoft Chairman and CEO Satya Nadella, said:
"AI will fundamentally change every software category, starting with the largest category of all – search,"
Bing will now be able to respond to complex queries with more detailed, complete answers and users will be able to use chat to tailor their queries. Bing can also generate content.
The new Bing is available in preview now, with a limited number of searches per person.
Microsoft says the new Bing is a culmination of four technological breakthroughs:
Next-generation OpenAI model
Bing is running on a new, next generation Open AI model which is customized specifically for search.
"It takes key learnings and advancements from ChatGPT and GPT-3.5 – and it is even faster, more accurate and more capable".
Prometheus model
Microsoft is using its Prometheus model, a proprietary way of working with the OpenAI model. It says the collection of capabilities and techniques give "more relevant, timely and targeted results, with improved safety".
Applying AI to the core search algorithm
The AI model has been applied to the core Bing search ranking engine, which Microsoft says led to "the largest jump in relevance in two decades", making even basic search queries more accurate and more relevant.
New user experience
Microsoft says: "We're reimagining how you interact with search, browser and chat by pulling them into a unified experience. This will unlock a completely new way to interact with the web."
New Microsoft Edge
The Edge browser has been updated with AI capabilities and given a new look. It has two new functionalities, chat and compose. You can ask chat, for example, to make a comparison to a competing company's financials and give you the answer in a table.
The AI race is on
Microsoft's announcement comes a day after Google unveiled details of their own chatbot Bard. Both companies are scrambling to get their products to market following the wildly successful launch of Open AI's ChatGPT last year.