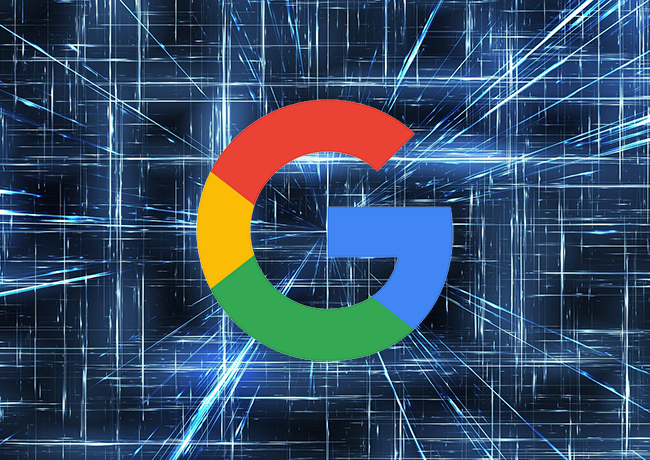 Google last week released its annual Ads Safety Report for 2020 detailing the actions it had taken over the year to combat fraudulent and harmful use of their ad platforms.
It's been a challenging year, with Google seeing an uptick in opportunistic advertising, misinformation and fraudulent behaviour amid the backdrop of COVID and major political events.
"In 2020, our policies and enforcement were put to the test as we collectively navigated a global pandemic, multiple elections around the world and the continued fight against bad actors looking for new ways to take advantage of people online."
Approximately 3.1 billion ads were blocked or removed and an additional 6.4 billion ads restricted for violating Google's policies. Google says most enforcement was required in the following areas: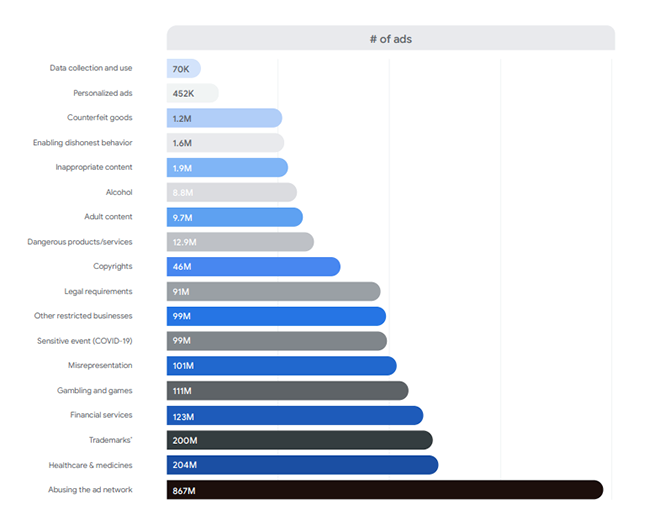 Google says its enforcement is not "one size fits all" and its approach is tailored, based on geography, local laws and Google's own certification programs. So, for example, online pharmacies are required to complete a certification program, and once certified, their ads are only shown in specific countries where the online sale of prescription drugs is allowed.
Action was taken against 1.3 billion pages (up from 21 million in 2019) and 1.6 million domains, with most enforcement required in the following areas: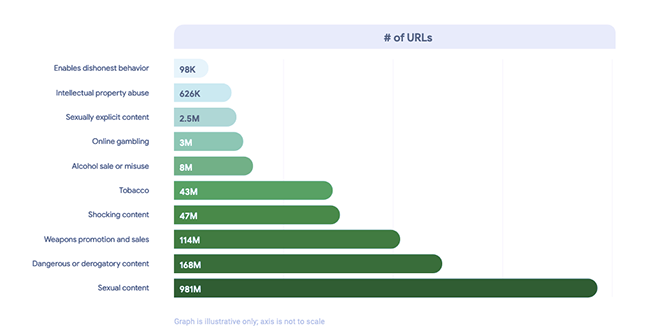 Image sources: Google (graphs not to scale)
Sensitive events: COVID and US elections
Google enforced its sensitive events policy in response to COVID, to prevent price gouging on products such as hand sanitizers and masks, and to block ads promoting false cures.
Over 99 million Covid-related ads were blocked, including for miracle cures, N95 masks due to supply shortages, and fake vaccine doses.
Google's policy was to prevent opportunistic abuse while allowing authoritative medical sources to surface critical updates and reliable content. As claims and conspiracy theories circulated online, Google launched a new policy to prohibit both ads and monetized content about COVID or other global health emergencies that contradict scientific consensus.
The US elections in November also fell under Google's sensitive events policy and political ads were paused after the polls closed through to early December. However, in the wake of the storming of the Capitol on 6 Jan, Google again had to impose a temporary shut down, on ads mentioning impeachment, inauguration or protests.
Uptick in fraud and scams
Major events such as the pandemic often see an increase in bad actors. Google says: "Increasingly, we've seen them use cloaking to hide from our detection, promote non-existent virtual businesses or run ads for phone-based scams to either hide from detection or lure unsuspecting consumers off our platforms with an aim to defraud them."
To combat this Google has introduced an advertiser identity verification program and business operations verification program. It has started to share advertiser name and location in the About this ad feature to enable people to see who is behind a specific ad.
It has also invested in tech to detect coordinated adversarial behaviour across accounts, and improved its automated detection technology and human review processes.
The number of ad accounts Google disabled for policy violations increased by 70% from 1 million to over 1.7 million. Over 867 million ads were blocked or removed for attempting to evade Google's detection systems including cloaking, and an additional 101 million ads for violating misrepresentation policies.
Demonetizing hate
Google says it has policies in place to protect users and brands would be sensitive about where their ads appear.
"In 2017, we developed more granular means of reviewing sites at the page level, including user-generated comments, to allow publishers to continue to operate their broader sites while protecting advertisers from negative placements by stopping persistent violations."
Google says it has continued to invest in its automated technology, saying this was "crucial" in a year which saw an increase in hate speech and calls to violence online, in helping to prevent harmful web content from monetizing. Action was taken on nearly 168 million pages under Google's dangerous and derogatory policy.
2020 was a momentous year with the global pandemic and political events such as the US elections, and it highlights even more clearly the effect of online activity on the real world. The sheer numbers involved in Google's ad policy enforcement gives some indication of the scale of the problem.