With 2 major version rollouts and a total of 5 updates since 2012, it would be prudent to say that Google Penguin has shaken the SEO world over. Going forward though, one of the key questions your 2014 SEO strategy should address is how to Penguin proof your link building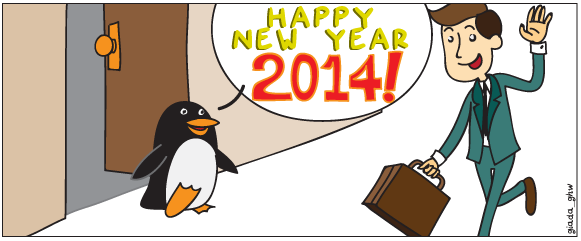 strategy or on the other end of the scale for less unfortunate webmasters; how to recover from a Penguin penalty that has been wrecking havoc on your rankings.
I have paid keen interest to each Penguin update over this period because I have had to carry out backlink audits for websites with suspected cases of the Penguin penalty and for the analysis of sudden dips in traffic due to manual unnatural link penalties.
I have witnessed both Penguin recoveries as well as non-recovery cases (as a result of impatience, panic or the outright refusal to change link-building tactics). I am aware of the recovery process and in this article; I aim to flesh out how to detect a Penguin penalty (Vs. a manual penalty), how to prevent getting hit by penguin, how to recover (with detailed link clean up instructions) and to debunk certain myths about Penguin.
Background: pre-Penguin
Right from Google's inception as a search engine, web link spam has been rife and reached its peak in 2011. What I find quite paradoxical is that link spam spawns from a flaw in Google's ground-breaking PageRank algorithm, which has actually positioned Google ahead of all other search engines because of its ability to deliver the more relevant results to searchers.
Google's PageRank algorithm counts the number and quality of backlinks to a page to roughly determine the page's importance and rankings, based on anchor link text. The key issue Google faced 'Pre-Penguin' was determining the quality of backlinks. Dealing with backlink spam has been and to a degree still is a cat and mouse game between Google and spammers. Do you recall how Google bombs worked?
Pre-Penguin, frustrations about the growing number of spammy websites on Google's search results started to build up in both the white hat SEO community and general public despite updates such as Florida (2003), Big Daddy (2005), Caffeine and even Panda (from 2011). Black Hat spammers almost effortlessly had their way up the rankings for top-tail 'money key-phrases' that raked in a lot of rewards.
Penguin rolled out to fight webspam
Google introduced the Penguin update in April 2012, as a machine-learning algorithm to uncover spammy backlink profiles that not only devalues the impact of spammy backlinks' on rankings (as a previous Panda update did) but also penalizes websites employing low quality backlinks by de-ranking them.
Penguin is actually a software program run at specific times (more on this later) that detects spammy patterns of backlink optimisation across large data sets that are not obviously detected by the human eye or crude algorithms.Web pages with "Full match" patterns of backlink spam are automatically penalized each time it is run and websites that have cleaned up their acts regain rankings over each update.
Now that we have covered the background and basics; here are 7 must know facts about Google Penguin to help anyone with recovery and to prevent getting hit by the penalty in the first place:
1. Penguin updates are scheduled
Penguin is rolled out at specific times of the year – the trends from the last 18 months show rollouts specifically: in May and October. Here are the last 5 updates:
Penguin 1 »»» Page Level Update
(Update 1) April 24th, 2012 (impacting around 3.1% of queries)
(Update 2) May 25th, 2012 (impacting less than 0.1%)
(Update 3) October 5th, 2012 (impacting around 0.3% of queries)
Penguin 2 »»» Domain
(Update 1) May 22nd, 2013 (impacting 2.3% of queries)
(Update 2) October 4th, 2013 (impacting around 1% of queries)
The next Penguin Update is excepted sometime in May 2014. What I am uncertain about at this point is whether it would be a 3rd update of Penguin 2 or whether is would be the first Penguin 3 update.
Whatever the case, it means that websites hit by previous Penguin rollouts, should be currently cleaning up their acts and rebuilding credible backlinks in preparation for the next update in May 2014.This should not be confused with receiving a manual action notification in Webmaster tools about a partial match manual penalty that can occur at anytime.
2. How to detect a Penguin penalty
To set the records straight, if your site has been hit by Penguin, Google will never notify you – you would need to check your website's traffic as well as carry out a series of other checks which I have outlined below.
Step 1: Check your traffic and significant keyword drops:
The first step for a Penguin penalty diagnosis is to check if the sudden drop in your website's traffic coincides with any of the dates above. If the traffic drop coincides with the Penguin update dates, you should check what keywords you have stopped ranking on Google for. The best way to check would be to use Google Webmaster Tools and any rank tracking software you use.
Step 2: Anchor text diversity
The next step would be to check your anchor text diversity - this is the ratio of 'brand name and non-money' anchor text to 'money' keyword anchor text links to your domain. 'Money' keywords refer to key phrases you're trying to get rankings for, as opposed to more natural-looking blend anchor text such as: YourWebsite.com, www.yourwebsite.com, your business or brand name, your website name, 'click here', 'here', etc). Remove'em is an excellent free starter tool to use for quick analysis of your anchor text backlink ratio. Although Remove'em isn't the most accurate of tools, it will help you sniff out anchor text over-optimisation at a top level prior to carrying out a more in-depth analysis using comprehensive backlink analysis tools like Majestic SEO, SEOmoz's Open Site Explorer and Ahrefs. Here is an example from a recent penguin victim, bannerbuzz.com. Remove'em shows 74% of all backlinks and 13% of all domain backlinks have the anchor text 'vinyl banners' – this immediately flags out 'vinyl banners':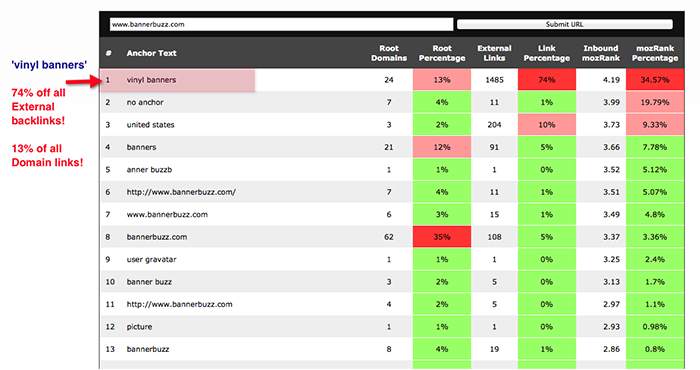 Further investigation using Majestic SEO's fresh Index shows that bannerbuzz.com has a total of 10,296 external backlinks from 826 referring domains.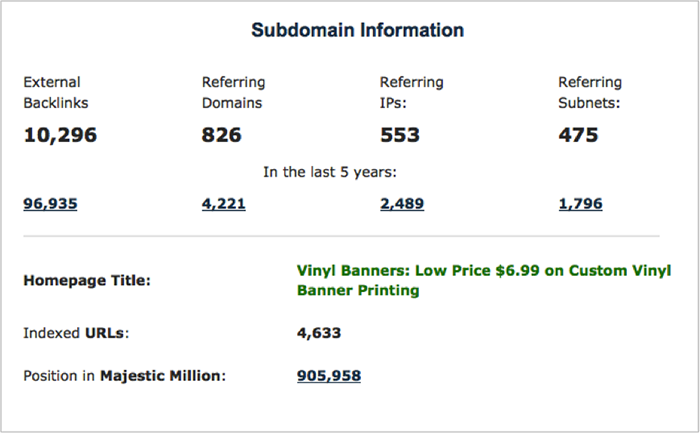 Delving deeper in Majestic SEO's 'Anchor Text' tab, you would find that search phrases 'vinyl banners' and 'vinyl banner' together account for 1,877 backlinks from 213 domains; which accounts for about 25% of all domain links and about 18% of all backlinks. If you take an even closer look at the 553 referring IPs, their situation look more dire – 213 domain links from 553 servers, which come to approximately 40%.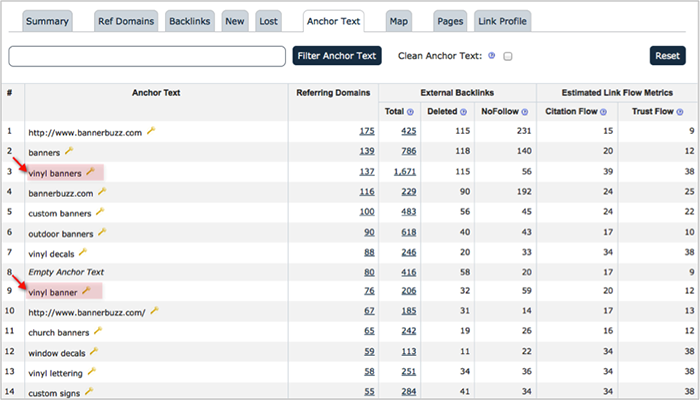 This along with elementary data from Remove'em confirms anchor text over-optimisation.Another tool I highly recommend is Link Research Tools – Quick Domain Compare, which helps compare your anchor text diversity with that of your competitors currently ranking for search phrases you have lost rankings for. This should give you a more comparative anchor link ratio analysis more specific to your niche or industry to help you understand the severity of your anchor text link over-optimisation.Websites' that I have seen hit by the Penguin penalty typically have a 2:1 (or more) of all 'money' anchor text to 'brand' total anchor text link ratio. To stay on the safe side keep each 'money' anchor text links around the 5% of total links mark and check on your competitors' anchor text link ratios.
Step 3: Site wide link ratio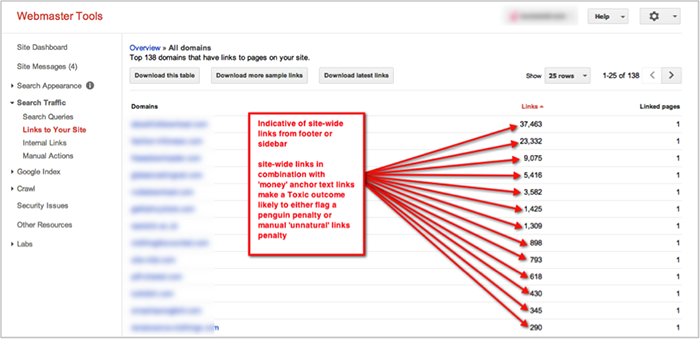 In order to further investigate anchor text ratios, it is quite important to check and distinguish between domain links from total backlinks. A quick check in Google Webmaster Tools 'Link to Your Site' report tab would reveal linking domains and the number of links from each domain. A more detailed report can be generated using backlink analysis tools such as Link Research Tools, Majestic SEO, Open Site Explorer and Ahrefs.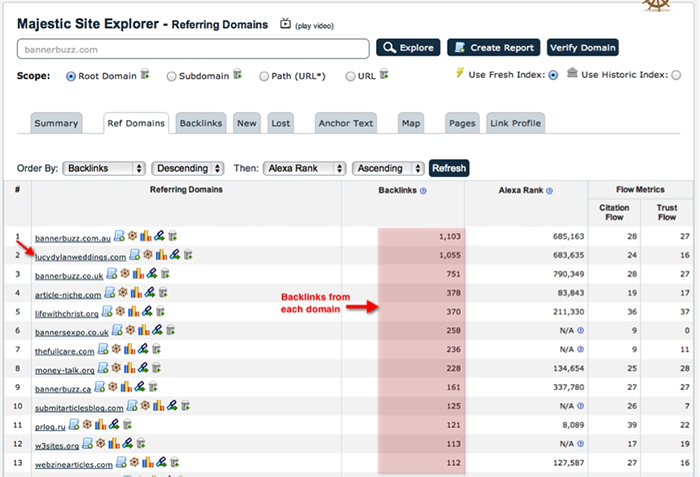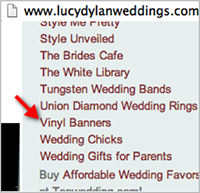 Looking again at the bannerbuzz.com backlink profile, 1,877 backlinks as compared to 213 domain links indicates a significant number of site wide links. Which together with money anchor text links indicates a negative backlink profile.
Step 4: Check domain authority and trust flow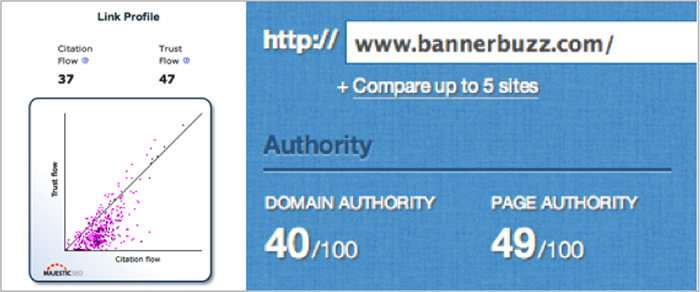 Another optional check might be your Moz Domain Authority and Majestic Trust Flow. Moz's domain authority measures the predictive ranking strength of a domain and Majestic's Trust is a weighted average of the number of clicks from a seed set of trusted sites to a given domain. I would take both figures with a pitch of salt, as further analysis is required to validate their figures.
Step 5: Link health breakdown summary

If you do have the budget, I would suggest that you use Link Detox for a detailed analysis of your backlink profile to identify high and moderate risk backlinks.
3. How to identify unnatural links
Using tools to identify a potential unnatural link pattern is half the battle; manually analysing each link is the second half. Here are steps to identifying Unnatural links:
Download your backlink report from various sources. My top recommended sources are:
Google Webmaster Tools,
Bing Webmaster Tools
Majestic SEO and
Link Detox Tool
In Majestic SEO, scrutinize backlinks from domains with low citation and trust flow. Whilst in Link Detox, high, moderate and low risk back links are automatically flagged. The types of links that are likely culprits to a Penguin penalty are:
Spammy blog-roll links
Link networks – private and public network
Comment spam
Classified spam
Forum signature spam with exact march
Article marketing links with signature spam at the bottom of articles
Free for all directories
Exact match anchor text 'widget app' links
Sitewide backlinks
List all the links and domains that fit the above profile and endeavour to get their contact details.
4. How to clean up your act
A thorough link clean up begins with process documentation; having listed all the medium/high risk backlinks, their domains and contacts, endeavour to ask for the outright removal of the links when you contact the domain owners. It is best to remove backlinks from an entire domain rather than from only specific pages. If you used an SEO company and consultant for link building in the past, try and get in touch with them to assist you in the link removal process. Review all old SEO reports to verify sources of links you are looking to remove.It might come to a surprise to you that some SEO agencies ran link farms and link networks, so the removal of the links might be more straight-forward than you would think.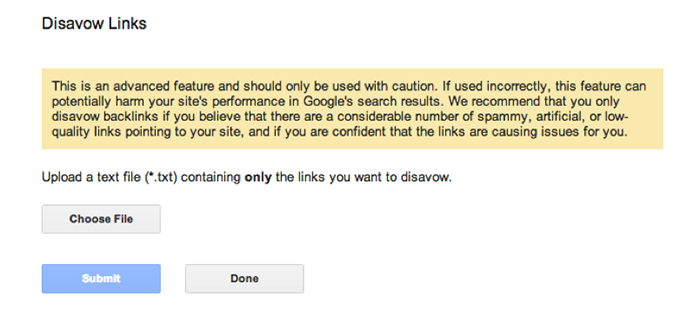 If all fails and you would be left with a list of domains you have been unable to remove your backlinks from – this is when to use Google's Disavow tool. I would strongly advice disavowing an entire domain rather than a specific webpage as you should really disassociate the entire domain from your site's backlink profile.Remember to focus on link removals first before using the Google Disavow tool in Webmaster Tools and to note which sites have been contacted and how they were contacted. Do not bother with a resubmission request unless you received a manual penalty notice in Google Webmaster Tools.
To reiterate the link clean up process:
Remove your bad link first
Disavow
Use reconsideration request in Webmaster Tools only if you received a manual penalty notice.
If you were hit by Penguin – wait for the next Penguin update
If you were hit by a manual penalty then you could regain rankings in days, weeks or months
5. Penguin is algorithmic and not a manual penalty….but
Google Penguin just like Google Panda is a computer program that is separate to Google's core algorithm. It is constantly learning (through artificial intelligence) and programmed by a bunch of PhDs and really smart engineers that roll it out into Google's core algorithm at specific scheduled dates. It more like a flush of the system based on specific machine learning rules that aim to sniff out web link spam.
A manual unnatural link penalty on the other hand is flagged by Google's core algorithm, which is constantly running. The moment it picks up unnatural looking spammy backlinks, it penalizes your site and sends a manual penalty notification to Google Webmaster Tools. If you clean up your act, you are allowed to submit a reconsideration request that is forwarded to a member of Google's web spam team. They then re-evaluate your domain and decide if the penalty should be lifted.
There're exceptions though…according to Moz's Dr.Pete, bigger companies could use the reconsideration request to jolt their brand websites back into Google's SERPs from Penguin penalties without having to wait for the next Penguin update:
"It depends on how big you are. I've seen companies use reconsideration as a back-channel in some cases where the penalty seemed algorithmic, and they were big enough for Google to communicate with them. I suspect it's not the "approved" method and it won't work for most of us.
6: Penguin is a site-wide and not a page-by-page penalty
The following statement made by Matt Cutts in this video interview with Leo Laporte prior to the launch of Penguin 2 in May 2013, below seemed to have caused confusion in the SEO community:"The previous iteration of Penguin would essentially only look at the homepage of a site. The newer generation of Penguin goes much deeper."
As Barry Schwartz rightly pointed out in this article, Penguin has always impacted an entire website and not just its home page; Matt Cutts' reference to 'Google looking at just the homepage of a site…and going much deeper' refers to Penguins link analysis of a domain.
Penguin 1 seemed to have only analysed home page backlinks to determine whether a penalty would be applied but Penguin 2 runs a 'deeper' backlink profile analysis on a page-by-page basis and if a site does not make the cut, a penalty is applied.
'Creative' 301-redirects to avoid a page penalty simply do not work and would do more harm that good – treating the root cause of the penalty rather than the symptoms by cleaning up your spammy backlink profile and building quality links would drive in a sustained recovery.  
7: Dilute your anchor text ratio by building quality links to regain rankings
If you have been hit or yet to be hit and have any 'money' keyword anchor text links constituting over 10% of your backlinks, my advice would be that you start building brand and natural backlinks to dilute the share of 'money' keyword anchor text links. The quality as well as the diversification of your anchor backlinks is key to recovering and surviving Penguin.
Run competitor link analysis on the top 5 sites ranking for your desired search phrase to understand what the acceptable anchor text link ratio is in your niche. Use your findings as a benchmark for your link building efforts.
Finally, remember to stay ethical and creative with your link building - let quality content and superior user-experience drive your creative link building strategy. I hope these tips help keep you high and dry from Penguin or fix a penalty.
Have you been penalized or have you recovered from an unnatural links OR Penguin update? Is yes, could you share your story. Also feel free to ask questions.
Here's to a great 2014 free from Penguin attacks!