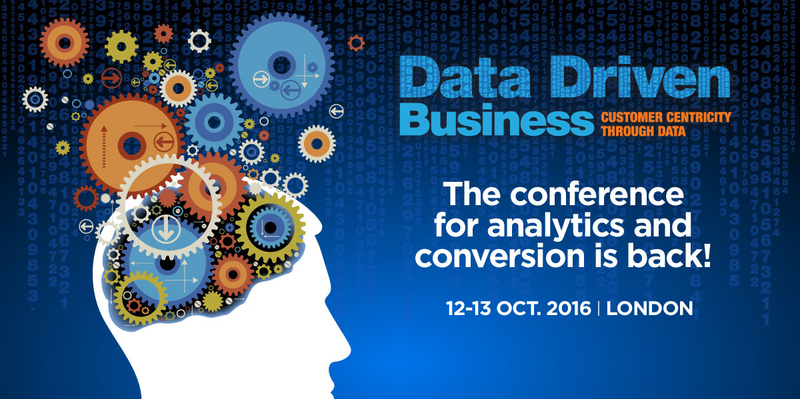 Find out more at http://www.datadrivenbusiness.co.uk and get 15% off tickets with Wordtracker's discount code: WORDTRACKERDDB
With a focus on customer centricity through data, the conference delves deep into analytics, split across four conferences, six parallel tracks and more than fifty sessions. Over 60 experts will share their knowledge and insight across the two-day event which will also play host to three full-day workshops.
Four conferences
The four conferences can be attended solo or booked all together.
Conversion Conference
The Conversion Conference will explore the latest tactics and strategies for conversion rate optimization. Delegates will learn optimization techniques from a clutch of experts and pick up useful insight on how to grow their business. Topics include how to collect meaningful data from cross-channel and multi-device buyers along with techniques for implementing A/B and multivariate testing. There'll also be one-to-one advice for conversion rate improvement from a panel of specialists.
eMetrics Summit
The eMetrics Summit will be staffed by marketing analytics practitioners, experts and visionaries. They'll discuss key areas of interest to capture and develop insights from data.
Predictive Analytics World London
Predictive Analytics World London is a vendor neutral conference which will take place over the two days. This is the fifth installment of the annual conference and will deliver examples of deployed predictive analytics, with analysis of the corresponding business impact. Featured speakers include Michael Berry, analytics director for TripAdvisor as well as data professionals from IBM, Visa and Siemens AG.
Email Innovations Summit
The hotly anticipated Email Innovations Summit will focus exclusively on the future of email marketing, and how delegates can leverage data to propel their marketing to the head of the pack. It will consider topics such as advancements in acquisition technologies and cutting-edge responsive design as well as data driven subject lines and increased engagement.
Three workshops
All workshops will take place on Tuesday October 11 and run from 9.00am.
Moderated user testing
Karl Gilis and Els Aerts of AGConsult will lead the first of the trio. Their workshop, entitled "How to Avoid the Pitfalls of Moderated User Testing" will equip attendees with all the skill they need to perform in person user testing. Expect to exit with an action plan for tester recruitment, a solid understanding of how to determine test scenarios, moderation skills and to be able to consider the relevance of eye-tracking and heat maps.
Agile analytics
In workshop two, digital analytics thought leader and consultant Stéphane Hamel will host "Agile analytics – From Darkness to Enlightenment in a Day (a radical approach to digital analytics!)". The workshop will introduce delegates to new analytics approaches and techniques, equipping them to obtain stakeholder buy-in for analytic projects, identify KPIs, develop an agile problem solving process and effectively communicate findings to other team members.
Predictive analytics
The third workshop will be chaired by the founder and CEO of Elder Research Inc, John Elder. "The Best and the Worst of Predictive Analytics: Predictive Modelling Methods and Common Data Mining Mistakes" is intended for those with a working knowledge of predictive modeling and a desire to learn more. The session will focus on standard and advanced methods with an exploration of key algorithms, business impact case studies and tool and methodology selection.
Book your ticket now at http://datadrivenbusiness.co.uk/register/ and get 15% off tickets with Wordtracker's discount code: WORDTRACKERDDB