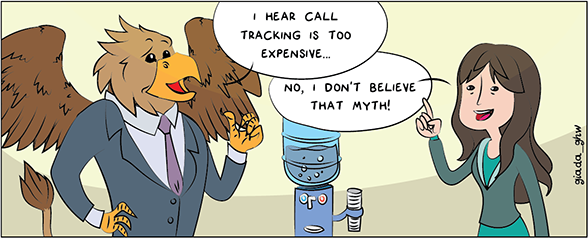 Call tracking allows you to set up different phone numbers for your live marketing campaigns. You can then gather actionable data to help you improve your campaigns and make the most out of your marketing budget. However, call tracking is also one of the most misunderstood marketing services out there, causing the benefits to be overlooked by many marketing managers. This is largely down to the circulation of popular myths surrounding the service and the software. Today, I'm going to dispel 5 of these most common myths and show you the real benefit call tracking will provide to your marketing efforts.
Myth #1 – "It's complicated to install"
Not true. Setting up call tracking for your website is not a complicated task. With the right service, it should be as simple as adding a provided snippet of code to your appropriate website pages. You don't need to install any additional hardware to get set up and start using call tracking software to measure your marketing success. As soon as the code is installed and you apply your set of unique phone numbers to your marketing channels, the software will begin gathering incredibly useful data.
And in terms of tracking offline marketing – all you need to do is place a unique number on your newspaper, magazine, leaflet or billboard advertising. Easy peasy!
Myth #2 – "It's expensive"
Wrong. Finding the right call tracking service is essential; look for one that offers a range of services and tools in one package, with as few extra fees as possible. Also be aware of additional call charges that some services may apply.
The return on investment you'll receive from a cost-effective call tracking service is exceptional. By learning which of your marketing activities isn't working, you could save thousands in the long run. So your initial investment will be worth it in the end.
Myth #3 – "Visitors get suspicious over numbers changing"
Very unlikely. If you're aware of call tracking, you may have noticed the phone number on a website changes just after the page finishes loading. You may think this looks suspicious to unaware visitors, but just as in printed marketing media if the potential customer is interested enough in the product or service they will ring the number in front of them.
Better still, your call tracking provider should allow you to use a set of unique local or toll free numbers to apply to your marketing. This way, your customers will recognise the number and should dispel any anxiety over picking up the phone.
Utilising call tracking enables you to then distinguish how many of these calls are made from potential customers visiting your website. If your site isn't generating calls from the traffic it receives then there are likely to be many simple ways you could drastically improve your conversion rates and enquiries. Integrating your call tracking software with Google Analytics is the best way to tell how much traffic is converting into calls and subsequent revenue. So ensure that you're closing that full sales loop.
Myth #4 – "It's harmful to SEO"
Wrong again. In the past there was a great deal of fear that call tracking is harmful to local SEO. The fear was that if Google cited inconsistent phone numbers associated with your business' website, it would push your pages down the search engine results pages (SERPs). This is a very real fear if your call tracking numbers are being used incorrectly. Your call tracking company should advise you against using call tracking numbers in online directory listings. This is what confuses Google's algorithm and negatively affects your SEO.
Many local SEO experts have unfairly criticised white-hat call tracking techniques, like the display of dynamic numbers. Dynamic numbers display virtually using Javascript, based on the keyword or source of the visitor. The hardcoded, default phone number does not change. Therefore the dynamic number has no negative impact on your SEO. If you're still not convinced, this in-depth article explains how call tracking actually benefits local SEO and the correct implementation of the software.>
Myth #5 – "I'll have to change my numbers"
Huge myth! You won't have to change your existing numbers, but when you implement call tracking you will get new numbers for your marketing activities from then on. This makes it simple to tell which of your numbers are being used for your marketing campaigns, which of these campaigns are working, and which are not. You can add as many numbers as you need, and these will all route to your existing line without the need to install any hardware or modifications.
So as you can see these easily dispelled myths are getting between you and valuable data on how your marketing channels are performing. I hope we have encouraged you to integrate call tracking on your next marketing campaign. If this article has left you wanting more, please check out how to get the most out of call tracking