Google Shopping ad campaigns have proven ROI to grow your ecommerce business. The 2019 Google Shopping benchmarks report showed this type of advertising growing by 29% year over year; paid search only saw a 13% increase.
According to FierceRetail, over 80% of all retail search advertising is spent on Google Shopping. Even better, this spend generates more than 85% of all clicks.
Interestingly, the majority of click-throughs weren't even tied to a specific branded search term, meaning that there's room for smaller brands to compete with skillful campaigns.
If you've tried Google Shopping ads and found your ecommerce campaigns missed the mark, you may be doing it wrong. Here's how to optimize your next Google Shopping campaign to elevate it to a real product sale revenue generator.
Understanding the Google Shopping ad channel
We know that Google Shopping ads can be more attention grabbing than standard display or search ads. Standard ads miss the micro-conversion factor that makes customers more likely to purchase by subtly nudging a lead down the marketing funnel. A micro-conversion could be a file download, deciding to search for a product by brand name, visiting a landing page, or even something as minute as a like, share, or other social activity.
In the case of Google Shopping ads, elements that encourage micro-conversions include:
Pictures
Customization
In-depth reviews
Product descriptions or details
Generic text ads don't let the consumer visualize the product or how they might use it. A Google Shopping ad lets the end user see product reviews, the price, a real image of the product, and more.
We already know that ad extensions increase conversions. But Google Shopping is a different advertising vehicle from standard display and search networks. Google picks ad groups to display based on their relevance to related search terms. This is a big plus for you, because you'll only pay for clicks on traffic that is relevant to your product.
The downside is that there are lots of ways to miss the mark. How can you guarantee ROI on a Google Shopping ad?
Top 7 ways to optimize Google Shopping ads
The best thing to remember when creating an optimization strategy is that Google Shopping ads don't run off keywords in the way that normal PPC marketing does. Optimizing your product feed requires a focus on product titles, categories, and the images themselves to improve your return. Since you're not keyword bidding, you must use keywords to signal the relevance of your ad to specific search parameters. However, the same principles governing SEO also rule paid search:
Keep your product titles short to avoid truncation
Frontload key terms but avoid keyword stuffing
Be descriptive based on customer interest and attraction
Reverse-engineer the search by considering how a consumer would search for your product type
While these are basics you should always follow, there are seven key ways we've found to maximize the performance of Google Shopping campaigns.
#1: Segmenting out top products
Branded searches perform differently from non-branded searches in Google Shopping ads. So start by segmenting your top products, and then segment again by user intention. One huge beginner mistake is to upload all your ecommerce products into one shopping feed in a big, messy free-for-all.
We typically follow a three-tier campaign structure. Each campaign has a Single Product Ad Group (SPAG) featuring one product per group. The campaigns will have the same ad groups and products but different priorities, bids, and shared negative keyword lists within a single shared budget.

Here's an example of using a SPAG that we did for one of our clients, Warmly, a company that offers factory-direct shipping of tasteful room décor. The goal was to sell one particular item, so we made sure that the particular product group contained just the one product, and the bids were set based on the product price.
A good way to structure this is to have a separate campaign for Generic, Category and Product/Brand. This approach will help you segment traffic based on different levels of keywords. Generic terms (dining furniture) going to the generic campaign, product terms (dining room tables) go to the product campaign, and brand terms (Ikea dining furniture) go to the brand campaign.
Think of this as a funnel with the generic campaign at the top-level acting as a "catch-all" campaign with more relevant terms flowing down the funnel to the lower levels.
#2: Varying your product ads
Optimizing your Google Shopping campaign takes time. One labor-intensive piece of the puzzle is to change out your product feeds regularly, making sure each ad is spot-on to maximize consumer interest.
The best argument for varying product ads is that more than one ad can appear for a given search, which can increase your chances of a click-through. All of these techniques can — and should — be leveraged to heighten consumer interest and increase sales:
Many ecommerce companies rely on manufacturer descriptions of their products. But will that help you sell more products? Evaluating each product ad and varying the keyword descriptors will increase sales. Each product page on your website should be unique with search terms that will convert.
Google Shopping is a visual medium, so make sure you create high-quality visuals maximized for the venue. Apparel images should be shown on the body to demonstrate fit. Consistently use a grey or white background and use shadow for depth.
Make use of keywords in titles and descriptions.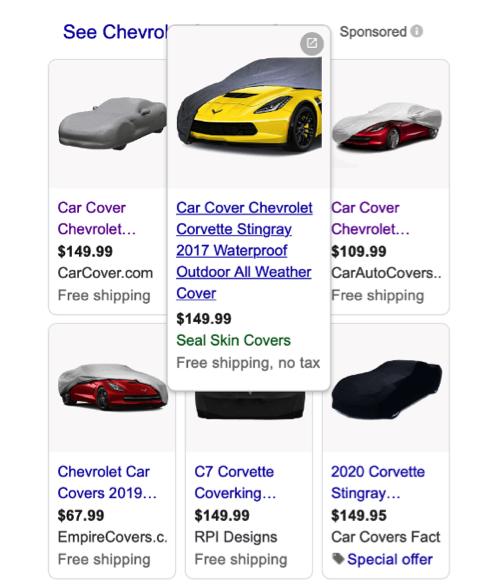 This is part of a Google Shopping campaign we ran for another client, SealSkin Covers, which sells all-weather vehicle covers for cars, motorcycles and more.
Car owners, as a group, tend to be very particular about which cars they own – there's quite a lot of brand loyalty. It's very common for people to search for "Mercedes car covers" or "Corvette car covers" or "Mustang car covers," in other words. This particular ad is tailored to individuals searching for covers for their Chevrolet Corvette, and we make sure that the image has a nice, prominent picture of the logo.
This sort of tailored ad increases clickthrough rate, but it does mean that you will need to create ad variants for all the products you're targeting. Imagine if someone searched for "Mercedes car cover" and saw this, instead. They probably wouldn't buy!
#3: Optimizing your bids, using different ones for different product groups
There's a trick to properly bidding on Google Shopping. It takes experience and skill to bid strategically based on the price and profit margin of your products. To figure out the starting bid price, take your profit per product and divide it by the standard ecommerce conversion rate of 3.78% for desktop and 1.14% on mobile. So your conversion would look like this:
$50.00 profit per product
x .038 desktop conversion rate
$1.90 starting bid
You can use the Google Bid Simulator Tool to show you how these bids will affect your ad performance.
One big mistake ecommerce companies often make is placing the same bid for each product even though the pricing is radically different. The impact on your profit should be obvious, once you understand the math.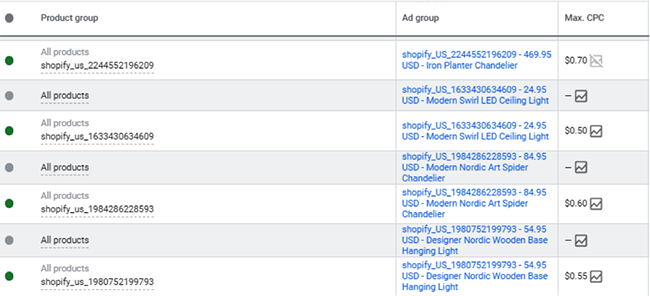 This is what proper bid optimization might look like, again from one of our Warmly campaigns. Depending on the price of the item, we set higher or lower CPC bids, so that we're getting proper ROI for our client.
#4: Properly using negative keywords
Most Google Shopping campaigns cost much more than they need to because ecommerce companies pay for clicks that never yield ROI. Using negative keywords lets you exclude descriptors that aren't the proper match for your product. If you use them properly, negative keywords can lower your cost and increase revenue.
Don't use too many negative keywords, however, or your results will become muddled. While it can be tedious and time-consuming, you should track negative keyword click-throughs on a spreadsheet and then add them to your Google campaign. Then you can optimize ads with one or two negative keywords, test the ads, and be more strategic in your bidding techniques to increase results.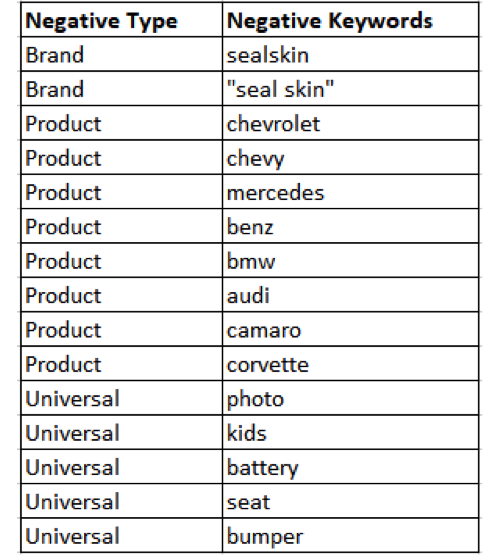 These are negative keywords we used for a SealSkin campaign. We include the brand name as negative keywords, because if people are searching for SealSkin as a brand, we don't need to be spending money on PPC!
As previously mentioned, since product brand loyalty is so important to car lovers, we include brands we're not selling to as negative keywords. This might be for a Ford Mustang car cover or a Porsche car cover, in which case you don't want your ads to be seen by people searching for Corvette covers!
If you're not compiling a negative keyword list and then tweaking your ads, you're going to lose money — period. This time-consuming process is often missed, but it will pay for itself.
#5: Utilizing social proof (e.g. ratings/reviews)
Google Product Ratings are the stars that appear under your product listings in Google Shopping. Note these are ratings of the product sold, not the company itself. These ratings make your products stand out and can build trust with a prospective buyer.
Consumers rely on these unique social posts to ensure a better buying experience; 78% of buyers that read reviews say they are satisfied with their purchase. These reviews are typically aggregated from several sites, so there are a few steps necessary to help your product stand out:
Sell great products.
Optimize your listings and bid high to gain the top spot.
Collect seller and product ratings.
Watch your pricing and stay competitive.
#6: Pre-setting sales
Shopping campaigns are goal-driven by sales, leads, or website traffic. Targeting and scheduling your sales is one way to create a trackable metric-driven KPI to help hone your efforts. If you know that shopping for a holiday is about to begin, you can pre-set a sale to go live at a certain time and announce it beforehand, driving more traffic to your products.
#7: Remarketing
If the standard ecommerce conversion rate is 3.78% on desktop and 1.14% on mobile, this means 97 out of every 100 viewers of your ad are not converting. But you can capture this traffic and convert it with remarketing.
Remarketing works because end users that have visited your site once are more likely to repeat. Remarketing lists for search ads (RLSA) lets you customize Google Shopping ads for people who have already visited your site. But the trick is to segment the ad depending upon what pages these customers have already visited.
Optimizing your Google Shopping ad campaign will give you a better rate of return in a channel that can feel difficult to predict and manage long-term. If your products aren't being advertised in the Google Shopping marketing place, following these tips will help ensure a profitable rate of return — even if you've never used these tools. For seasoned veterans of Google Shopping, make sure you follow these standards to improve your ROI.