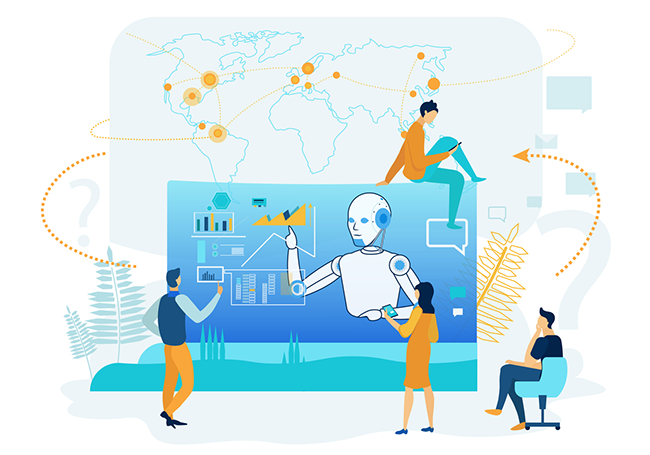 In 2020, the AI revolution is expected to continue in just about every industry you can think of — and marketing is no exception.
AI tools are becoming more common as computers grow more powerful, and data centers upgrade the services they offer. Now, software developers are using the latest advancements in AI to create powerful marketing tools. As a result, there are a variety of ways that any marketer can apply AI and machine learning to any step of the customer lifecycle.
Here are six tips you can use to get the most out of AI in marketing.
1. Personalize your ads
Over the past few years, there has been a major proliferation of new AI-based ad personalization tools — like Amazon Web Services' ad personalization tool that uses the same technology behind the e-retail giant's online recommendations.

We know that personalized experiences are key to digital marketing. Over 90 percent of customers are more likely to shop with brands and storefronts that provide relevant offers and personalized recommendations. Additionally, 40 percent of advertising executives, according to research from Forbes Insights, believe that personalization has a direct impact on maximizing sales.
With the right tools, you can use the pattern-finding powers of AI to generate customer profiles and deliver personalized product recommendations directly to customers.
2. Generate content with natural language creation
AI-powered language generation is now advancing to the point where it can be used in creating content.
Online experiments like "This Marketing Blog Does Not Exist," a collection of machine-generated blog posts, show how new language-generation technology can be used to create content that's almost indistinguishable from the real thing. Recently, AI has even been used to write long-form content, like this machine-written book on lithium-ion batteries published last year.
This machine-written content, however, is still a little rough around the edges. As a result, AI isn't really a replacement for writers and probably won't be for some time.
Right now, however, the technology can be used to streamline parts of the writing process — especially those that can be highly formulaic. Natural language generation tools — like those from Persado, the company currently working with Chase to automate parts of their personalized marketing content creation process — can be used to spare writers from repetitious work or rephrasing and allow them to work on content that really requires a human touch.
3. Use multi-touch attribution
With the right models, it's possible to optimize marketing spending by ensuring money is going where it will make the biggest impact — effectively, using data to predict what mix of market spending will have the best results.
Techniques like media mix modeling (MMM) — which attempts to determine which media spending led to clicks and conversions — have been traditionally used to optimize marketing spending. Now, new approaches like multi-touch attribution (MTA) — which is designed to help marketers understand how spending on multiple different approaches can lead to a single conversion — are becoming more popular.
Right now, 72 percent of businesses rely on some form of MTA or MMM to analyze their marketing spending, according to research from iab.
As in any case where large amounts of data are being processed and analyzed to provide usable insights, AI can show connections and make intelligent recommendations that may not have been possible with traditional MMM or MTA techniques.
Many modern MTA platforms — like Adobe's MTA tool — are already integrating AI-powered analysis, meaning that integrating AI into your marketing mix research can be as simple as picking the right solution. If you plan on switching to AI customer experience tools, you'll also be in good company — more than 40 percent of businesses plan to have AI-based tools implemented in their customer experience workflows by the end of this year, according to research from Oracle.
4. Forecast sales with AI
AI algorithms are great at finding patterns, which makes them an incredible tool for both finding patterns and making predictions, based on data. As a result, AI can be extremely effective when it comes to boosting the accuracy of sales forecasts.
Research has found that because AI can more quickly consider data from a greater range of sources, AI-powered sales forecasting can be more accurate than traditional forecasting methods. That means these tools could provide a significant advantage over other businesses that have decided to stick with traditional forecasting solutions.

Better sales forecasts can be applied in a variety of ways — like re-orienting marketing strategy to focus on products most likely to sell or completely retooling a marketing campaign to better target audiences. AI is also a great way to apply the highly specific data that internet marketing platforms allow marketers to collect.
Used well, sales forecasting can also integrate with other predictive techniques, like predictive inventory management, to help avoid over- and under-stocking, as well as other inventory management errors.
5. Employ advanced customer modeling
AI, using similar tech that enables it to deliver personalized recommendations, can analyze a vast number of user variables that can be highly specific to a given company — for example, a data scientist working with a real estate platform used information like whether or not a user examined a floor plan to help build a model of customer intent.
Also, when AI is fed the right information, it can be used to generate advanced marketing personas and customer profiles that can inform every step of the marketing process. You can use these profiles to build personalized content, direct spending and forecast which market segments will be the most responsive to advertising — helping you to optimize your ROI on media spending and determine which combinations of marketing techniques will provide the best results.
6. Analyze the conversation
With AI, it's possible to really know how your customers feel about your products in real time. AI tools can perform sentiment analysis to help you pinpoint how users feel about products — even when these opinions are spread out over hundreds or thousands of blogs, posts and tweets.
Research has shown that, with enough training, AI-powered sentiment analysis tools can reach high levels of accuracy — in one study, an AI sentiment analysis algorithm was able to accurately determine the sentiment behind a post more than 80 percent of the time.
Sentiment analysis can help you rapidly sort through the entirety of the social media conversation around your products. This conversation analysis can also help you get a better sense of how your social media posts are being responded to — as well as help you understand what kinds of posts your audience responds to the best to, and which posts aren't such a good strategy.
Optimizing marketing strategies with AI
AI is on track to revolutionize marketing. With the right tools, marketers can take advantage of AI to strengthen the basic approaches they rely on. These tools will also allow them to take full advantage of the breadth and depth of customer data that the internet allows them to collect.
With AI-boosted marketing tools, it's possible to build highly complex customer profiles that allow marketers to better predict the effectiveness of their marketing. These tools can also help marketers deliver better personalized content directly to customers — like more accurate product recommendations and highly relevant promotional materials.
Many major marketing platforms and tools are beginning to adopt AI, too, meaning that marketers won't necessarily need backup from IT staff if they want to add AI to their marketing strategies.