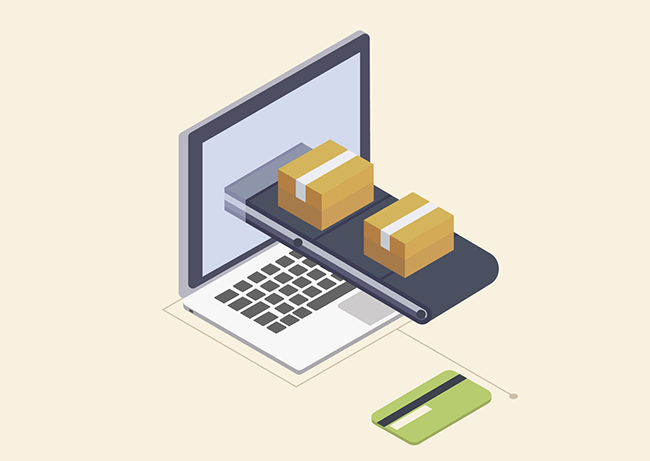 When you're shopping online at an ecommerce store, images are a huge part of the experience. After all, everyone wants to see what they are getting in as clear a manner as possible. But did you know that on Amazon (and most other sites) it is words that attract customers, guide their introduction to your product, and convert them into sales?
Pay close attention to these 5 elements in order to give your listings the greatest chance of ranking high and converting better.
1. Keyword choices
All too often, sellers make the critical mistake of including as many keywords as possible in their listing copy and backend Search Terms fields. The problem is that adding every keyphrase that shows up in a reverse ASIN search or your own keyword research might lead unqualified traffic to your listing.
How? Let's say you sell curtains on Amazon. Yours are panel curtains that are 32 inches long and have a rod pocket. But we'll pretend you found several keyphrases that rank really high and you want to include them. However, "grommet valances," "floor-length panels," and "curtain sheers" don't have anything to do with the types of 32-inch-long panels you sell.
By including those terms, you might attract people who are looking for something you don't have. They'll click to your listing, take one look and leave. That's called a bounce and, if you get too many of them, Amazon will start to demote your product page in their search results.
Make your keyword choices accurate and relevant.
2. Strategic keyword placement
Rather than simply sprinkling keywords around throughout your listing, create a plan for adding the most valuable keyphrases in the most influential spots.
First should be the beginning of your title, within the first 80 characters if possible. This position holds the most weight with Amazon and should be reserved for the keyphrase you most want to rank well for. Others can be added as room allows.
After that, turn your attention to your bullets. Adding keywords to bullet points can help with rankings provided you don't stuff too many keywords into each bullet. One or two per bullet point works well.
Add keywords further down on your priority list to the description — then the remaining ones should fill the Search Terms fields.
3. Detailed titles
While keywords are a vital part of title construction, you must also incorporate details that answer shoppers' questions. Just shoving keyword after keyword into the title means you've paid 100% attention to Amazon's search algorithm and 0% to the humans who actually buy your goods.
If customers have questions about products such as yours, consider adding that information to the title. For example, if shoppers keep asking whether those curtain panels you sell are machine washable, add that term to your title whether or not it is a keyphrase.
Seeing this information right up front on the Amazon search results page will send additional clicks to your listing and possibly more sales.
4. Optimal bullet length
It has long been held as fact that keeping the total character count for all five bullets under 1,000 characters is a best practice for rankings and conversions.
Amazon confirms this.
Because the majority of Amazon shoppers do so on a mobile device (around 75% at last count), it is considerably easier for them to read shorter bullets. Under 1,000 characters means about 200 characters per bullet.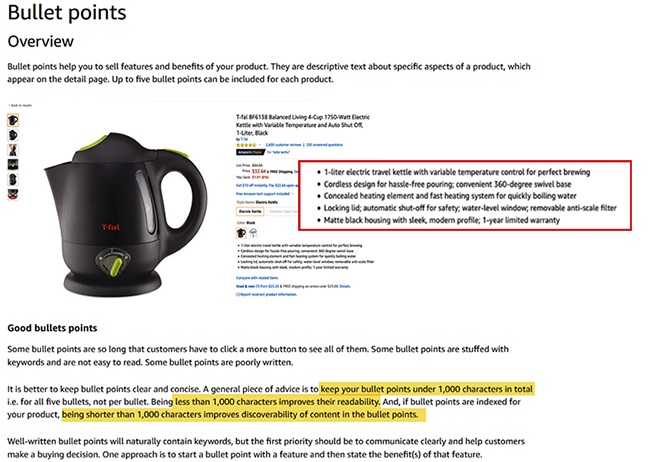 5. Complete descriptions
Don't waste your description! Sure, stories and other marketing techniques sell, but clarity trumps cleverness every time. That is to say that, if shoppers don't understand what you're talking about and/or can't find the answers to the questions they need, they will simply click to the next listing.
Sellers tend to want gimmicks and tricks on their product pages instead of well-written, answer-filled copy that relates to shoppers and shows them why they should buy now.
Use the description section to expand on the high points of your product, overcome objections, offer real-life examples and/or multiple uses (if applicable), and deliver other information. That way you provide your customers with ample details that allow them to make a confident decision.
When you make a plan that allows all five of these elements to work together strategically, you create an environment within your listing that walks shoppers step by step to the add-to-cart button.