In the previous article we promised to reveal three techniques that helped clients achieve fantastic rates of growth on Amazon.
Profiting on Amazon is both an art and science. There are scores of factors that can ultimately influence how a product ranks. This article looks at three of them - three things that can make a big difference.
1. Product images
The main product image plays a big part in both product discovery and purchase. When someone enters a search term on Amazon, the main image will greatly influence whether or not a person clicks on a listing in the Amazon search results pages (SERPs).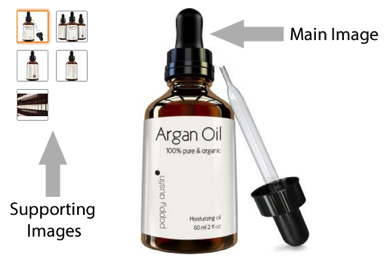 The old saying 'a picture paints a thousand words' rings true because images matter. Great images help get you noticed. The impact the main product image can have on click through rate (CTR) should not be underestimated. It can go a long way to attracting a customer's attention and increasing CTR in both the Amazon SERPs and when used on Sponsored Ads.
Amazon recommends that at least 85% of the space is taken up by an image, but you can take that even further. It may at first seem counter-intuitive to your inner graphic designer, but use up as much space as you can and avoid leaving too much space around the image. The product should look big and stand out in the Amazon SERPs. The main image should be presented on a white background, so make it look clean, sharp and eye-catching. Represent products in the most favourable way possible, without being misleading.
Great images can help with conversion. When a user clicks through to a product page (or ASIN as Amazon calls them), Amazon permits the use of additional supporting images. Use the full allowance of supporting images where you can.
Amazon welcomes high-resolution images. Customers are offered an image zoom feature if the uploaded images are large enough, so ensure your images are at least 1000px in size on the shortest length to make them zoom.
Supporting images can present a product from different angles as well as show how the product is used. Think about how you can provide a mixture of angles and in situ shots.
Create professional looking images. Think about hiring a product photographer or get well-designed computer generated (CG) photo-realistic images made so your images look awesome. Remember, getting the best images possible for your Amazon product can really pay dividends if they help achieve better click-through rates and a higher sales conversion.
2. Product reviews
New sellers have a tendency to overlook the importance of reviews, but reviews are part of the life-blood of Amazon. They can affect click through rate at the discovery stage and also play a part in the conversion process, when a customer reaches the product page and is able to read specific reviews.
Each category will have its own threshold of reviews that a seller will need to aim at. This threshold is the optimum number that will help a new product convert and rank well on Amazon. Whether this is 10 reviews, 50 or even 100, getting them should be a major part of an Amazon strategy if you want to dominate a product niche and make a serious profit.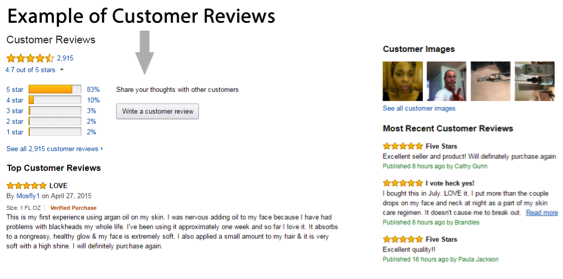 However, new sellers face a common dilemma:
You need reviews to get sales, but need sales to get reviews.
The solution is to get reviews naturally and also to do giveaways. Setting up an automated follow-up system to request each buyer for a review for every sale will start to stack up reviews. Companies like Feedback Genius offer automated software that can integrate with Amazon's system to send email requests for a review every time a purchase is made, for a monthly fee.
Implementing this will help generate reviews organically and may result in a review for every 10-20 sales made.
What happens if the target is 50-100 reviews in a short period of time?
For a high volume of reviews in a short period of time, leveraging review groups (without breaching Amazon's guidelines) is a prudent option. With this option it can be possible to get scores of reviews in as little as 1-2 months. The boost in review numbers can help both organic Amazon ranking as well as product page conversion.
Amazon constantly strive to protect the integrity of their review system and there are strict guidelines in place, so you need to adhere to these. If someone completes a review for a product and they received a significant discount (or got the product for free) they must declare this in the Amazon review. Failure to comply can see reviews deleted by Amazon!
3. Keywords
Targeting effective keywords should underpin your Amazon strategy. Finding the best keywords for your product and implementing them into both the product page and Seller Central is something to do as soon as possible.
Discovering the best keywords for a product can be achieved by using Amazon Sponsored Ads (Pay Per Click platform). Sponsored Ads will allow sellers to download data for the best performing search terms. Another way to get keywords is to use 3rd party keyword tools - the advice is to do both.
Recently Amazon increased its 'Search Terms' fields for keywords inside Seller Central from 50 characters to 1000 characters. This 20x increase is a significant shift which makes it more important than ever to get good keyword data for Amazon.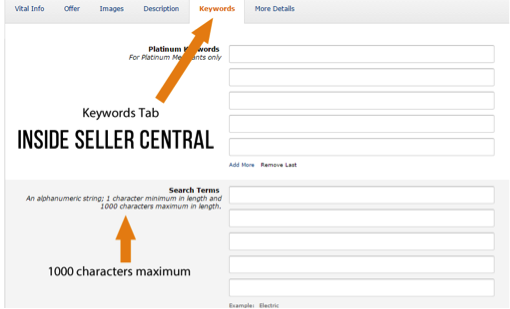 The 'Search Terms' fields allows sellers to expand their keyword reach via uploading lists of keywords into their seller account for each product page, with a view to adding keywords that are not already included in their copy.
Amazon's Algorithm will read the 'Search Terms' keywords when analysing a product for its organic ranking in the Amazon search engine results pages, as well as for matching a product if using the Sponsored Ads platform.
The benefit of this feature is that sellers can now potentially target scores of keywords whilst focusing more on persuasive copy for the product listing page.
4. Bonus technique
I promised to reveal 3 techniques, but this last one is a game changer so it's a bonus.
Sales are hugely important on Amazon.
In many ways sales beget sales and even deeper, making sales via a specific search term can help improve a product's organic ranking for that very term. Make sense?
Amazon really does love seeing sales. It's at the heart of what makes it tick. It has a tendency to reward things that help make the most sales and keeps customers happy. So if you can remember those two things, it'll likely help keep your decision making on track.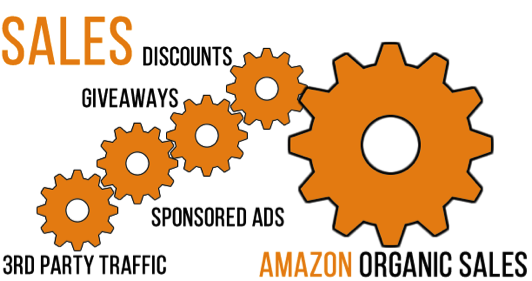 Amazon doesn't really mind if sales are made from 3rd party websites that link to a product page, from an email campaign, or if a sale is generated from Sponsored Ads. A product sale could even be from a free offer or a cut-price giveaway - the point is sales send a positive signal to Amazon.
If the sales generated are targeted around a particular search term, the organic Amazon ranking will tend to improve for that phrase over time.
If Google was all about links to rank, then Amazon is about SALES.
The sales tipping point is something you want to achieve, because a snowball effect can begin to take place. Sales help drive higher organic Amazon rankings, and then more organic sales start to occur.
Getting sales to flow is vitally important and you must understand, the reverse can be true. If you don't make sales, you usually won't rank well, so don't let this be you.