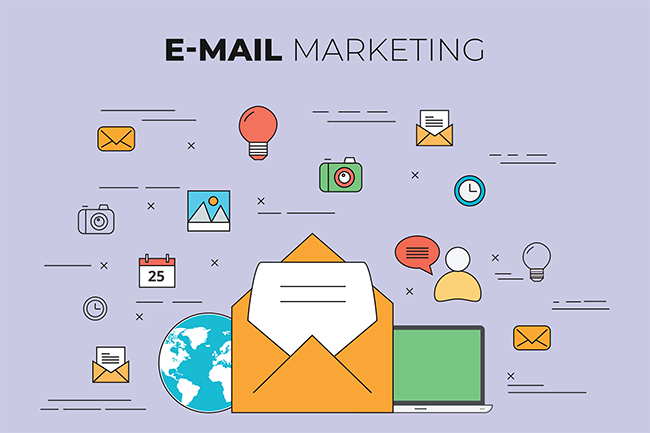 The effectiveness or the success of any event-based campaign depends heavily on the effectiveness of your promotions. Since the ultimate goal is to get as many people as possible to attend your event, it is important to ensure that your message is crisp, precise, going to the right audience, and hitting the right notes at the right time. No other marketing channel manages all of the above like email marketing does.
In fact, accroding to event planning company Bizzabo's Event Marketing 2018 report, email marketing is the most effective channel for promoting events. But in order to utilize emails for promoting your events, you need to identify the application of different types of emails.
This article will guide you on how you can use emails to effectively promote your events and increase engagement and attendance.
The key elements of a good event promotion email are:
An attention grabbing and original subject line to pull your readers in and make them open your email. It should also be informative, setting expectations for the main email content.
Your focal point is where you sell your event and it should fit with your branding and value proposition. For a product launch, your focal point could be a sneak preview of the product; for a conference you could include a list of speakers and sessions.
Event details are the next thing readers will want to know, so make sure you include clear information about date, location, timings etc.
Decide what action you'd like the reader to take. Your call to action button communicates the goal of your email and you'll use it to measure your email's effectiveness.
Branding elements such as your company logo and and name, and that of any partners or sponsors, will help subscribers see clearly who is organising the event.
10 top tips to use in your emails
1. Introduce the industry experts attending your event
Generate excitement around your event by listing the speakers in your invitation email. This provides important event-related information as well as letting your audience know it's well worth their while signing up.
AdAge's email below features details about the speaker (pic and position) alongside the title of their session.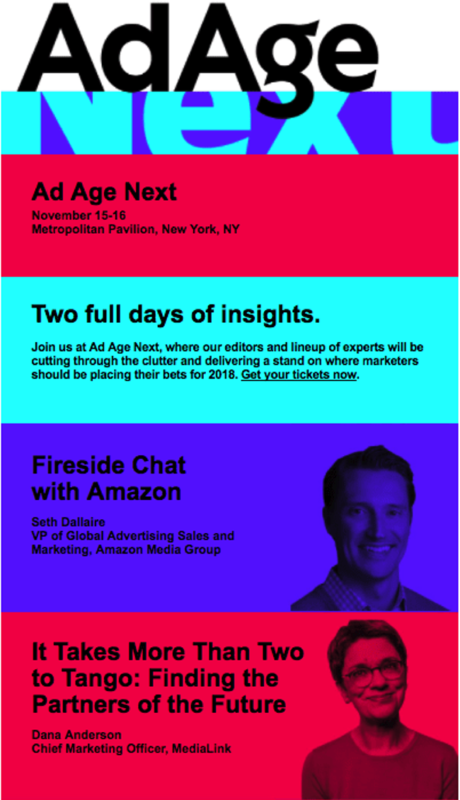 2. Add a video to generate interest
Videos are a great form of content, engaging your subscriber without occupying too much space in your email. A short video clip from an authoritiative speaker can be a very effective and persuasive way of communicating information.
Fascinate INC's email includes a short clip detailing what attendees stand to learn in their complimentary mini-course. The preceding text draws the reader in to click on the clip and find out more.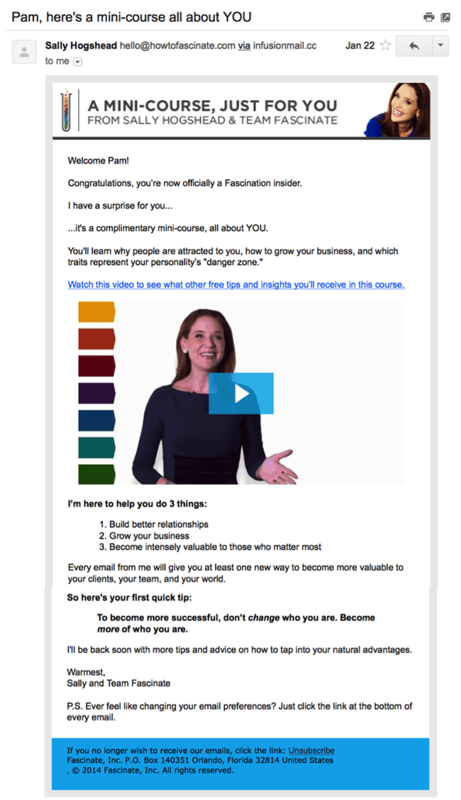 3. Clear email copy
Event promotion emails can easily end up looking the same. What you need to set you apart from the rest is copy that is engaging but communicates all the key information without additional fluff.
In the email example below by Women's Conference of Florida, the copy offers early bird pricing, introduces the featured speaker along with a link to know more about her, and ends it with another link to register alongside one to book hotels.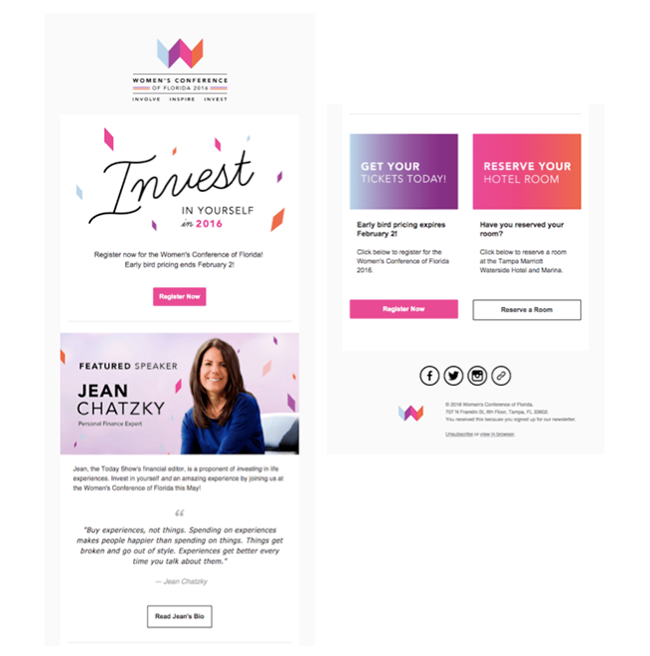 4. Dynamic content blocks
Your message needs to hit the right note and provide the right information to the right people. You can do this effortlessly by including dynamic content blocks. This allows you to customize elements of your email according to your recipient's profile. The design and overall layout of the email remain the same, but dynamic content block are only shown to selected recipients.
Firestone's email updates according to the location of the email recipient. You can use dynamic content blocks in your emails based on factors such as location, buyer persona, interests or past interactions.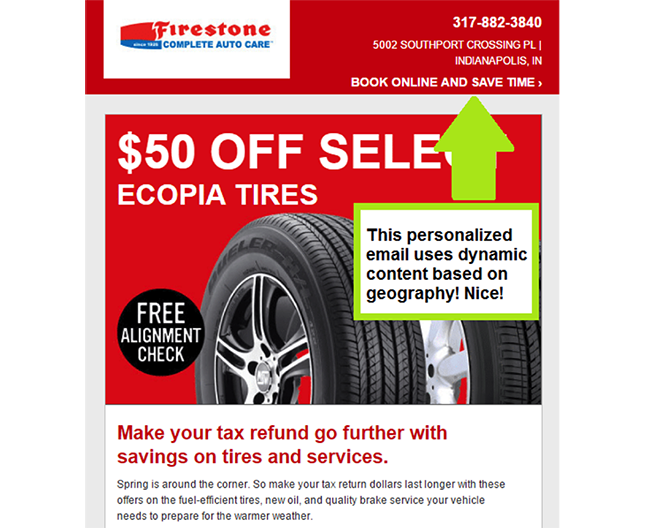 5. Sense of urgency
Events will have a certain capacity and are time limited. You can use these elements to create a sense of urgency, for example with the clock ticking down to take advantage of a discount offer. You can embed a live countdown ticker in your message or email reminders as the deadline draws near.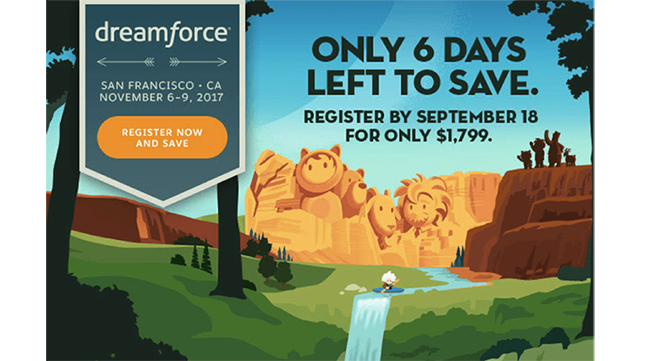 6. Add personalization
It's easy to personalise elements of your email and add that personal touch for subscribers. As well as adding their name, you can use their past interactions with your company to get your email hitting the right note.
HubSpots's email is addressed to a subscriber who has already attended a previous certaification course and so may well be be interested in the further options outlined in the message.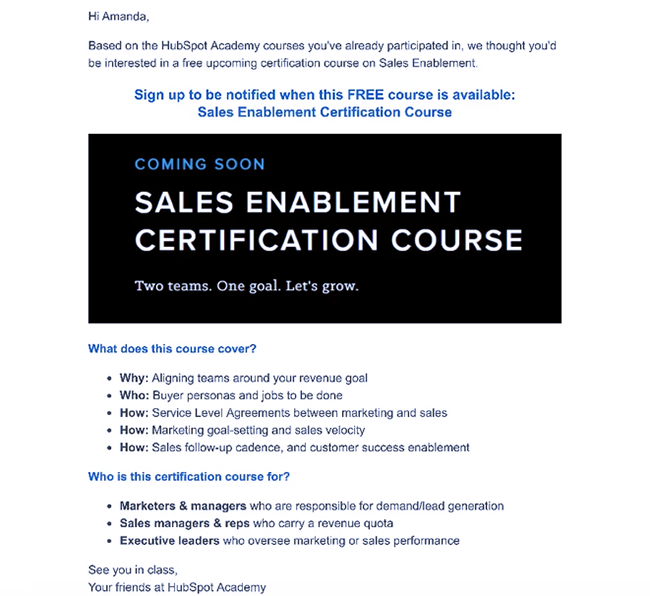 7. Promote using signatures
Email signatures are a useful additional marketing element. Having your name and position adds your authority and endorsement to the event.

8. Add an incentive
There are a whole plethora of events and webinars, so it's important to show the value your subscribers will gain by attending. Make sure you incentivize your email message by showing the clear benefits attendees can expect. A time-limited discount is a further incentive to encourage attendance.
In the email below, Google dangles some great prizes on offer for entering their Science Fair.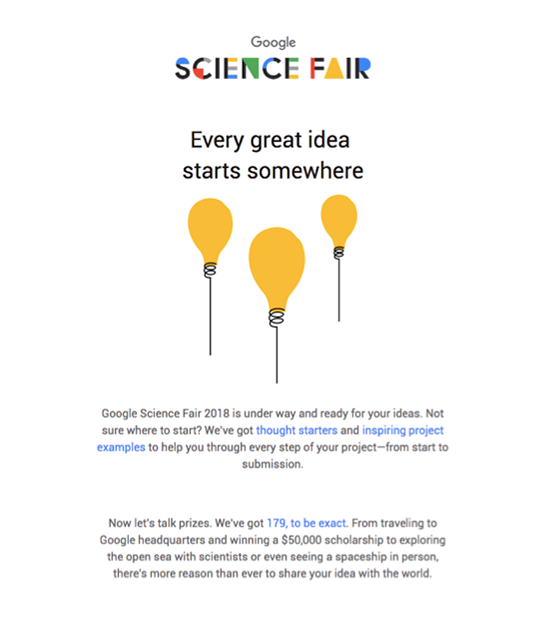 9. Peer sharing
People with common interests will share interesting information with their social circle. Prompting your subscribers to share details about your event can help you gain visibility and more potential visitors.
The Hidden Dinner email below includes a forward to a friend link as well as social buttons, making it super easy to share.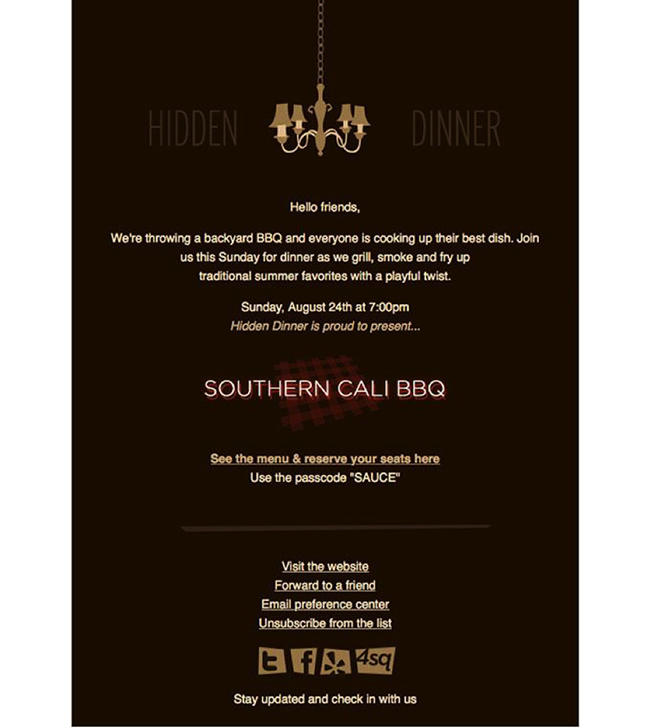 10. Social media feed
Create some hype around your event by upping your email marketing social efforts.
In order to promote their Email Design Conference, Litmus embedded live social media feeds into their emails. This was a win-win since the subscribers tweeted in order to see their tweet getting dynamically displayed in the email and Litmus in turn got a big visibility boost for their event.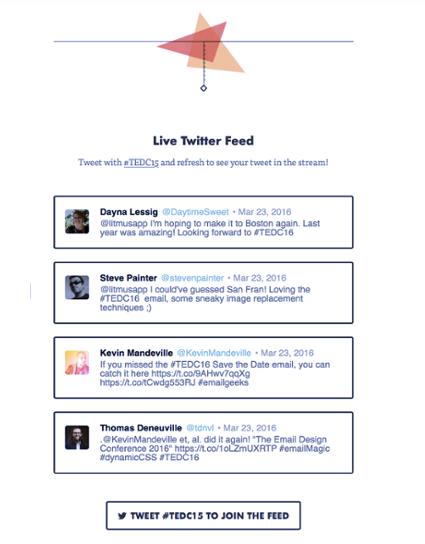 Key elements to get right
Build your email copy around the core message: Send an email that you'd like to receive. With emails competing for attention in overcrowded inboxes, it's important to convey relevant information as soon as the email is opened. Craft your email copy around the core message you wish to convey. One of the best ways to do this is to consider the following four questions:
Who is your audience?
What do you want them to find out from your emails?
What action should they take from your emails: sign up, make an appointment, buy tickets?
What is the key information that needs to stand out?
Use an original and catchy subject line: The subject line is the first point of contact with your subscribers and it should pique their interest enough for them to open your email. Generate interest by making your subject line the start of your story which is then carried forward in your email copy.
Make your email design clutter-free: Some marketers make the mistake of dumping all kinds of information in their email and expecting the subscriber to navigate their way around and find the message.
Allow your email to breathe by designing it so that the reader is led through the information clearly and systematically. You can use A/B testing to test formats, colours, copy etc. Clever use of design will make key information stand out for the reader.
Segment your audience: Segmenting your subscribers based on common interests can help you send relevant information and personalize the email as per the segmentation.
Wrapping up
Emails are a great way to promote all kinds of events and the techniques outlined above can help improve their effectiveness, increasing your visibility and footfall.
What other tactics do you use in your event emails? Did we miss anything? Share your views in the comments below.