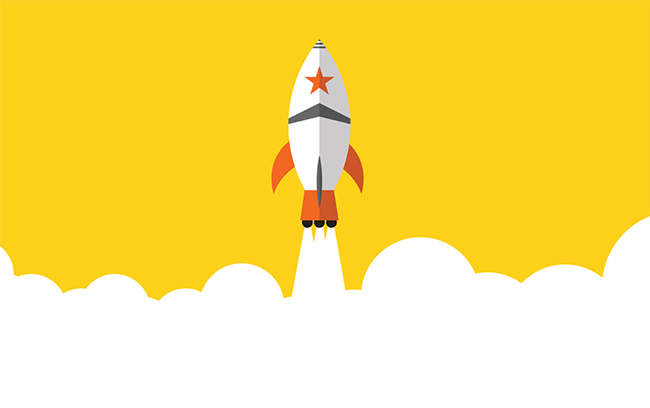 The best way for your business to maximize sales and acquire new clients is through consistent visibility in the search results. Follow these 9 strategies to develop high-quality content that gets your website in front of a large audience of potential clients.
81% of B2B companies use blogging as major content marketing strategy to promote the growth of their business. An effective content strategy will generate traffic and increase the conversion rate of visitors on your website.
Your website is ground zero - this is where you begin adding the bulk of your content. Your site should be exploding with information about your company and explaining your services with a high level of detail. The primary focus should be optimizing your homepage with content that is heavily weighted to the product or service for which you want to position your website competitively in the search results.

Here are 9 key strategies to building content that will get your website on Google's radar:
Be an expert in your field
Use voice search optimization
Optimize for long-tail keywords
Win position zero
Make your content timeless
Engaging and digestible presentation
Use LSI keywords
Publish articles on reputable blogs
Harness the power of social media
Be an expert in your field
Choose the most common question clients have about your number one product or service as the topic of an article you will post in your blog. This method for choosing topics to write about in your blog creates value for your readers since you are responding to a first-hand demand for a solution to a problem. When your blog has an abundance of articles that provide solutions for your visitors, your website becomes a resource and you become the expert. Choosing questions as topics also sets the stage for optimizing your page for voice search.
Voice search optimization
Optimize for voice search to get the most direct, targeted traffic to your website. The number of searches performed using a voice assistant are growing exponentially and analysts Juniper Research estimates that there will be nearly 8 billion digital voice assistants in use by 2023.
Create a title in the form of a question to represent an exact match to something a potential client would ask in a search query. Immediately following the title provide a brief summary of the solution. The answers that are selected in response to voice search are often extracted from featured snippets (see below). The optimum length of an answer that is featured in a snippet is typically between 40-60 words.
Optimize for long-tail keywords
Optimizing for long tail keywords means you can target visitors who are the best match for your business, and who are further along in the customer journey and so more likely to convert.
By choosing more specific, descriptive words you filter out searchers that are not specifically looking for what you're offering and hone in on those who are directly looking for what you offer. You create an edge by optimizing for a keyword that is not as commonly optimized for by your competition. Optimizing for long-tail search terms can put your website in a more competitive position in the search results in less time than a broad match term, and with a higher conversion ratio.
Winning position zero
Featured snippets, also known as position zero, are displayed in a box at the top of the search results page and are frequently used in response to a search made in the form of a question.
They are also used for Google voice search results and the rise in the total number of voice searches has resulted in a corresponding increase in the number of appearances of featured snippets.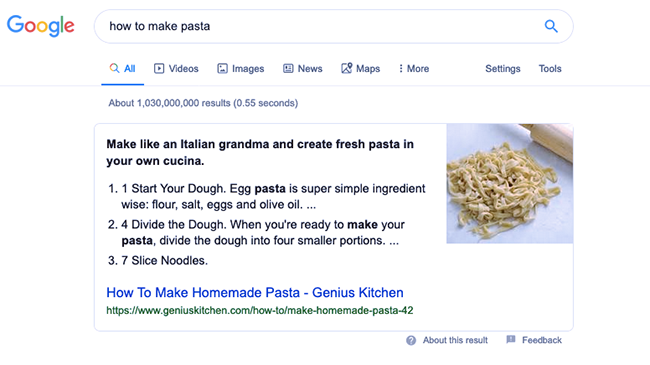 Most often the website selected for position zero is chosen from one of the sites in the top ten results, so you have to be ranking highly. Research the questions people might be asking relevant to your niche and provide clear and concise answers.
You can optimize your page for featured snippets by using your keyword in the title and using subheadings to explain your answer. For every subheading go into as much detail as you can using keyword synonyms and explaining each point as much as space allows. Google will typically use the headings and subheadings as evidence for determining the context of your page.
Make your content timeless
Make the content topics you post to your blog evergreen as far as possible. Evergreen subjects never get old and will stay relevant for an indefinite period of time.
For example, if you were selling laptops you could post an article entitled "How to buy the best laptop" and provide detailed instruction on the most important things to consider when considering your purchase. Of course, you will need to update the article to make sure it's always up-to-date, but the subject is evergreen.
You want visitors to return to your site as many times as possible and relevant guidance on how to achieve a specific task or skill will keep them coming back. Return visits mean more familiarity and trust in your company which creates higher conversion rates and great onsite metrics to improve ranking.
Engaging and digestible presentation
Creating value is not only found in the information you provide but found in the way you present it. People remember pictures better, process images faster, and 65% of the population are visual learners,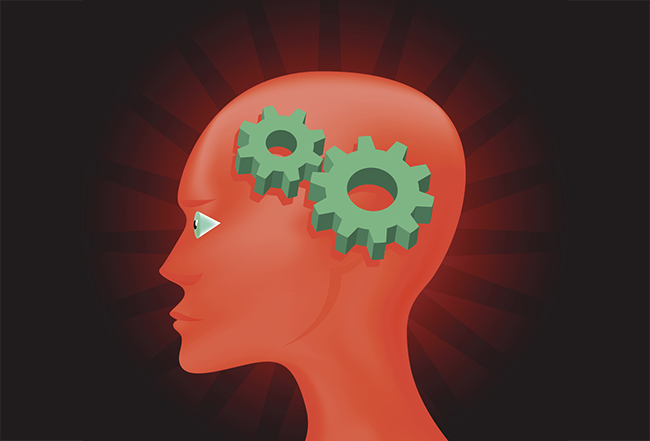 If you have a 5000 word article with no spaces or images it would be very difficult for readers to digest your information-no matter how good it is.
Limit each focused thought to a single paragraph. Use colour, formatting, images, video and any form of media to spice up your presentation.
Use LSI keywords
Make use of LSI (latent semantic indexing) keywords to optimize your content. Search engines assess the entire content of your website so keyword clusters are now more effective than any one keyword that is repeated throughout your content. If you want to optimize for a specific keyword you need to add variations of the same word to reinforce the optimization of your content.
Publish guest articles on reputable blogs
Publishing an article on a respected blog in your industry builds your brand, reputation and authority in your niche. By having a presence on a blog that already has a subscribers and traffic you can speed up the process of building traffic to your site. Choose blog sites that will allow author attribution or at least one link to your company site. The backlink you receive will increase ranking, which means more traffic to your site.
Harness the power of social media
A large social media network is a valuable asset in generating traffic. When you have a large network of subscribers, you can post your content and instantly get feedback and drive traffic to your website.
Stay active on the platform of your choice and continue to develop your subscriber list. The more you are engaged with the groups you join and your followers, the more they will share what you have to offer. The beauty of social media is the sharing aspect so whenever you publish a really good piece of content you have the potential to gain more followers and experience a spike in the number of visitors to your site.
Use this 9-point checklist to make your website the most powerful asset your company uses to generate new clients. Create high-quality, evergreen content to snowball your traffic and increase the number of visitors you convert to customers.