If you're looking to set up a new business in 2013, it's essential that you choose an effective content management system, one that makes publishing simple. There are many online publishing platforms to choose from. But, if you're intending to run a successful business, or create a blog that makes money, then WordPress is almost certainly your best solution.
WordPress is the web's most popular blogging software. And here's why:
It's free. Which is great for start-ups and small businesses.
There are lots of great pre-made designs to choose from (so you won't need to spend thousands of dollars paying designers).
There is a range of great free plugins that make it easy to add new functionality.
Its popularity means it's well supported - you can find free guides like this one to help you set up and manage your site. And, if needed, there are plenty of developers who can help you customize your site to your specific needs.
There are many alternative content management systems (CMS): Blogger, Tumblr and WordPress.com are great if you're looking for a simple blogging system; Drupal is a good choice if you're publishing a larger site. But, if you're running a small business, WordPress is a fantastic option.
Setting up your WordPress site
There are two main ways of setting up a WordPress website.
You can set up a free blog on WordPress.com. That's a great choice if you're publishing for friends, family or for free.

But, if you're serious about running a blog or business, it's best to have your own WordPress site. That way, you have much more control over the look and feel, you can choose your site's web address (see Wordtracker's guide to choosing your domain name), and you can customize its features to suit your needs.
Hosting your website
Let's assume you've chosen your site's name. Next, you need to decide where to host your site.
If you're running an established business with its own IT team, it's possible to host your website yourself, either on your own servers, or by leasing server space.
But, most of us will want to buy hosting from an external provider. And there are plenty of options.
When choosing a hosting plan you should keep in mind that your choice may affect the speed at which your web pages are delivered. Google will penalize you if your web pages aren't served to your visitors quickly. So, it's important you choose a reliable service. And read reviews to find out about the amount of down time you're likely to experience. This can have a big effect on your business.
There are many hosting options and here are a few of the most popular for WordPress-based, small businesses.
The Simplybusiness.co.uk website has produced a great guide to setting up a WordPress site. Here's their take on how to set up a new site with HostGator: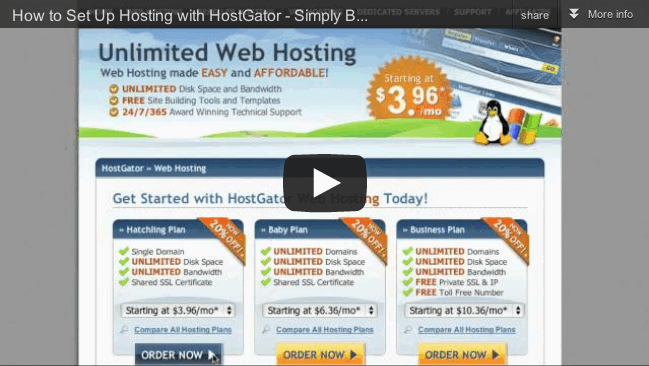 Note: if you've already registered a domain, you'll need to choose "Currently have a Domain Name" when you reach Step 1 (at 0:40).
Once your site's live you can test the speed that your web pages load with the free tool at http://www.webpagetest.org/
Installing WordPress
Once you've selected your hosting company, you'll need to install the WordPress software. The best approach will depend on which hosting company you've chosen:
For quick reference, here's HostGator's video that explains how to install WordPress: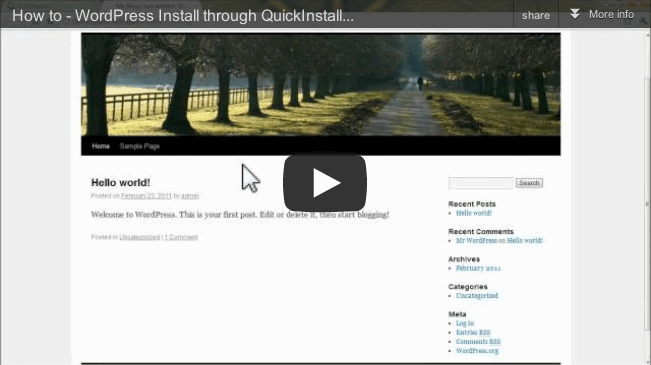 And here's a link to Bluehost's installation guide
If you've chosen a different hosting company and need to install WordPress manually (ie, it doesn't have a simple installation process), then you will need to download the WordPress software and follow these guidelines
Setting up a business email address
Every business needs email. If you're a freelancer working on your own - and intend to stay that way - you may be happy using a free email provider, such as hotmail or gmail.
But, if you're looking to build a business, intend to employ other people, and want to appear professional - you'll probably want to set up business email addresses that match your domain name.
This short screencast shows how to set up a business email address with HostGator (and how to forward emails to your Gmail account):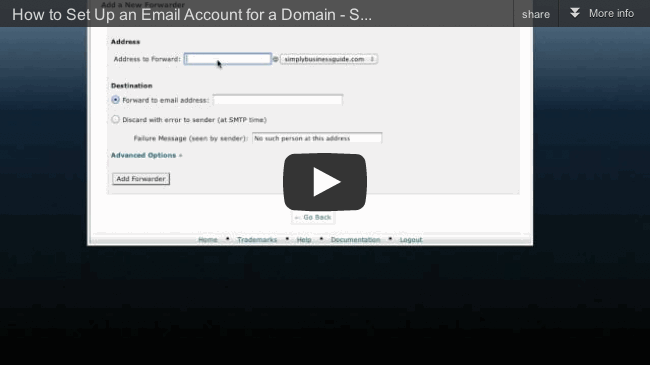 Select a design for your site
One of the advantages of working with WordPress is that there are thousands of ready-made designs (or themes) that you can use. Find a theme you like, and there's no need to employ a designer: most of your design work's done.
Free themes
You can choose from thousands of free themes at WordPress free themes directory (you can choose from these and install simply from within your WordPress dashboard) and Woothemes where many are free. Choose a design that's suited to your type of business.
Woothemes specializes in themes for business - and you can choose an e-commerce theme, which will allow you to sell products through your WordPress site.
For most sites, the call to action on the home page will be a key factor in determining how successful your marketing is. If you're working to a budget and would prefer a free theme, check out Shell Its main benefit is that the design has a clear call-to-action on the home page. Try to choose a responsive design so that your website will be easily navigable on smartphones. Try Leaf
While free themes appear attractive, there are some hidden costs. It may be more difficult to change your design or add new features to your site. You'll get limited support. And there's no guarantee how long your support will last: once your theme's designer loses interest (maybe they already have?), you're on your own.
Premium themes
Most experienced bloggers recommend paying (a small fee) for a premium WordPress theme.
You'll be able to choose a better design, with greater appeal to your audience. Premium themes are often better written (you're likely to encounter fewer software bugs). And, with most premium themes, it's easier and quicker to change your site's settings and add Google Analytics code or social media to your site.
StudioPress - Copyblogger's StudioPress allows you to choose from hundreds of well-designed premium themes. It's been created with SEO in mind. And you get loads of help material and support. Buying a single theme costs $99. Which is expensive if you're a start-up. But, you'll be able to create a site that your visitors will want to come back to.
Thesis from DIYthemes.com - is used by lots of established bloggers. Again, it's fast, reliable and easily customized. But, the design is minimal and may need some tweaking. The basic version costs $87.
Premise from Copyblogger is a framework that will work with your existing theme - If you're building a membership site, Copyblogger's Premise allows you to add functionality to your site (such as landing pages), that will help you grow your membership business. You can sell e-books, software and take recurring payments. Premise costs $165, but if you're selling subscriptions it will save you loads of hassle and is well worth the investment.
Installing your theme
This video shows how to choose and install your theme: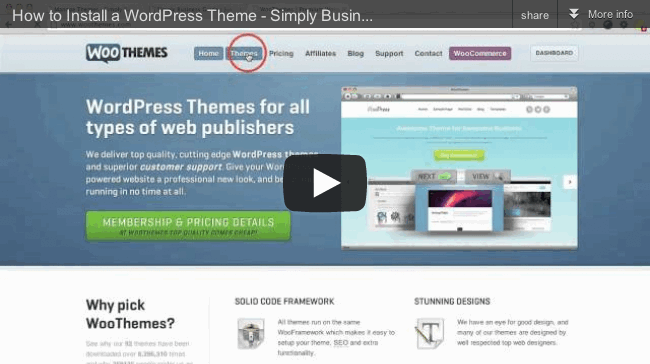 Add your logo
Of course, you'll want to adapt your chosen theme so that it represents your company effectively. And, for most people, that will include adding your own logo.
If you need to create a new logo, it's worth checking out the 99 Designs logo store, where you can get a new logo designed for, you guessed it, just $99. Or, if you prefer a British designer, try British Logo Design for a similar price.
Add your most important pages
No matter what your trying to achieve with your site, your aim should be to get visitors to know, like and trust you.
There are some essential pages that will help establish your credibility.
These include:
A home page - with a clear call to action. For most sites, this is one of your most important pages, so it's worth reading this guide to creating a home page that sells.
An 'About us' page, which explains who you are, and why your site exists.
A contact page.
A products/services page - this is your chance to provide information about all of the products and services you offer. If you have lots of information about each service, you'll want to create categories with a link to a landing page or product page.
Archives - you'll want a place where you link to all your useful content.
An FAQ (frequently asked questions) page - this is your chance to answer your customers' questions and sell your expertise.
A testimonials page - testimonials are a great source of social proof for potential new clients. More than anything else, they establish your credibility.
You'll find useful background reading on how to create great landing pages in this article, Discover the secrets of a great landing page
Set up SEO-friendly URLs
WordPress isn't automatically optimized for search engines. So, you'll need to set up SEO-friendly URLs (web page addresses).
This is pretty easy, and Wordtracker's guide to optimizing WordPress shows you how.
Install plugins
Another key benefit of WordPress is that there are loads of ready-made, free plugins that you can use to enhance your site's features and functionality.
If you want your WordPress site to do something, there's a good chance you'll find a plugin that will help. For example, you can install a plugin that will find your site's broken links, (which are a pain for visitors and can harm your optimization efforts).
Wordtracker's WordPress guide will talk you through the process of installing plugins. Or you can watch this short video: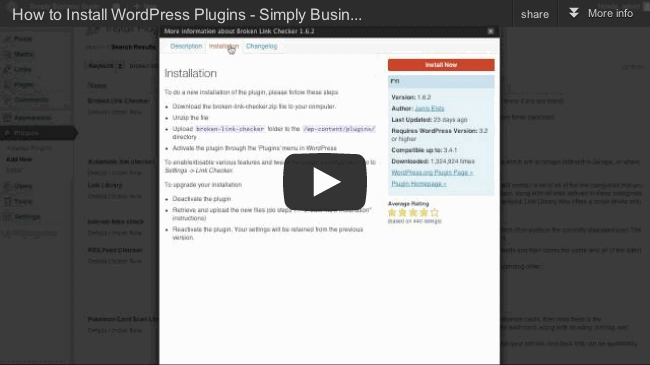 Install social buttons
Nowadays, it's crucial that your site's visitors can share your content easily. As you'd expect, WordPress make this pretty simple.
The Shareaholic plugin allows you to add your choice of social buttons. The default options are Facebook, Twitter, LinkedIn, Google+, StumbleUpon, Pinterest, and Tumblr. But, if you prefer to add other social media, this video shows you how: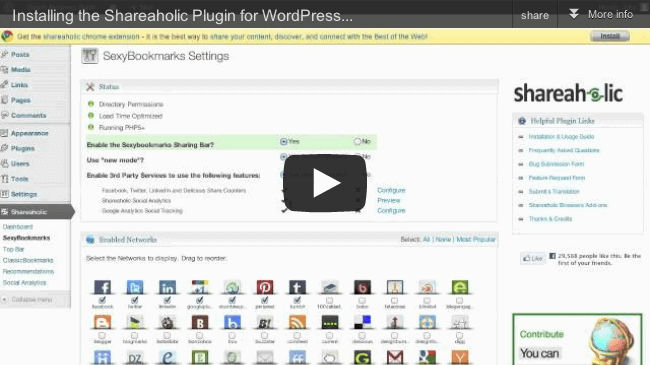 Install Google Analytics
Marketing expert Dan Zarrella believes that "Marketing without data is like driving with your eyes closed". Installing Google Analytics (GA) is the equivalent of opening your eyes. It's the first step towards collecting data that will inform your marketing efforts.
If you don't yet have GA installed, it will help you collect loads of helpful information about your site. This video will show you how to get started:
Set up an RSS feed
It's also worth setting up an RSS feed so your visitors can opt in to receiving your content. FeedBurner is currently an extremely popular Google app that will help you set up and manage your RSS feed - however, there have been rumblings in recent years that this service is likely to die this year. Here's a list of alternatives
More plugin recommendations
Install the CommentLuv plugin This provides a follow link for whoever posts a comment, which encourages commenting and activity on your site.
At the same time, install a good spam-fighting plugin like Akismet This will stop automated robots from spamming your site.
Another plugin we like is the Yet Another Related Posts Plugin (YARPP). This plugin will recommend up to five related posts. Both readers and search engines love related content - it encourages the visitor to click through to more pages on your site, and improves your internal linking. Which is all good for your SEO.
If you've bought StudioPress or Premise, you'll already be able to manage your SEO easily. But, if you opted for a free theme, it's worth installing the All-in-One SEO pack And the Google Sitemap Generator which will keep Google updated with the latest additions to your site.
Manage your widgets
Your sidebar is a great place to put information you want every visitor to see, regardless of which page of your site they're on. You can manage this with widgets. So, you might want to include:
A search box – if you want to attract search engine traffic, your site will need at least 25 pages. And, more likely, you'll want to create hundreds, eventually thousands, of pages. Which means you'll need a search box, so that visitors can find the content they want.
Subscription options or a call to action – once you've attracted a visitor to your site, it's crucial that you're able to stay in touch. So, make sure you've a clear call to action that allows you to capture an email address, or allows you to connect with the visitor via social media.
Categories – it's important that you include links to your site's most important pages. You can include these in your sidebar or your top navigation.
You can read more about site navigation here
This video shows how to change menus in WordPress
And this video explains how to manage widgets in WordPress:
What next?
Wordtracker's guide to WordPress SEO contains loads more information about how to optimize your site.
Get a free 7-day trial of Wordtracker's Keywords tool
A subscription to Wordtracker's premium Keywords tool will help you to:
Generate thousands of relevant keywords to improve your organic and PPC search campaigns.
Optimize your website content by using the most popular keywords for your product and services.
Research online markets, find niche opportunities and exploit them before your competitors.
Take a free 7-day trial of Wordtracker's Keywords tool