*** Update March 2021 ***
Wordtracker Inspect
We've expanded and incorporated Scout (now called Inspect) into our keyword tool.
Inspect is available via your keyword tool account, and also for a limited number of daily free searches, which you can access here.
Read our blog post to find out more about Inspect: How to get Keywords from other websites with Wordtracker Inspect
We will be updating the Scout app but for the moment it remains unavailable via the Chrome store.
---
I've got some exciting news on our free Chrome extension app, Scout.
You can now sign directly into your regular Wordtracker account from Scout, and in addition, you can segment your keyword research by 13 territories, from the US to the UK via Mexico.
This means you could take the results of your Scout keyword research in the US market, and drop them straight into a project in the regular Keyword Tool to refine your research. It's a great way to save a huge amount of valuable time.
Scout helps you get a better understanding of your markets and customers, by helping to reveal the language of your markets. The app is designed to look at any website, social media channel like Facebook, or customer forum where people are busy discussing your products, and pull out the most relevant keywords. Armed with this keyword knowledge, you can be much more confident in optimizing the content of your web pages, and marketing campaigns.
How the new features work
Head over to any web page and open up Scout. First off, you'll see a word cloud from the Summary tab. The word cloud reveals the language of the web page you are on. Drag the slider left to see the most relevant keywords, or to the right to see a much broader picture of the page's language.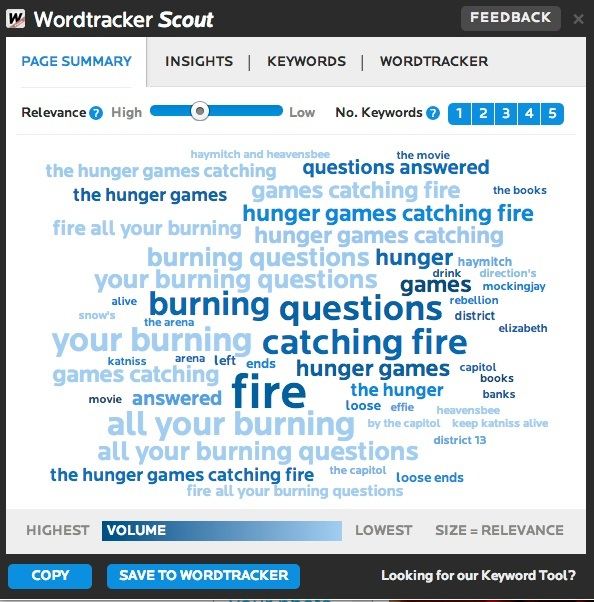 Click on the Insights tab
Check out the Insights tab to get deeper insight into how relevant the keywords are on the page. The slider is there again, and in addition you can filter out keyword terms by # of words – so you could simply look at keyword terms with only 3, 4 or 5 words in, which would include "hunger games catching fire."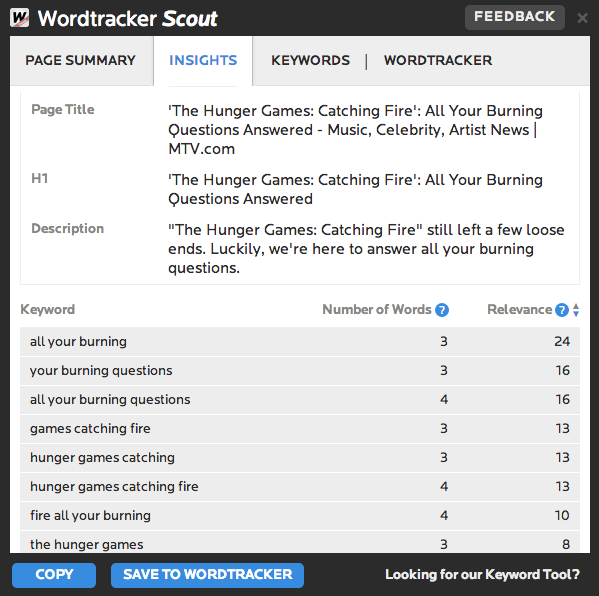 The Keywords tab
The Keywords tab is where we've added the territory segmentation, including Mexico, Brazil, Spain and Australia. The Keyword tab gives you search volumes and competition data, by territory, drawn from our database of 3.5 billion searches. Again, there are interactive controls for you to filter and focus your results.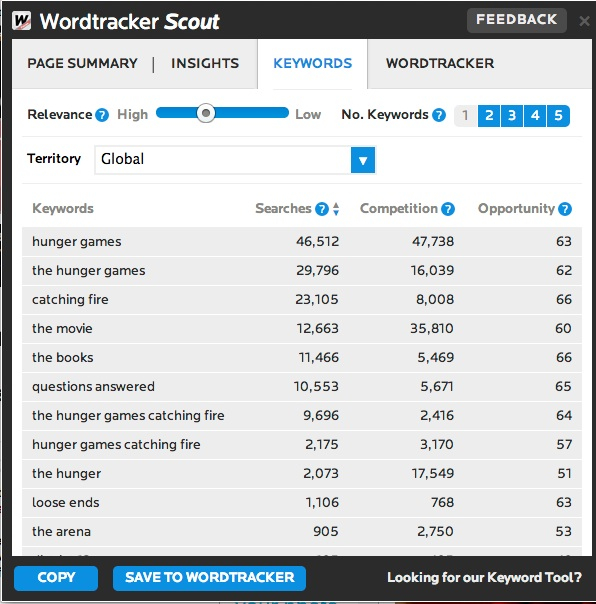 Scout integrates seamlessly into the Wordtracker tool
Log into your Wordtracker account (or sign-up if you're new). Now you can go ahead and save all the keywords that your Scout research revealed into your existing projects – or if you need, create new ones. Supercharge the results of your Scout research from within your regular Wordtracker account and stay organized.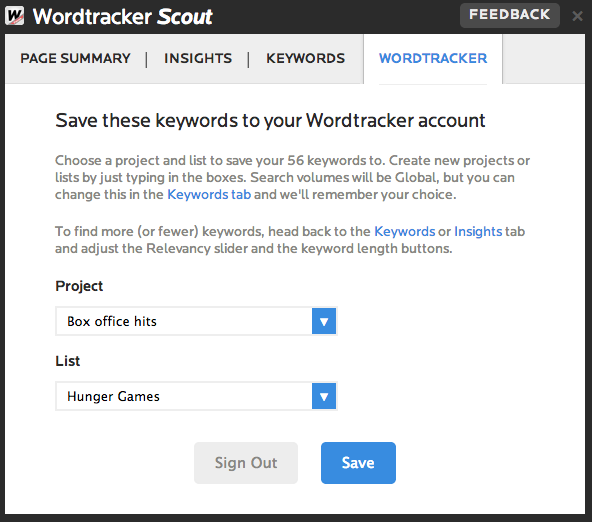 The Scout updates are in Chrome right now, so please head over, and let us know what you think.