How can a small site with few resources benefit from targeting long tail keywords? And won't such strategies and subsequent tactics get in the way of response?
These questions were raised in comments following our investigation into the long tail of keyword research (and why single keywords are for losers) and I thought I'd use the comments to introduce some practical advice on how to target long tail keywords.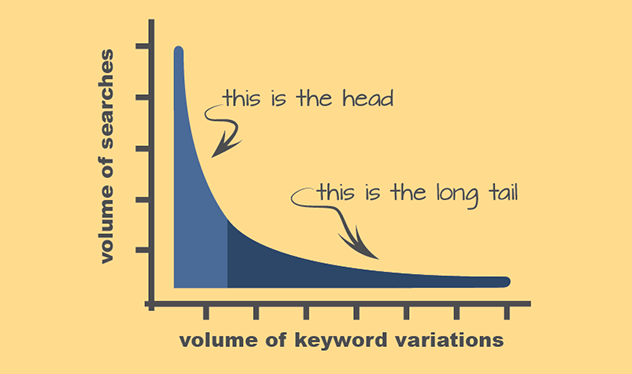 The long tail works for small sites too
Some readers' comments:
"Great insights but it requires lots of work. However, the idea of categorizing into different categories based on keyword niches is refreshing."
Onerab, Classifieds for free
"Targeting hundreds of thousands of keywords means gaining the knowledge, creating a strategy and developing a system by which to manage them... Is this for all businesses?
"How many keywords does a person use when they search for a dentist in their home town? I fully agree the dentist must realize that "Dentist" is not targeted and needs to expand. However the expansion may only be 100 keywords to cover all the bases...
"...I've seen many businesses chase their tail and they look just like my dog."
Jerry Nordstrom, Lead Discovery
So I thought I'd pretend I'm a dentist in Chicago and have a go at planning a new site for my practice...
My first goal is to draft the structure for my new website. I'm going to look for about 10 different keyword niches to target.
First stop is the Wordtracker Related Keywords tool with seed word dentist. See image showing the first 22 of 300 results:

From those results I chose 14 possible keyword niches to investigate:
braces
cosmetic dentist
cosmetic dentistry
dental care
dental implants
dentist
dentistry
family dentistry
find a dentist
orthodontics
orthodontist
pediatric dentist
teeth whitening
tooth whitening
Some of these are a bit similar so I'll merge them later if I decide to keep them. For now, I ask the Wordtracker Keywords tool to research with each of the keyword.
It returns, for example, almost 1000 keywords containing the phrase tooth whitening. That's nearly 1000 keywords from the tooth whitening keyword niche.
Each keyword's niche is saved in a List, and all my Dentist Chicago Lists are saved in a Project. The following image shows my Project page with a list of links to each List: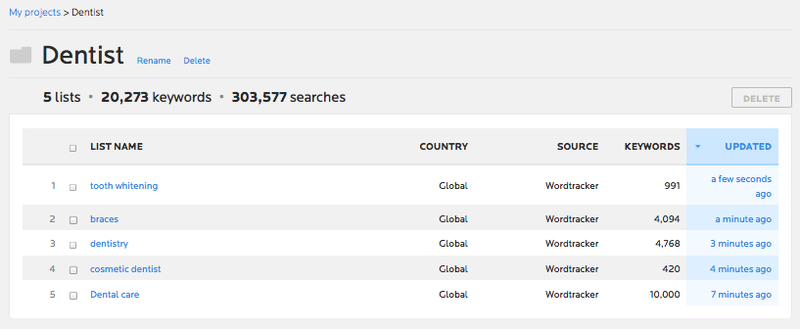 Those lists contain over 20,000 different keywords, many of which will give me ideas for content for my new website. Some may even be ideas for services I could offer. I can come back to that list.
Works for Google Local too
That's also a great list to use for my Google Local Business listing. In my Local Business Center account, I can add those keywords as categories and use them in my business 'description'. That will increase my chances of being found on Google Local search results for all those searches when made by searchers in Chicago or with searches containing Chicago in the search query, e.g. dental implants chicago.
If you are a dentist in Smallsville, Nowhere County, then the keyword research results list above is the one for you as few searches with your town's name will show up in keyword research tools. This is because they all use samples of searches. Skip straight to 'Enough data time for action' below and then do everything else the same.
That's useful and I could stop here and start building my site, using the above data to prioritize those keywords. But I'll investigate each keyword niche with further searches of both Wordtracker and Google data.
Data from any source can be imported into Wordtracker to get access to the unique Majestic competition data and join your lists and projects for planning your sites' structures.
Enough data, it's time for action
My new Chicago Dentist site is going to have the following categories:
braces chicago
cosmetic dentist chicago
dental care chicago
dental implants chicago
family dentistry chicago
find a dentist chicago
orthodontist chicago
pediatric dentist chicago
tooth whitening chicago
My homepage will target these two keyword niches:
dentist chicago
dentistry chicago
The competition is tough for these niches but I can always change my mind. Also, being at the center of the site's navigation, the keywords dentist and dentistry will support the other categories that share those words.
A small start is all that's required
For each category, I'll first make one page – the category home page – with an article of at least a few hundred words introducing the subject and the services I offer. I'll mention Chicago.
For my prioritized niches I'll do some link building, trying to use the niches' head keywords as the link text. Remember our mantra:
Target the head exploit the tail
I'll do some PPC to test response and demand. Up to now I've used research which is intelligent guesswork but the PPC will tell me the following facts:
how much traffic really exists for each keyword niche.
can I get business (response) from it.
If results suggest it then I'll adjust my strategy.
For the keyword niches I get response with, I will invest in more content. For content ideas I can use my subject knowledge, the keyword research lists I've saved and every web content idea I can find.
To know if I can beat the competition and get organic results for any of these keyword niches I must study my site stats. Here I'll introduce some more reader comments...
How to make sure your long tail tactics get response
"Interesting points... based on traffic. But how well does all of this convert? I'm not very experienced with long tail traffic, but in my sites logs I usually tend to get a lot of non-targeted long tail traffic that has a crazy high bounce rate. Could you show how this strategy actually turns into profits?"
Jake
"This is a great strategy for search engine findability but can be a bummer for conversion rates. People don't navigate a site the same way they search. Organization of your website needs to be based upon your target audience key goals, their mental models and how they will look for information on the site once they find it.
"Making your site findable for search engines is not the ultimate goal. If people who find your site can't use it or don't convert then you've wasted a lot of time and money driving traffic to your site.
"SEO, usability and persuasion are all necessary components to making a site profitable. Creating an information architecture based upon keyword research alone is a big mistake. The best of all worlds is to create an information architecture based upon how your target audience wants to use the site and then incorporate SEO and tweak to make sure the site is found by search engines."
Nina Vaught, Vaught Usability Group
I agree with all of Nina's points except any assumption that targeting keyword niches need get in the way of conversion.
The techniques outlined here can bring more traffic. Once the visitors arrive, you can present them with any navigation and conversion techniques you like. I recommend that there be a navigation that optimizes for search engines but that need not get in the way of one that optimizes for conversion. You can have both. E.g. see Tripadvisor.
We can go further. And I do. Instead of targeting keyword niches that deliver traffic, target those that deliver response and you know you can get more results from.
PPC tests will tell me which keyword niches I can convert.
Real organic traffic reports will tell me which I can get more results from – those I already get results from. You get more results by:
exploiting those niches' long tails.
improving ranking for head terms in those niches.
moving 'up the body' to bigger keyword niches that your targets are subsets of, e.g. from sales training tips to sales training.
I explore this some more in The SEO pro's secret path.
Get a free 7-day trial
A subscription to Wordtracker's premium Keywords tool will help you to:
Generate thousands of relevant keywords to improve your organic and PPC search campaigns.
Optimize your website content by using the most popular keywords for your product and services.
Research online markets, find niche opportunities and exploit them before your competitors.
Take a free 7-day trial of Wordtracker's Keywords tool

Join the discussion
You can keep in contact with us on Google+, find us on Twitter. Facebook and LinkedIn